Book Reviews · 08/24/2020
Known By Heart
by Ellen Prentiss Campbell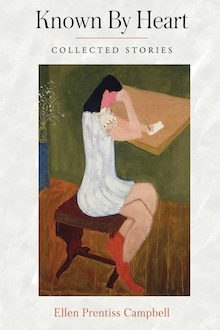 Apprentice House, 2020
In a recent interview with the Women's National Book Association, Ellen Prentiss Campbell referred to her new short story collection, Known by Heart, as "love stories in a minor key." It's a surprising description for stories in which a pregnant teenage girl is stalked by her angry father and the headmistress of a Quaker high school discovers her husband kissing a student. Still, the description fits. While Campbell's characters do have tragic thoughts — after discovering her husband, the headmistress hears a car and thinks that "stepping into its path would give obliterating relief" — they resist externalizing the worst of their struggles. The headmistress remains on the roadside and then commands her husband to leave the school immediately, thus removing him from the students and from their marriage while she decides what to do next. This is where the story ends. The headmistress can't escape her situation, and Campbell offers no dramatic relief for the reader either. The result is a great, sounding pathos that stays with the reader long after the story is finished. Such pathos is characteristic of the works in this collection.
Campbell's language exhibits the same restraint as her plotlines. She writes plainly of difficult situations, and in so doing highlights what is left unsaid. "Surprise Boxes" begins, "The dean approved my petition to withdraw; I stripped my room in the freshman dorm." The next paragraph sees the protagonist sleeping too much and bathing irregularly, shuffling about as if the past months have been "flushed away without a trace." Her mother tells her that she's moped long enough and sends her to help Mr. Westervelt, a retired minister, in his antique shop. Toward the end of the young woman's first day with Mr. Westervelt, she considers telling him "what I had learned in college, about love," and to ask if she "would go to hell, for what I had done." But she does neither of these things, deciding that "it was enough to work together until evening fell." The next day, she returns to Mr. Westervelt's shop, no wiser on the moral implications of her decision, but one day farther from the event itself.
Time plays an important role in Campbell's work. She often writes two or three stories about the same couple or family, allowing the reader to meet the characters at different moments in their lives. Known by Heart is Campbell's third book and her second collection of short stories. Her first collection, Contents Under Pressure, was published in 2015. Contents Under Pressure ends with "Artesian Springs," a story told from the point of view of Grace, a wife in her mid-40s who is working through the betrayal of her husband's affair. Taken with the work of a local dowser, she asks her husband, Alan, to change the drilling location for their well from the spot the drilling company has selected to the spot selected by the dowser. "'If I take this on faith,'" he says, "'could you return the favor?'" She presses against his side, and it seems that their marriage will survive.
In Known by Heart, we encounter Grace and Alan again, in the collection's title story. Their marriage did indeed survive the affair. Now Grace is in her seventies and slowly sinking into dementia. Alan faces impossible decisions. When the time arrives for Grace's annual dental cleaning, he realizes that withholding her pre-visit antibiotic could mean an easier, quicker death. What should he do? The story ends with that question calling like change bells, but before the tolling stills, Alan is dead too: the next story, "Estates and Trust," opens with his daughters settling his will. The reader learns that he lived a long time without Grace, but we aren't told how she passed. An awareness settles: we are each equally subject to time and given enough time everything about us, including our betrayals and our devotions, will be forgotten.
Campbell's characters mostly live in west central Pennsylvania, in the Southern Alleghenies. They're farmers and teachers and librarians and hotelkeeps. They're mostly white, mostly middle class. The only character of color is a mugger. I sometimes found myself asking, "Is this the book I should be reading now?" We are living through a great social awakening and a global pandemic. Reading fuels revolution, but only if we read consciously and well. I'm a middle-class, cis-gendered white woman in a heterosexual marriage. I already know these characters. I've met them before in Alice Munro's work and in William Trevor's, two writers whose work Campbell's evokes. I've met them in many of the literature classes I've taken. I've written versions of them myself.
Part of me wants to defend the relevancy of Campbell's characters by quoting Parker Palmer, the Quaker activist, writer and teacher. In Let Your Life Speak: Listening for the Voice of Vocation, he writes "The attempt to live by the reality of our own nature, which means our limits as well as our potentials, is a profoundly moral regimen." At the heart of this collection is an effort to live morally and to love truly and well. But I can't let myself off the hook so easily. Palmer is a Quaker who comfortably uses "God," and I think that when he speaks of one's nature he imagines a kernel of untarnished soul waiting to be unearthed from the slag pile of one's human experiences. I'm not a Quaker, or a Christian. I don't believe in an untarnished soul. I believe in causes and conditions, an unfurling ribbon of cause and effect. Who I am right now is the result of what has come before, and I am, in most situations, a person who benefits from our society's pernicious and exclusionary social structures. Therefore many aspects of my nature are problematic. Since I don't believe in a soul, my only hopes of rooting out these problematic aspects of my nature are education and contemplation.
Does Known by Heart serve this purpose for me? No, it doesn't. But that's not the only reason I read, even during such times as these. In one of Campbell's stories, "A Long Time to be Gone," a mother wrecks her car while taking her daughters to a sporting event. The youngest child survives; the eldest does not. How could a mother possibly carry on? In Campbell's world, she does so in spare, clean prose because she has another child who needs her attention, a marriage to maintain, and a butterfly chrysalis hatching in a terrarium. The story closes with the mother in conversation with her youngest child, "Trying to give her daughter her full attention." In Let Your Life Speak, Palmer writes "We must take the no of the way that closes and find the guidance it has to offer — and take the yes of the way that opens and respond with the yes of our lives." This is a good message for these times, and it's one I can support even if I don't believe in God or the soul. Learning from the no and offering our lives to a better yes is a good lesson for white people like me right now too. Campbell was a psychotherapist for many years. It was her job to help others find the yes of the way that opens. Her skill in tracing a path through the thorny thicket is evident in her stories.
+++
Ellen Prentiss Campbell's first collection of stories Contents Under Pressure was nominated for the National Book Award. Her debut novel The Bowl with Gold Seams received the Indy Excellence Award for Historical Fiction. Short fiction has been recognized by the Pushcart Press. Essays and reviews appear in journals including The Fiction Writers Review, where she is a contributing editor, and The Washington Independent Review of Books. A graduate of The Bennington Writing Seminars and the Simmons School of Social Work, for many years she practiced psychotherapy. She is at work on a novel. Campbell and her husband live in Washington, D.C. and Manns Choice, Pennsylvania.
+
Ginger Eager
is an Atlanta based writer whose short stories, essays, and reviews have been published in journals including
Bellevue Literary Review
and
The Georgia Review
. Her debut novel,
The Nature of Remains
, was chosen by Paula McLain to win the 2018
AWP
Award for the Novel and was published in May of this year through New Issues Poetry and Prose.