Book Reviews · 06/25/2012
Into This World
by Sybil Baker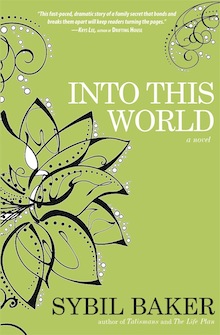 Engine Books , 2012
"There's a sense now that to be an American fiction writer is to deal with America in the world — and the world in America. If in the past American fiction dealt with the rest of the globe by trying hard to assimilate it, today it deals with it by going outward towards it." — Meghan O'Rourke, culture editor of Slate and a judge in the review of entries for Granta's Best of Young American Novelists 2 (2007), as quoted in the introduction to that volume.
Sybil Baker's second novel, after The Life Plan (Casperian Books 2009) and a collection of linked stories Talismans (C&R Press 2010), reaches out to modern-day South Korea in contrast with received ideas taken back to the United States in the 1970s.
Baker lived in South Korea from 1996 to 2007, returning in 2010 while writing Into This World. The atmosphere of the Seoul she depicts is buzzing and vibrant, heady on the different alcohols drunk during the novel, in contrast to the picture of suburban America where, in the parents' house, stale time has stood still — the repeats of family shows on television are 30 years old.
Bonnie and Wayne Morehouse have two daughters, Allison and Mina. The novel begins at a moment of crisis for Allison, recently divorced and living back with her parents. On the spur of the moment, she has quit the job she has had since graduation after discovering that Mina had an affair with her boss (and once lover) Ray during a summer internship years before. Just as the family begin to dissect her news, Mina calls from Seoul asking Wayne "Are you my father?" — an early clue to a family secret. The narrator reveals Allison's thoughts, "Once again Mina, as if by some chilling clairvoyance, had managed to not only incite Allison to quit her job but then to prevent her from even explaining it to their parents."
The story is told mainly from the point of view of the two sisters and centres on their relationship and identities. The characters are well drawn: sisters all-American Allison and adopted half-Korean Mina; father Wayne and his questionable religion; mother Bonnie who has settled for a quiet life; Ray the cad; Robert, Mina's lover, a beautiful black somewhat mysterious American soldier; and Jason, Mina's friend, who shines as the character of all the superlatives (nicest, most reliable; he even likes American country music). Mina's mother Lim Sun-hui (Sunny) and her brother Woo-Sung are paler, wholly Korean, but fully present. The author does not judge.
Allison is a sympathetic character, probably because of her faults: we see her uncover the misunderstandings of her childhood and her false conclusions. She is jealous of Mina and of Ray's wife "… a woman who possessed many things Allison coveted. Such an old fashioned word, covet. A Sunday school word. Thou shall not covet. But covet Allison did."
She feels guilty for her affair with Ray and abortion of their baby which led, she believes, to her inability within her later marriage to carry a child to full term. Similarly, when she cannot get on the
crowded subway carriage and loses Mina, she feels "that she was getting some kind of karmic comeuppance" for all her meanness when they were children.
Her double motivation in going to Seoul is not honourable: her parents plan to retire and offer her their house if she can persuade Mina to come back to the States. Worse, her other reason is "to gain Mina's confidence, some intimacy, before she laid bare that she'd learned of Mina's affair with Ray."
In Seoul, with the beginning of a new understanding, Allison is still jealous of Mina: her place within the family (her father's favourite), her sex appeal. She has an exaggerated sense of right and wrong and continues to cast herself as the good daughter: "Allison didn't even know Mina was Buddhist. Wayne and Bonnie would be horrified, probably even more so than if they'd learned about her having an affair with Ray, the object of Allison's affection."
We are encouraged by her progress:
How many times had Allison misjudged Mina? She really didn't know… She wanted to tell Mina everything. Of her discovery about Mina and Ray, and the thing she'd told no one, about the aborted fetus. She'd tell Mina of her jealousy, petty, smallminded as it was, how she felt it was not a secret that their dad loved Mina best… Allison wanted a sister, and she wanted to show Mina that she was worthy of her trust. She would tell Mina her secrets in hopes that Mina would tell Allison hers. And then, after all their secrets were laid bare, she would help Mina find her mother. (p.105)
This passage, from halfway through the novel, shows that Allison has still not fundamentally changed: secrets and sharing and trust have to be in place before she will help Mina in her quest. Jason, who himself works in robotics, accuses Allison of wanting to be a "puppetmaster" – a dark, rather sinister term but one with which Allison identifies: "I'm just a terrible evil person, and Jason finally figured that out."
If Into This World is about Allison's voyage of discovery (of self, family and world), it explores two other lives: that of Mina (constantly in motion) and of Wayne (stalled). Mina arrived in the States as a three-year-old with no English, torn from a birth context whose impressions were contrary to everything she was told:
That wasn't what she remembered. What she remembered was this: A woman with long dark hair Mina could curl her fists around. Slung on this same woman's back, wrapped in a quilt, resting her head on the woman's shoulder as she filled a pail with water. Sitting on a blanket on the warm floor as the woman fed her thimble-sized balls of rice. Singing, she remembered that, too, and sleeping with the woman through the night… Was that woman her mother? Over the years she'd tried to push away her questions and memories, like lost frames in a film. She had no idea what to do with them, where to put them, how to make sense of them. (p.112)
She grew up with a story of her adoption that was false and with an outdated version of her native land, as told by Wayne. She struggled to fit in to the family, desperate not to be sent back to Wayne's Korea: "yet she always wondered if it was enough to overcome the truth. She was a fraud, a fake, an imposter, someone discarded from a different land, race, and culture, a person who didn't belong."
Shortly after the summer internship and her brief affair with Ray, Mina remade her life in cosmopolitan Los Angeles before moving to Seoul, to look for her mother. She never exhibits any of the meanness of spirit that Allison has and her desire to share with Allison is not tempered with any preconditions … apart from the conviction that Allison would not take her side:
Mina would secretly stare at her sister, wonder if they were indeed related by blood… She wanted to share with Allison her suspicions that Wayne was her real father, that the woman in the photo was her mother. That for some reason he had taken the baby — Mina — with him back to the States. Allison didn't even know Mina wasn't full-blooded Korean. She almost told her when they'd gone to the sauna and the temple together, when they been like sisters more than at any other time in their lives. She imagined Allison helping her find her mother, confronting Wayne, for once taking Mina's side. But she could not see Allison choosing her over Wayne. (p.138)
Recurrent intermingled themes concern searches (for a new life, a mother, love, truth), couples and children (Wayne and Bonnie adopt a second daughter, Allison has recurrent miscarriages, Mina will become a mother to Robert's daughter, Jason cannot have children), families and memories (Allison and Mina's), identity (US and Korean, physical), foreignness (appearance and language).
Yet this account does not do justice to Into This World whose excellent construction and clever writing make it a delight to read. Alternating chapters reveal different strands, with flashbacks to Wayne's tours of duty in Korea, where the reality of his experience is sympathetically told. The suspense at the end of chapters urges the reader to speed on. The tone changes subtly to express different worlds and moods: the moment of total alienation early in Allison's stay in Seoul, for example, where "she heard snips and snippets of English waft by. She wanted to reach out, grab the words, and shove them into her mouth so she'd have them. Just in case." Or the lyricism in chapter 17 when Mina has found her mother. One is drawn by the writing and the story in and along until the very end, always wanting to know and understand more.
And when the story has been told, what remains? The end is happy, with a wedding and a gesture of support and kindness from daughter to father. Forgiveness? Understanding? Perhaps the puppetmaster is not such a sinister character after all. Perhaps she is simply very human: the 'good' daughter whose father celebrated the one who had gone astray.
+++
Sybil Baker is the author of two books of fiction,
The Life Plan
, a comic novel, and a linked short story collection,
Talismans
. Her
MFA
is from the Vermont College of Fine Arts. She spent twelve years teaching in South Korea before returning to the States in 2007. She is an Assistant Professor of English (Creative Writing) at the University of Tennessee at Chattanooga, where she serves as the Assistant Director of the Meacham Writers' Workshop. She is currently on the faculty of the first international
MFA
program at City University of Hong Kong and is Fiction Editor at
Drunken Boat
.
+
Susan Jupp has worked in academic publishing in Canada and France and as an editor and communications specialist in international non-governmental organizations including the World Economic Forum, International Save the Children Alliance and Global Forum for Health Research. Originally from the United Kingdom, she has lived in Switzerland since 1977.