Book Reviews · 05/29/2017
Inheritance from Mother
by Minae Mizumura
Translated by Juliet Winters Carpenter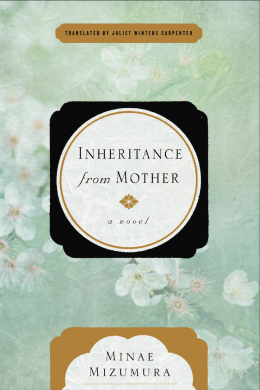 Other Press, 2017
"Mothers were supposed to be fair," laments Mitsuki Katsura, a middle-aged woman tasked with caring for Noriko, her terminally ill mother. This relationship is the center of gravity in Minae Mizumura's Inheritance from Mother, a novel that tests the ties between mothers and daughters, between wives and husbands. But this is also the tale of Mitsuki's stand against a tide of betrayals. After her sister Natsuki attempts suicide, Noriko foists her demands for expensive linens and other frivolous comforts on Mitsuki. Amidst this, Mitsuki discovers emails between her husband, Tetsuo, and a younger woman. And Mitsuki refuses to forgive Noriko for a past transgression: leaving the girls' terminally ill father for a voice teacher referred to as "That Man." "Blessed is the daughter who, when her mother grows old and becomes a burden," the narrator confesses, on Mitsuki's behalf, "doesn't wish for her death."
Originally published serially in the newspaper Yomiuri Shimbun, this full-book publication retains the original's episodic structure, refrain lines, and freighted motifs. In Juliet Winters Carpenter's deftly spare translation, these recurring details trigger Mitsuki's private meditations on grief. (In serial form, of course, these triggers stir readers' memories of previous installments.) A floral-printed tissue packet emblemizes Mitsuki's shock at Tetsuo's affair. Cherry trees stir up reveries about Mitsuki's studies in Paris and the first bloom of her romance with Tetsuo; cherries refer to Mitsuki's favorite French chanson, "Le Temps des Cerises," which compares young women's self-awareness to the fruition of cherry trees. Puccini's La Bohème serves as a reminder of the silent, yet venomous, feud between Mitsuki and her mother—namely, that Noriko discouraged Mitsuki's own singing while falling for "That Man."
The book divides its 66 vignettes equally between two parts. Part one introduces us to Mitsuki the caretaker, encumbered by her marriage and Noriko's mounting senility. Woven throughout these episodes are glimpses into Mitsuki's past—her aspirations as a translator, her early love for Tetsuo and Paris, her envy of sister Natsuki's charm. Part two is a post-mortem on motherhood and marriage: after Noriko's death, a liberated Mitsuki retreats to a lakeside hotel at Hakone Yumoto. There, she steels herself for decisive action, marshaling her inherited wealth so she can divorce Tetsuo. But she must also confront a different legacy: a family history of emotional abuse that claims descent from a Japanese serial novel.
The offending serial is Ozaki Koyo's 1897 The Golden Demon. Its gothic tragedy first affects Mitsuki's grandmother, who transfers her anguish onto Noriko, who in turn visits that spite on Mitsuki and Natsuki. In fact, Mitsuki dubs her grandmother "O-Miya," after The Golden Demon's female protagonist. In The Golden Demon, O-Miya's parents take in and raise Kan'ichi Hazama, a poor boy of samurai lineage; the children grow up together and make secret plans to wed. However, O-Miya's parents become aware of the infatuation and compel O-Miya to marry a wealthy suitor. After this perceived lapse in faith wounds Kan'ichi, O-Miya develops an unquenchable obsession with reclaiming his affection.
"Mitsuki's grandmother had a far more pitiable childhood … than the fictional O-Miya," we're told. As the daughter of a geisha married off to a rich man, though, her grandmother readily believes herself to be the O-Miya. Nursing a glass of wine at the lakeside resort, Mitsuki realizes the cross-generational consequences of this fantasy:
Mitsuki's gaze was now back on the flames in front of her while her mind went in circles, coming to the same conclusion she had reached again and again before. Yes, it had all started with her grandmother, "O-Miya." If she had not seen herself as O-Miya in the novel, if … she had not eloped with "Kan'ichi," then [her mother] Noriko Katsura would never have been born. … If there had been no serial novels in Japan, then she, Mitsuki, would not be here in a mountain hotel staring into the flames and telling herself she was unloved…
Mitsuki recognizes that, because of O-Miya's delusion, Noriko had lived in "constant mortification" that the stigma of so many illegitimate births in the family register could tarnish Mitsuki and Natsuki's fortunes. But this abject terror exerted no influence on Noriko's scruples. Like O-Miya, she left a man and a child, then took another husband (Mitsuki and Natsuki's father), and later scorned her family by running off with "That Man."
"The Golden Demon," Mitsuki thinks to herself, "derailed her grandmother's life—and for all [she] knew could have inspired similar tragicomedies up and down the archipelago." However, Mitsuki refuses to inherit her grandmother and mother's tragicomic fates. At the lakeside resort, Mitsuki's convalescence drives her to split from Tetsuo. She purchases her own condominium—"a place of her own," she jests after Virginia Woolf. There, she resumes her translation work, her self-sufficiency. At her condo's windows, Mitsuki takes in a panorama of the novel's repeating images: "gold organdy curtains," a skyline that morphs into "a cloud of blossoms," and more "cherry blossoms." "In that moment," the narrator observes, "Mitsuki thought that not to be happy now would be a sin." Mitsuki's cautious optimism is a disavowal of her true inheritance: the emotional abuse founded in Noriko's misery and her grandmother's search for a "Kan'ichi" of her own.
Mitsuki and her family are "the offspring of a serial novel." As such, Mitsuki's break from her ancestors' narratives gestures toward Mizumura's true experiment in the serial form. Inheritance from Mother reforms the serial's gothic tropes—the ill-fated lovers, the betrayals, the scheming parents—and brings them to meditate on Mitsuki's resiliency against the hazards that mothers, marriages, and time inflict on contemporary Japanese women.
+++
Minae Mizumura
is one of the most important writers in Japan today. Born in Tokyo, she moved with her family to Long Island, New York when she was twelve. She studied French literature at Yale College and Yale Graduate School. Her other novels include the Yomiuri Prize-winning
A True Novel
(Other Press, 2013),
Zoku meian
(Light and Dark Continued), a sequel to the unfinished classic
Light and Dark
by Soseki Natsume, and
Shishosetsu from left to right
(An I-Novel from Left to Right), an autobiographical work. Her most recent book in English,
The Fall of Language in the Age of English
, was published in 2015 by Columbia University Press. She lives in Tokyo.
+
Juliet Winters Carpenter
studied Japanese literature at the University of Michigan and the Inter-University Center for Japanese Language Studies in Tokyo. Carpenter's translation of Kobo Abe's novel
Secret Rendezvous
won the 1980 Japan–United States Friendship Commission Prize for the Translation of Japanese Literature.
+
Patrick Thomas Henry is the fiction and poetry editor for Modern Language Studies. His short fiction, poetry, and reviews are forthcoming or have appeared in Fiction Southeast, Souvenir Lit, Duende, Green Briar Review, and Sugar House Review, amongst others. He lives in Alexandria, VA, with his wife and their cat.