Book Reviews · 07/03/2017
In This Season of Rage and Melancholy Such Irrevocable Acts as These
by Kat Meads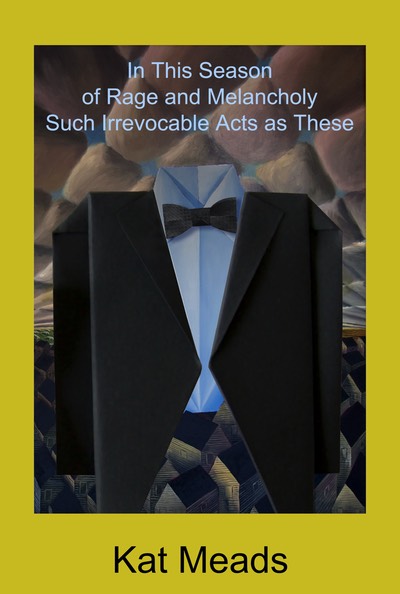 Mongrel Empire Press, 2016
Set in the South during the 1970s, at the heart of Kat Meads's In This Season of Rage and Melancholy Such Irrevocable Acts as These is change: a changing belief system, a changing setting, and a changing world altogether. Mawatuck County was "a British colony before an American colony, a Carolina colony before a Carolina county." By 1978, however, change is beginning to erode what the county's rural residents hold dear as farm land is sold and developed into sites for homes and businesses.
The first characters introduced are Beth Anderson and "Him," the only person who calls her Elizabeth. Beth, a bank teller, drinks to forget her Pentecostal upbringing, a miscarriage, and the disapproval and disappointment of "Him." It's not yet certain whether "Him," and God are one and the same:
Aspiring to appear less [ridiculous], she drank steadily. And then she slipped, must have slipped, from the trailer's come-with couch onto its come-with carpet, spilling beer. And there she must have stayed, damp with beer, hours passing, for when next she opened her eyes she truly was alone.
Because it was daylight.
Because she had, again, disgusted God.
Each new section provides another snippet of the past and present lives of select Mawatuck County residents The novel focuses on five of them: Beth and her drinking buddies—hospital receptionist and best friend Leeta and Leeta's farming husband—as well as former classmates Mickey Waterman, a scheming but powerful real estate developer, and his determined partner-in-crime Becca." The sections are brief but rich with dialogue and imagery that allows readers to meet and get to know some of the residents' stories.
Some minor and rarely-mentioned characters like Sonny Wallace—brother to Stella, another homecoming queen nominee alongside Becca and Leeta—"…get the hell out of Mawatuck, got the hell out, never looked back," but many have stayed despite the hardships. Some, like Mickey, found a way to make a profit off of others' misfortunes. Others, like Becca, a former homecoming queen and teenage mother, lives comfortably as a "Have" as well by having proved herself a valuable ally to Mickey early on. "Have Nots" like Leeta, George, and Beth, remain in Mawatuck County long into adulthood in spite of the difficulties and stagnation that regularly confront them.
Meads establishes Mawatuck County's clear hierarchy early on. Those who have something to offer the power-and-money-hungry Waterman family enjoy ribs and other fixins; those who do not pass the time doing other things like drinking in a hand-me-down home with hand-me-down furniture in need of repairs. That is how Mickey and Becca spend a Friday night socializing with those who can assist them in gaining more money or power while George, Leeta, and Beth enjoy each other's company and the company of beer during their weekly drinking session. Throughout the book, Meads illustrates the parallel lives of Mawatuck County's "Haves" and the "Have Nots"—and how the "Haves" profit off of the "Have Nots'" adversity—and hones in on their complementary yet disparate lives.
The action picks up as the two groups begin to enter the others' orbits. Chapters become shorter and readers spend less time with each character as Mawatuck County's "Haves" implement their plan to make more money and consolidate more power at the expense of the "Have Nots'" livelihoods. They must merely try to survive on what little they earn as they find themselves in the "Haves'" crosshairs. As the story continues, the two sides' paths begin to intersect more and more.
Mickey's run for commissioner serves as the catalyst for this occurrence. Both Mickey and Becca find this the perfect opportunity to settle years-long scores with Leeta; a person from Beth's past returns and so do the memories of long-kept secrets and struggles she has been hiding from everyone. The characters' converging and diverging existences, while faced with life-altering events, are a direct result of living in such a small community. Living off the land is a rural privilege and burden alike—which George, who "loved farming, couldn't remember a time when he hadn't" personifies. However, his way of life is becoming more obsolete as time passes.
In choosing this setting, Meads creates deeper histories, nuances, and complexities that help carry this novel. Unlike cities, where neighbors may come and go and live as strangers, small town communities house people whose families have lived, worked, and known each other for generations. Becca's transformation into a Waterman insider wouldn't carry the same weight had she come from a large city. Mickey and Becca capitalizing on the bad luck of their fellow Mawatuck residents—including their former classmates—is all the more heartless because of the land and intimacy among them. The clashes and ensuing fallouts ensure none of their lives will be the same once the dust finally settles.
Equal parts heartbreaking and thought provoking, Meads provides a fictional but realistic account of the far-reaching changes that swept through many rural Southern areas over the past several decades. Farming and the agricultural life have become all but obsolete in some areas, while others have profited from this evolution. Meads shows us the economic, personal, and emotional toll such changes have taken on the people most profoundly affected.
+++
Kat Meads
is the author of 16 books and chapbooks of prose and poetry, including:
2:12 a.m.; Not Waving; For You, Madam Lenin; Little Pockets of Alarm; The Invented Life of Kitty Duncan; Sleep
; and a mystery novel written under the pseudonym Z.K. Burrus. She has received a National Endowment for the Arts Fellowship, a California Artist Fellowship, two Silicon Valley artist grants and artist residencies at the Fine Arts Work Center in Provincetown, Yaddo, Millay Colony, Dorland, and the Montalvo Center for the Arts. Other prizes include the
Chelsea
award for fiction, the
New Letters
award for essay, and the Editors' Choice award from
Drunken Boat
. She is a three-time
ForeWord Reviews
Book of the Year finalist. Her flash fiction collection,
Little Pockets of Alarm
, was runner-up for the University of Massachusetts Press Juniper Prize. Her novel
For You, Madam Lenin
received an
IPPY
(Independent Publisher Award) Silver Medal and was shortlisted for the Montaigne Medal for thought-provoking literature. A native of North Carolina, she currently lives in California and teaches in Oklahoma City University's low-residency Red Earth
MFA
program.
+
Alana King
is an
MFA
Candidate in her final year at the University of Memphis. During her time there, she has been working towards earning a graduate certificate in African American Literature and studying History as a Fiction student on the Cross-Disciplinary Track. In August she begins her first year as a PhD candidate in Humanities at the University of Texas at Dallas.