Book Reviews · 12/22/2014
In Certain Circles
by Elizabeth Harrower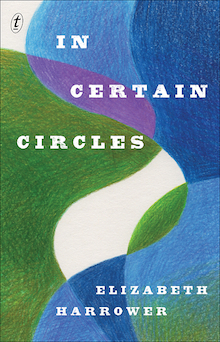 Text Publishing, 2014
In Certain Circles was written in 1971, the last novel Elizabeth Harrower would write to date. By then she was the author of four other novels, including The Watch Tower, all very successful and well-received, and Harrower was being likened to Patrick White and Christina Stead. But In Certain Circles was to have a different fate. Harrower withdrew it from publication at the last minute, explaining in an interview later that the book had felt forced and had been written because a grant had become available. "There are a lot of dead novels out in the world that don't need to be written," she said about the novel. She felt that writing had to be hard work, and a grant made it too easy. In another interview, Harrower admitted that she had felt such disappointment at not winning the Miles Franklin award for The Watch Tower that she decided 'You don't want me, I don't want you.' After that, she did not write again.
Whatever the author's motivations then, In Certain Circles was finally published by Text Publishing earlier this year, over forty years after its completion. The publisher Michael Heyward had been on a quest to resurrect some of Australia's best but neglected writing, and Harrower's four other novels, all by then out of print, were suddenly thrust back into the limelight, all published again within the last two years.
In Certain Circles focuses on the themes of family and class, much like Harrower's other works. Zoe and Russell Howard are siblings in a well-to-do family in Sydney. Their parents are both well-known scientists, and the brother and sister lead the life of comfort in a great stone house in Sydney Harbour. Zoe is just seventeen but already confident of her own specialness and entitlement to a bright and beautiful future. Russell is charismatic and popular but also wise, already touched by grief. Older than Zoe, he has just come back from the war, but even at her age he was different:
experience had touched Russell — a serious illness, and the death of his two closest friends. One autumn day, swimming from a deserted beach, the three boys were caught in a strong rip and swept out past the headland. A freak wave washed Russell unconscious on to the rocks, and a fisherman rescued him. The bodies of the other boys were never found. Zoe was told what had happened. All that was real was what she had witnessed: Russell's shock, Russell's grief.
Russell spends his days with his new friends Stephen and Anna, orphans who were brought up by an uncle and his strange, psychotic wife. The orphans' life is in complete contrast to the Howards'. Their parents died in a level-crossing accident when Stephen was eight or nine and Anna just a baby. Their mother's brother took them in, hoping that they would provide a welcome distraction for his neurasthenic wife. But their new life turned out to be a nightmare as they navigated the uncertain waters of their aunt's moods:
He and his sister learned to be silent within miles of their aunt. They were obliged to think about her constantly, because it seemed that their survival depended on it.
The differences between the two sets of siblings are enormous, and yet friendships and loves are born which will last for long years to come.
Harrower's writing is subtle but sharp in its depiction of class in post-war Australia. When they first meet, Zoe is dismissive of Anna's orphaned life:
You only think of orphans in fairy tales… Wandering in, hand in hand out of the woods, all misty and neglected and bedraggled. I've never met one before.
Her mother is a brilliant scientist and an example of a woman who has it all — whenever there is a need to demonstrate that a career and a family can be successfully combined, the media thinks of Mrs Howard. She points out what a sheltered life her daughter has led, but seems unable to see that her own life has not been much different.
In fact, their comfortable, happy lives are what fascinate Anna, who writes in her diary:
One thing I'll remember about the Howards forever — walking into the house one summer evening with Russell and Stephen. Out in the laundry, we found Russell's mother and father home from work, each with a whisky glass in one hand and a piece of the family washing in the other… They were talking and laughing about something at work, not concentrating on the washing a bit. In a little while, it was all hung out. More like a festival than hard labour. I had no idea that dull jobs could be done like that. I loved them for it.
Anna did not impress Zoe much at first, but her brother Stephen holds a mysterious power over the seventeen-year-old. She is first repulsed by, then attracted to his damaged, broken personality, the way one craves a bitter taste after gorging on sweets. After her studies in Paris, Zoe finds herself back in Sydney, and shortly after that she marries Stephen and tries hard to fix him. She used to be the centre of everyone's attention — now she bends and adjusts to Stephen's moods, and to his standards which she cannot satisfy. Stephen's upbringing turned him into a critical, unhappy person, but Zoe never tires of defending him. Stephen is unpredictable, at times loving, but more often argumentative and short tempered. He finds fault with everything and even dismisses Zoe's past career in photography. She accepts it, like she accepts many things that in the past would have made her rebel. Her love will cure him, she believes.
But as she tries, she loses more and more of herself in the process, finally becoming
a dangerous person. She would now make an excellent actress, or confidence trickster, or prostitute, she reflected, and remembered reading in some hairdresser's magazine that many women imagined this of themselves. The difference was that Zoe felt her genius to lie in her powers of deception. And once, and once, she had not been like that.
Zoe's confidence and radiance cede their place to emptiness and desperation.
Harrower is brilliant at depicting marriage, and Zoe's final realisation that everyone is flawed, and that there is 'perhaps some small thing that's radically wrong with everyone' is particularly poignant as she prepares to leave Stephen. Russell's marriage to the beautiful, well-educated Lily has not survived either, weakened by their daughters' departure to London, and an accidental revelation by Anna. In place of the two failed marriages, there are inklings of new beginnings.
Harrower's style is pared back and detached, with astute observations that at times create a distance between the reader and the protagonists, as if we are reading detailed, fascinating notes by a psychologist about patients.
The letters — from Zoe to her ex in Paris, from Anna to herself, in her diary, from Anna to Zoe and Russell — move the novel into the wonderfully personal, with touching, deeply human experiences that Harrower creates so well.
Beyond the obvious themes of marriage and class in post-war Australia, there lie the universal themes of love and loss. While the author may have doubted the validity of her novel, In Certain Circles feels as relevant now as when it was written, over forty years ago.
+++
Elizabeth Harrower
's first novel
Down in the City
was published in 1957, and was followed by
The Long Prospect
a year later. In 1959 she began working for the
ABC
and as a book reviewer for the
Sydney Morning Herald
. In 1960 she published
The Catherine Wheel
.
The Watch Tower
appeared in 1966. No further novels were published though Harrower continued to write short fiction. Elizabeth Harrower lives in Sydney.
+
Maia Nikitina is a Russian native who has lived in England for the last fifteen years. She has a Postgraduate Diploma in Creative Writing from The Writing School at the Manchester Metropolitan University, and her short stories have appeared in The Crazy Oik and online. A regular reviewer for The Bookmunch, she is currently working on her first novel. She can be found on Twitter @maianikitina and on her blog www.notmadefornorthernweather.blogspot.com