Book Reviews · 03/20/2017
I'm Fine, But You Appear to Be Sinking
by Leyna Krow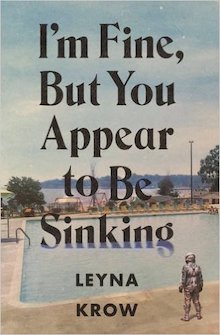 Featherproof Books, 2017
With Leyna Krow's story collection, I'm Fine, But You Appear to Be Sinking, Featherproof Books has succeeded in their stated mission to publish "strange and beautiful fiction." Both strangeness and beauty play a big role in these pages—as do humor and heart and honesty.
Call it strange or innovative, but tucked in between the table of contents and the first story is an "Index of Things to Come," an alphabetical catalog of subjects, themes, and situations included in the collection. If only most books opened on such an interesting, unexpected note. A random sampling of the entries includes "BMX bikes," "Conversations with neighbors," "Internet research (futile)," "Trouble in kitchens," "Uncomfortable encounters at the grocery store," and "Unidentifiable animals." The two entries with the most references are "Dead parents" and "Visions of the future," a good indicator the of book's ironic sense of yin and yang: an eye on the future with a mind on the past.
Although the environmental predictions depicted in some of these pieces are not so rosy, Krow does not depend on the pyrotechnics of cataclysm to tell a story. Wisely, she depends on good, old fashioned, flawed human nature. These characters struggle against each other, themselves, and their pasts, no matter what natural threat looms.
What makes the "Visions of the future" stories work so well is their realism. Krow's simple view of the near future lacks fantastical details like flying cars, underwater cities, or a moonscape crowded with condos and futuristic freeways. In other words, Epcot got it wrong. The world in these stories is not that different from the present. The people in these stories struggle with the general complexities and conflicts of life as we know it, with only minor tweaks to the physical world, changes that are mostly environmental.
In "Habitat," an invasive species of fern and the snake that seems to accompany the fern's growth play a large thematic role, but are not the overall focus, as two siblings dismantle their aging father's house, the house in which they both lived until adulthood.
"Spud and Spud II" toggles between 2077 and 2090, featuring a lonely adolescent son, the aunt struggling to raise him, and a marine biologist cum astronaut recounting his successes and failures as a human being as his shuttle suffers a power outage. Especially interesting to note is the arrangement of the "Spud" stories: in between each of the collection's full length stories are tiny alternating chapters of "Spud & Spud II," an ongoing story that involves its own narrative arc, gaining speed as it reaches the end.
In "End Times," the repeatedly incarnated narrator has experienced seven apocalypses, and she posits that "the universe is stuck in a never-ending loop of creating and destroying itself." While the world reincarnates itself, and characters return as themselves go on to live multiple lives, the narrator will "always cash out at the gym on the same day in June," thus giving her the advantage of watching how others change and grow around her.
As time passes and disasters mount, human nature appears to stay the same, and that is what Krow explores in her odd and humorous storytelling style.
In some ways, the present-day stories are the more outlandish pieces. In the title story, a mediocre reporter for Popular Anarchist Quarterly and a vegan intern are stranded in the Pacific after their shipmates—the only people on board with a working knowledge of the boat—pilot an inflatable dinghy to protest a whaling ship only to disappear in a fog bank. With the delivery of a stand-up comedian, the narrator wonders if the anti-whaling cause might gain more support if humpback whales were "a bit cuddlier. Or at the very least, not covered in humps." In a story laced through with a sense of doom, it is a very real, funny moment. Krow does a wonderful job of applying this kind of humor throughout the collection.
The recently fired second person narrator in "Excitable Creatures" discovers an unidentifiable animal in his backyard, befriends it, and names it Walter: "It has a wide muscle-y body, a pushed up nose, and big, sympathetic eyes" and it seems to enjoy cheese. The unidentified animal may be behind the disappearance of neighborhood cats, but it is also the lifeline of connection that gives the story—and the unidentifiable animal—heart. "You tentatively scratch at the top of its bulky head, which it allows. This is the most satisfying interaction you will have with another living being all day."
The final story in the collection, "Mr. Stills' Squid Days" details a widow's attempt to differentiate between a dream and a childhood memory of a squid festival on the shores of Monterey Bay. Krow effortlessly weaves in the widow's struggle to find evidence of the squid festival, her unlikely connection to the young marine biologist willing to help her, and the tense but warming relationship with her grand-niece, a nineteen-year-old with a "surly disposition" who "dyes her hair black and wears dark make-up and dark clothes most of the time, baggy black pants cascading over black boots."
Like many stories in this collection, the oddity of this piece does a great deal of work. A dreamt or actual festival where men hurl beached squids back into the ocean while onlookers eat squid bits and ink pops brings the widow's loneliness into sharp relief, but does not send her slinking into a corner. The wheelchair-bound widow does not wither.
The repeated appearances of oceans and outer space, sea creatures and terrestrial beasts create an ironically intimate view of humanity. While the nagging concern of Mother Nature's next move hovers over some of the stories, others wriggle beneath the shadowy threat of human nature's instinctual transgressions.
Krow's stories are sometimes funny and sometimes sad, with comedic irreverence and darkness mixed in, but nevertheless, a strong undercurrent of hope pulses beneath the surface. They are good stories to read these days.
+++
Leyna Krow's stories have appeared in Hayden's Ferry Review, Prairie Schooner, Ninth Letter, and other publications. She lives in Spokane, Washington.
+
John Baum
's stories have been published in
Blue Mesa Review, Booth, St. Anne's Review, WhiskeyPaper
and elsewhere, with work forthcoming in
Jellyfish Review
. At work on a novel and a short story collection, he lives in Atlanta with his wife and their two dogs.
www.johnpbaum.com
.