Book Reviews · 05/01/2017
I Brake for Moose
by Geeta Kothari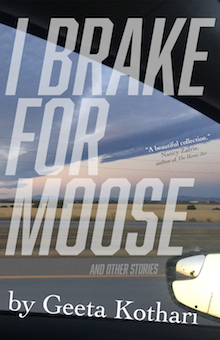 Braddock Ave Books, 2017
I Brake for Moose, Geeta Kothari's debut story collection, throws into sharp focus the conflicts between identity and culture in a globalized world. In these eleven subtly connected stories, Kothari explores the deep challenges to self, presented by an uncompromising American value system that seeks to erase difference and make invisible the humanity of those who are not the same. Kothari's characters are in motion as they emerge from the vulnerability of young adulthood into more fully formed versions of themselves. Home and identity become places under construction, subject to memory and the need to both loosen and honor ties with the past.
Widely known for her nonfiction writing, Kothari brings to this collection an essayist's ability to illuminate these personal, familial, and political pressures. Each story connects to the world we actually inhabit. And yet, Kothari writes not so much about ethnicity as much as a universal desire for belonging and the challenges to self-acceptance that fractured identities continually pose.
The title story, "I Brake for Moose," is a moment of visibility for the unnamed narrator, an emblem of leaving youth behind. This story examines the fragility of relationship, especially across cultural lines, and the attempt to hold onto the feelings of abandon that music brings, a youthful freedom that nevertheless becomes repetitive, deadening. On tour with a band whose lead singer, Gus, reappears in a later story, the narrator waits at Friendly's with Joanne, Gus' girlfriend, for band members to return: "Waiting is what we do best, all for the privilege of being able to say, 'I'm with the band,' and walk past the red velvet ropes and other girls as if we've done something special." The emptiness of this suspended time initially makes it special even as it is gendered and reductive, because it becomes a holding pattern against parental expectations: "And then I have to explain, explain that immigrant children are expected to succeed and capture all the remaining bits of the American dream that eluded their parents."
Both from Indian American families, Gus and the narrator embody these expectations in different ways: Gus wants relationships only with mindless young white girls who perpetuate his own "American dream" of eternal youth, while the narrator ultimately recognizes the dead-end of this life and that she, as an always-waiting girlfriend, will always be reduced to invisibility by her white boyfriend. She knows she must leave. The recurring thread of "a young moose, small and vulnerable" throughout the story becomes the narrator's moment of epiphany as she departs, away from the enclosed wilderness of aimless youth and towards life on her own terms.
Kothari's concise, keenly-edged prose captures her characters' interior emotional conflicts as they navigate their lives in search of this same self-visibility. In "The Space Between Stars," Maya seeks a place for herself in the suburban loneliness of Erie, Pennsylvania, where she was raised by her aunt after her parents were killed in a plane crash, and where she now lives with her husband Evan. She is deeply conflicted over how to align her self-perceptions, and the culture in which Shyamma raised her, with Evan and her new life: "Everything about him was long, lean, graceful. Next to him she felt like a baby elephant—small, dark, and clumsy." Maya is ambivalent about this culture that ties her to her dead parents and to India where she has only visited. She wants "to be like everyone else," allowed to eat Oreos, not the vegetarian food Shyamma cooks. And yet, killing a fish causes her moral anguish. She doesn't know where she fits in. Catching sight of herself in a mirror, "she wanted out of this skin, out of this life and into another, one that fit her, not one that she had to fit."
But conforming means forgetting, and Maya finds that forgetting her culture is "incomplete;" nor can she "get out" of her skin. She remembers her only familial bond: Shyamma will be gone one day, and Maya wants to reconnect with her aunt's spiritual devotion to Ganesha, god of beginnings and remover of obstacles. By making room for the past with the present, she removes her self-imposed obstacles: Maya incorporates both going to the temple with Shyamma and holding the "cool glass" of beer Evan gives her "against her temple," an image of duality, her own beginning.
Not all of these characters succeed in their emotional migrations. A war refugee confuses rules of grammar for language's meaning and cannot accept the new gender roles life now requires. A failed doctor dies a "foreigner's death" in Kathmandu, unwilling to recognize concern on the Sherpa's faces because he cannot overcome his own deeply racial bias. Names also have great significance: Zed, representing "the last stop in the alphabet," doesn't want to be "the Chinese-American geek," and his apparent suicide underscores bitter despair over being rejected because he isn't the stereotypical westernized "Mr. Right." And the aging rock 'n' roller Gus is stuck in continuing reincarnations of his mediocre band, Dharma Farm, that keep him stalled in immaturity, on the "farm," unable to realize his own life potential. Forced into difficult moral and relational situations, these characters react to their circumstances either with explosiveness or the stasis of acceptance.
Other stories probe into perceptions of home in transition and the dangerously porous borders between self and the outside world. This environment brings its own challenges: some characters are confronted with the density of urban life, while others contend with a vapid suburban landscape. It is a world of extremes, too hot or too cold, overcrowded or abandoned, beset by war and terrorism or lack of global significance.
Kothari impels each story through points of connection, moving, as her characters do, toward questions of autonomy and self-acceptance. There is sometimes anger and the focused sadness of loss in the journey. That brief moment of visibility—the moose suddenly appearing—requires acknowledgement before it disappears, an evanescence captured not only in these characters' memories, but also in the pages of this outstanding collection of stories.
+++

Geeta Kothari
is the nonfiction editor of the
Kenyon Review
. She is a co-founder of the
www.novelworkshop.org
. Her writing has appeared in various anthologies and journals, including
New England Review, Massachusetts Review
, and others. Her essay "If You Are What You Eat, Then What Am I?" is widely taught in universities and has been reprinted in several anthologies, including in
Best American Essays
. She is the editor of
Did My Mama Like to Dance? and Other Stories about Mothers and Daughters
.
+

Nadia Ghent is a writer living in Rochester, NY. She is currently working on a collection of short stories and a lyric memoir.