Book Reviews · 12/05/2011
How to Stop Loving Someone
by Joan Connor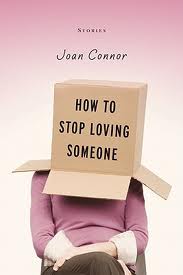 Leapfrog Press, 2011
Love, inarguably one of the most universal human experiences, has come to be an almost taboo theme in serious literature. Love stories are too often sentimental and trite, populated with one-dimensional characters and all too familiar plots. As a result, love stories are often delegated to that most disparaged of genres: romance. Yet as a universal experience, love is certainly a fitting subject for true art; many readers simply want to see literary love that reflects real love: complex, chaotic, scary, humiliating—an emotion so powerful that it can prompt even the most sensible person to behave in foolish and irrational ways. The stories in Joan Connor's new collection, aptly titled How to Stop Loving Someone, offer just such a portrayal. Gritty and real, Connor's stories hold a magnifying glass up to the painful, shameful, and often hilarious side of love.
One of the reasons why Connor's stories so successfully set themselves apart from other love stories is Connor's tight, unyielding focus on character above all else. These stories do not rehash the same insipid boy meets girl followed by conflict then a marriage proposal formula. Instead, the stories bring to life multi-dimensional, fascinating and flawed characters who seek love but do not find it, or who do not know what to do with it when they have it, such as the narrator in "Men in Brown," who orders books just to have a reason to see the U. P. S. man but who is thrown into a state of panic when she realizes that he is as interested in her as she is in him. And it isn't just romantic love that Connor explores in these stories. Included in the mix are accounts of motherly love, sisterly love, and even narcissistic self-love.
The stories in the collection also look at love from multiple angles. While many of these stories deal with the search for love in middle age, "The Writing on the Wall" shows a teenaged girl who is desperate to lose her virginity, even as the prospect terrifies her; "The Wig" reveals a young married couple's struggle to find some excitement in an otherwise tepid marriage; and in "If It's Bad, It Happens to Me," Connor depicts two young women floundering in a post-9/11 world. It is in "If It's Bad" that one of the defining lines of the entire collection appears. Reflecting on her self-absorbed friend Austry Ann, a woman who believes her privileged middle class "problems" know no bounds, the narrator makes a startling realization: "We do not learn." This could be the mantra for all the characters in the collection, each driven to repeat the same mistakes again and again.
Nowhere is this inability to learn more evident than in the title story, which is written as a self-help guide. Step one of "How to Stop Loving Someone" details how to meet and fall in love with the wrong person. From there, the guide takes the reader through the process of navigating a bad relationship, surviving a break-up, and, ultimately, starting all over again with step one. Even before the reader is asked to repeat step one, the cyclical nature of the task is evident; in step three, for example, the reader is given a series of instructions that point to the inevitability of heartbreak even as the relationship is just beginning:
Lose ten pounds and don't let them find you. Order lingerie from brown papered catalogues and wear it no matter how uncomfortable you find the thongs, and laces, and lace. Wear pearls without irony, heels without disclaimers or discomfort. Buy dresses that you think he would buy for you if he bought you dresses. He won't. Let this be your mantra: if you want it (flowers, dresses, earrings, cute cards, pillow talk, reassurance, self-esteem) do not wait. Not for a second. Run, don't walk. Jaywalk. Jay-run, jay-hell-for-leather-at-breakneck speed hoof it to ensure it for yourself at the nearest florist/dress shop/jewelry store/Holiday Inn seminar/or self-help shelf in your local bookstore. The binding of love after forty is cracked and reads in Helvetica gilt font: DO IT YOURSELF. So do.
This theme of being caught in an endless loop repeats itself from story to story, and perhaps reaches its height of poignancy in "What It Is," a story about a long-distance relationship that falls flat when the distance is shortened. When the couple at last finds themselves in the same place at the same time, they discover that they don't feel the way they expected to about each other. Still, there are flashes of rightness that confuse and excite them: "For a giddy moment, they became themselves. They thought that their laughter sounded genuine. They thought they were enjoying themselves, but, but." It is these moments, Connor seems to be saying, that keep us all hungry for love, fallible though it is.
One of Connor's strengths as a writer has always been the poetry in her prose. Connor's careful attention to language shines through in her fiction and essays alike, so it is no wonder that she is an award winning writer in both genres. In her previous books, however, the language can get a bit dense at times, causing the voice of the narrator to overshadow the stories and characters themselves. Happily, this is not the case with the stories in How to Stop Loving Someone, which maintain Connor's trademark lyricism without overpowering the quirky characters or engaging plots. Earning its well-deserving author yet another award (the book won the Leapfrog Fiction Contest last year), How to Stop Loving Someone is, without a doubt, Connor's best book yet.
+++
Joan Connor
is the author of three previous collections of short stories,
Here on Old Route 7
and
We Who Live Apart,
published by the University of Missouri Press and
History Lessons
from the University of Massachusetts Press, which won the
AWP
award for short fiction. She is full professor and Director of the Creative Writing Program at Ohio University.
+
Ashley Cowger
is the author of the short story collection
Peter Never Came
from Autumn House Press. She holds an
MFA
in Creative Writing from the University of Alaska Fairbanks and a BA in English from Northern Arizona University. Her short fiction has appeared in several literary journals and has been nominated for a Pushcart Prize.