Book Reviews · 05/06/2019
Her Adult Life
by Jenn Scott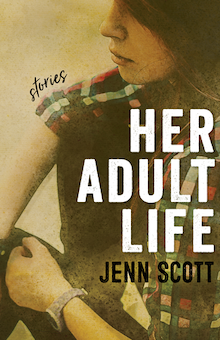 Acre Books 2018
Longlisted for the 2019 PEN\Robert W. Bingham Prize for Short Story Award, Jenn Scott's Her Adult Life is a standout on the list and worthy of more attention.
Scott's riveting emotional book stands out for the strength of its writing and for its portraits of small town waitresses, factory workers and fast food restaurant managers not often seen in contemporary fiction. In all these stories, Scott pays attention to gender and class but never reduces her characters to their sociological status.
All Scott's stories have strong openings with well-chosen details that often subtly elevate the every day into the mythic. The most explicit example of this technique can be seen in the first lines of "Myths of the Body," where the words "sacrifice" and "offering" elevate the mundane:
"When Ana discovered the sex book, "Secret Lover" was on the sound system, a jazzy version, like something played in a water aerobics class. The book had been left on the toilet's ceramic lid like a sacrifice, an offering; still wearing her rubber gloves with their powdery residues of cleanser, Ana leaned the small of her back against the sink's basin and studied the drawings."
As befits the collection's title, the stories feature well-developed mostly female characters coming of age mostly in small town Pennsylvania and grappling with the meaning of adulthood. In the title story, a chef's knife, bought by the narrator at 20 as a symbol of her adulthood, figures heavily in the plot as the 28-year-old narrator disastrously and comically navigates the end of her first relationship. It becomes clear that the knife remains symbolic, her adulthood still aspirational. In "Myths of the Body," the manager of a fast food restaurant learns that the selfhood of adult life comes through sabotaging her job and falling for her female co-worker rather than following the conventional script of a job and a boyfriend. In "Lessons in Geography," a 20-something woman in a moribund adolescent relationship brings it to an end by sleeping with her neighbor who is adult enough to acknowledge that most of his actions—including ordering a mail-order bride—stem from loneliness.
In the story "Paradisio Nel Frigorifero" Scott cleverly offers her own humorous version of heaven: a refrigerator, complete with a Greek chorus of talking vegetables. That story tells of a naive 15-year-old initiated into the adult world of sexism, classism, infidelity and violence by playing a part in the very adult dramas of a middle-aged married couple that become a Greek tragedy when the wife's lover commits murder. A younger character's witness to adults' disappointments is also the set-up of "American Silk." This time the character is a college student working in a factory just for the summer. Her male co-worker is unapologetically sexist, but Scott paints him as a full human being with his own problems and misguided attempts at connection. And she shows how he has to deal with the classist assumptions of the narrator.
Two of the stories involve an adult child dealing with the wounds of childhood. In the powerfully moving "Monsieur," a suicide survivor returns home to her hapless, self-involved mother and recalls an oddball high school teacher who befriended her as a lonely high school student. In the penultimate scene her mother—frustrated at being unable to reach her daughter—acts cruelly but then says that she forgives her daughter. The story ends on a very adult moment, as the daughter recognizes the vast emotional and social distance she has from her mother. In the devastating "Care" two struggling friends make a pilgrimage on Thanksgiving to surreptitiously visit the main character's father who she has not seen since she was eight. The protagonist struggles to make the adult move of letting go of unhelpful relationships and embracing true caring both as caregiver and receiver of care.
The stories are long, but they don't feel long as Scott takes the time to develop character. Here from the story "Care" is one of many sharp character sketches:
"Then her mother had been bone thin and beautiful, and constantly fearful. She had countless nervous tics that Theresa suspected all mothers had. All mothers were ,generally, neurotic: they trusted no one. They had faith in no one. It was what happened to them during childbirth. Mothers locked doors and checked them twice. They looked over their shoulders; they did not make friends willingly; they folded under pressure. They kept things scrubbed and meticulous. They maintained a confined, manageable order. Her own mother cannot stand, never could stand, impulsiveness—impulsiveness of this specific variety, this visiting a man she has not seen in years. Her mother does not like invitations to disaster. In general she avoids them just as she has taught Theresa to do."
Various knives feature as potent symbols (though never heavy-handed) in three of the stories and seem apropos to Scott's vision in all of the stories in this collection of how relationships—familial, romantic, platonic—cut into us but also how painful it is when we try to cut ourselves out of them to become our true adult selves.
+++
Jenn Scott
hails from Pennsylvania and received her
MFA
in fiction from the University of Pittsburgh. Since then, she has waited on countless tables and has published stories in such journals as
Gettysburg Review
,
Santa Monica Review
,
Cincinnati Review
,
Gulf Coast
,
Los Angeles Review
,
Alaska Quarterly Review
, and
Fiction
. She lives and writes and eats and drinks in Oakland, California, with four cats and a husband. Currently, she is revising a novel spanning nearly eighty years and set in the Rockridge district of Oakland.
+
Mary Lannon has had short stories published at Story and at New World Writing. Her story "The Key to Catastrophe Management" was named a finalist for the 2019 Iron Horse Literary Review Trifecta Contest. She is at work on a second novel while looking for a publishing home for her first.