Book Reviews · 12/17/2012
Heart of Scorpio
by Joseph Avski
Translated by Mark David McGraw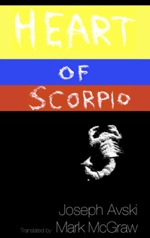 Tiny TOE Press, 2012
The pathos of failure and seductive delusions of grandeur are at the core of Joseph Avski's novel Heart of Scorpio. Set in modern day Colombia, the story is a fictionalized narrative of Kid Pambelé's reign in the 1970s as Colombia's junior welterweight boxing champion. In Avski's novel, the protagonist Milton Olivella is a famed boxer, a cultural legend, and a famished wisp of his former self.
Told in alternating points of view, Olivella's grown son, his former coach, his biographer, and Olivella himself piece together the past to recount how a poor black man descended from former slaves rose to stardom to become Colombia's greatest hero, only to lose it all in record time.
Avski relies heavily on flashback and the chronology of the boxing matches is perhaps intentionally jumbled to mimic circuitous memory loops. Nonetheless, the high stakes of the scenes override any timeline confusion.
At several points, Olivella's star is said to have outshined that of Colombia's other national treasure.
El Spacio never missed a single detail of the champ's love life and put him on more than five hundred front pages, each showing him with a different woman. Between 1973 and 1980 El Tiempo dedicated more pages of cultural section to Milton Olivella than to Nobel Prize-winning novelist Gabriel García Márquez.
Throughout the course of the novel, Milton Olivella—the now broke, drug addicted, former boxer—wavers between lucidity and delusions. At home he asks his wife for the keys to a Porsche that has long been repossessed, then days later confronts his old trainer with piercing words of wisdom, warning him to protect his new protégé.
"You know something, Bighead, see how life is. You never won anything and now you're better than me."
And after a second he kept talking, "Take care of the kid Miguel. Not so he'll be a champ, but so that he doesn't turn into shit afterwards."
Among the themes touched upon throughout the novel are racism and the idea of African voodoo, or spirits that are said to have accompanied the boxer in the ring. Against the backdrop of racism in nearby Cartagena, Olivella's popularity is put forward as unprecedented. Yet the notion that he was aided, or plagued, by supernatural forces is speculated upon, particularly once he topples from greatness. His mental break is televised for the country and his demeanor scrutinized.
Some reporters asked questions of Olivella to which he barely responded with signs of astonishment. Suddenly his eyes came alive and he started to speak. He spoke an otherworldly tongue that some say comes from the black spells pronounced in African languages. In Palenque only those who are initiated in the magic arts or sciences can speak them.
Avski is fascinated with male egos and the violence that frustration breeds. All the voices that compose Heart of Scorpio are masculine. In a boxing-centric world, there is little tolerance for mild manners or tenderness. Weaker men are dismissed as "queers," and not a single woman fares well in this novel. The few women mentioned—a wife, girlfriend and prostitute—are all heartlessly abandoned or beaten. While it seems Avski is merely depicting machismo culture and not condoning it, readers will likely find the treatment of women disquieting.
Where the novel excels is in the unexpected confessional moments. When Olivella's coach trains alongside the boxer, the reader starts to understand the close bond between the two men. Naturally the coach pores every drop of his energy into making Olivella the greatest, strongest fighter possible. But once it's clear Olivella won't reign much longer, the coach starts to sabotage his prize athlete.
And then I started bringing cocaine to his workouts and I would tell him I did it out of friendship; and I explained to him that I didn't want him running around with bad people to try to get it and I told him to snort some, to try to quit it gradually, that he should snort a little less every day, that he was everything I wanted to be and that's why I didn't want him to destroy himself because it was like he was destroying me.
Similarly, the boxer's grown son lives with a persistent rage he tries to temper by chain smoking. The humiliation of his family's eviction on national television is one his son will never overcome. His mounting frustration leads him to physical altercations with seemingly everyone he encounters, even the girlfriend he wants to cherish.
…Papa comes home violent I know it's the last way to deal with him, with punches, like dogs, like animals. But I don't want to hit Lucero, lucero no lucero no lucero no lucero no.
Olivella, an athlete who at one time was so influential he was able to persuade the government to introduce electricity to his hometown of San Basilio de Palenque, is by the end fumbling in his own twilight. His biographer finds the boxer in a bar with a busted lip, wearing a shirt covered in blood. Leading up to their encounter Olivella has stolen a china set and pawned his own wedding band for drug money. His desperation is palpable, his health in extreme peril. Yet he refuses to retire the stories of his boxing matches. He re-lives each fight, sometimes mimicking the punches and footwork, as if trying to triumph over history.
+++
Born in 1980 in Medellín, Colombia,
Joseph Avski
graduated with a degree in Physics from the Universidad de Antioquia (Colombia) and an
MFA
in Creative Writing from University of Texas at El Paso. He has published poetry and short stories in Colombia, Argentina, Chile, Uruguay, Spain, Mexico, and the
USA
; and has won short story contests in Colombia, Uruguay, and the
USA
. In 2009, he won the IX annual National Novel Award from the Medellín Chamber of Commerce with his opera prima
El corazón del scorpion
(Heart of Scorpio). In 2010, he was the finalist in the
XII
Novel Biennial "José Eustasio Rivera" with his novel
El libro de los infiernos
(The Book of Infernos). He is currently earning his Ph.D. in Hispanic Studies from Texas A&M University.
+
After a twenty-year career as a Marine Corps infantry officer that included service in thirty-five countries, Mark David McGraw entered the doctoral program in Hispanic Studies at Texas A&M University in 2009. He has translated poetry, academic articles and literary works from Spanish to English for anthologies, journals and magazines. He currently resides in College Station, Texas with his family.
+
Ursula Villarreal-Moura
is the winner of the CutBank 2012 Big Fish Online Prose Poetry/Flash Fiction Contest. Her writing appears or is forthcoming in
CutBank, Toska, Shady Side Review, Van Duzer, Nib Magazine,
and
Eunoia Review.
She is completing her
MFA
at Sarah Lawrence College and is an assistant editor for the
Cream City Review.