Book Reviews · 07/15/2013
Flashes of War
by Katey Schultz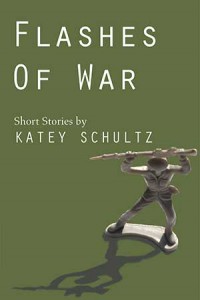 Apprentice House, 2013
Any writer who becomes interested in America's wars in Iraq and Afghanistan, and in the political and psychological complexities of a post 9/11 world, is taking on an important creative challenge. The range—the breadth and depth of concerns that she must know intimately—is daunting. Consider the multiple perspectives at play. The question of agency, of the philosophical and artistic ability to inhabit the personal lives of American soldiers and their families, and even more significantly, the lives of Iraqis and Afghans— these challenges might return any writer to the themes of hipster angst, social media, and video games. Perhaps rightly so. Katey Schultz, author of the recent story collection, Flashes of War, however, has taken up the challenge.
Both the book's acknowledgements and epilogue demonstrate Schultz's method. She spent more than 30 months traveling across the United States talking to veterans and their families about their experiences, consulted experts on Middle Eastern culture, and generally immersed herself in her subject. Immersed though not "imbedded."
The result is a fascinating collection of mostly flash fictions interspersed with a handful of longer narratives that cover a wide range of topics. The opening story, "While the Rest of America is at the Mall," places the reader immediately in the midst of battle in Afghanistan. The narrator is a Navy SEAL whose job it is to draw out the enemy so that he can fix their location and call in an airstrike. When bullets fly into his position along the banks of the Darya-ye Kovar, he describes the bullets as objects that, "glitter through the water in slo-mo, like Hershey's Kisses moving in silver arcs," just as he remembers his daughter throwing them on her fourth birthday saying, "It's raining kisses, Daddy." It is this unsettling juxtaposition that makes the story, reminding the reader of his privileged position, pursuing a sweet life while at the same time being represented by a government that brings war and destruction to a foreign nation—perhaps out of necessity—and endangering the lives of our soldiers and the well-being of their families.
In "Home on Leave," Bradley is an Army mechanic spending some time with his family in Arkansas. The story wants to give the reader access to a more typical soldier's experience of war. Bradley never fires a weapon and rarely worries about being targeted by the enemy. While suffering some of the hardships of desert conditions in Iraq, his first tour of duty is relatively comfortable. His contribution to the war is keeping combat troops on the move by repairing many of the wide variety of vehicles a modern Army requires. Nevertheless, and despite his fobbit status, when he visits his hometown he is heralded as a hero. People stop what they're doing to shake his hand, a party is thrown in his honor. In his own small way, Bradley feels the pride of his service.
What he didn't expect was this: the soft-eyed looks all the girls gave him, the respectful nods from the guys he didn't even know…He felt their attention like a shot of adrenaline.
This feeling continues until a group of drunken combat veterans – one with a leg missing – turn up at the party. They know instinctively that Bradley is not a fellow "tip-of-the-spear" soldier and begin several rounds of malicious hectoring designed to deflate his ego, to damage his man-of-the-hour feeling of celebration. The combat vets are disappointingly successful, as Bradley loses his composure and attacks the vet with the prosthetic leg – an act that leaves him feeling humiliated and ashamed.
A series of flash fictions, "WIA," "MIA," and "KIA," hit the reader hard with demonstrations of combat realism. "WIA" provides a moment-to-moment narrative of a soldier wounded in a close firefight, describing his wounds:
My insides felt like a pit of quicksand, pain spiraling through my gut and out the other side…
and the conditions of his emergency medical attention aboard a converted cargo plane in which the wounded were suspended from rows of hanging cots,
The cot above mine hung so close I could touch it. The outline of another soldier's body pressed through the canvas and his blood oozed through, dripping onto my legs.
For many readers, "MIA" will escalate the narrative tension when a Marine platoon is fighting house to house in Mazar-i-Sharif. Their operation seems to be proceeding as planned until an unlikely turn of events leaves one Marine being used as a human shield to aid the escape of an Afghan jihadist. When the enemy disappears through a narrow door the Marines rush to follow. What they find is only:
a broken window… old blankets and cushions…I'd never heard a silence as loud as the one filling that swollen moment, the moment my team leader Smithy completely vanished.
By contrast, "KIA" deposits us into new, contemplative territory as we read an inventory of a dead soldier's belongings, compelling the reader to sift through the meager detritus of a life, looking for some meaning in its ending.
While so many of these soldier's stories are remarkable, Schultz's writing really shines when showing us the lives of veterans' families – husbands and wives, children, parents and siblings – who are fighting their own war back home. The most poignant of these is a story titled, "Getting Perspective." Here a young widow works doggedly to come to some understanding of her husband's death in combat. She has two young children, daughters, and it's clear that she wants to give as much of herself to the role of parent as her husband did to his country.
It is maybe an old story, yet in Schultz's hands what might have been maudlin becomes a touching portrait of deeply complicated emotions. The story begins with Lillis remembering their first date, a mountain hike, which ended with the couple climbing to the top of a high radio tower at dusk. She remembers his hands on her waist, and how she felt, "light and scared in the same breath, exactly the same way I'd feel a few years later right before our wedding vows." Now these feelings are only memories and every aspect of life is infused with the emotion of her loss: the relationship she dutifully continues to have with her in-laws, the pain of waiting tables filled with men her husband's age who either managed to return alive from the war or who never went, but most especially in the daily ebb and flow of life with her daughters. One day Lillis takes her two girls on a hike in the same mountains she walked with her husband, to the area nearby to the radio tower they climbed together. She does not, of course, climb the tower with two young children, but guides them instead to an outcropping that provides a view almost as striking as the one she and her husband shared from the tower.
I took it all in – the Black Mountains curving off the Blue Ridge, the Smokies in the near distance, miles more we couldn't even see. This world is vast. Our longing is just a speck on a mountaintop.
It is not peace that Lillis has discovered. That, if it comes at all, is years down the road. But her personal landscape – the mountains, her work and her family there – these can show her something about how to live a life on the other side of grief.
Flashes of War is at its most daring when Schultz inhabits the point-of-view of Afghans and Iraqis. "Aaseya & Rahim" demonstrates a marvelous complexity. Ultimately the story of another marriage set against the backdrop of conflict, Rahim's part in the story seems for some time focused on economic concerns as we watch him scrape a living by working for whichever faction holds sway over his region – for now, the Taliban. But this work is dangerous and inconsistent, and when he can't get it, he's literally scraping the earth to make bricks. Childless, Aaseya spends her days enduring the gentle scorn of the neighborhood mothers and dreaming of learning English, of reading books and The New York Times, and of a day when she might be allowed to do something useful – a thing that can only happen if Rahim were to agree to let her go to the schools that are beginning to open for Afghan women. Ultimately, it is the couple's growing intimacy that guides their future, and Schultz's writing here is at it's best.
Flashes of War is an insightful collection, one that will do much to illuminate in the most intimate ways the deep personal and public complexities created by a decade of foreign war. It is a daring and stunning debut.
+++
Katey Schultz
grew up in Portland, Oregon and is most recently from Celo, North Carolina. She is a graduate of the Pacific University
MFA
in Writing program and recipient of the Linda Flowers Literary Award from the North Carolina Humanities Council. Katey teaches workshops, mentors via correspondence, freelances, and travels for her work and is currently writing a novel set in Afghanistan. She lives in a 1970 Airstream trailer bordering the Pisgah National Forest.
Flashes of War
is her first book.
+
Jeffrey Condran is the author of two forthcoming works of fiction: a story collection titled, A Fingerprint Repeated, and a novel, Prague Summer. His work has received several awards, including The Missouri Review's 2010 William Peden Prize and Pushcart Prize nominations. He is a professor of English at the Art Institute of Pittsburgh and co-founder of Braddock Avenue Books.