Book Reviews · 01/18/2016
Family Resemblance: An Anthology and Exploration of 8 Hybrid Literary Genres
Edited by by Marcela Sulak & Jacqueline Kolosov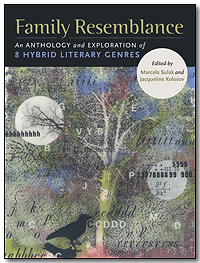 Rose Metal Press, 2015
As writers, our art attempts to both impose order and to best it. We wrestle with the distinctions between poetry and prose as much as we strive to adhere to them.
One writing construct with a long history (e.g. Whitman, Dickinson, Woolf) that seems to be experiencing a renaissance in contemporary literature is the hybrid form. It's the primary subject of Family Resemblance: An Anthology and Exploration of 8 Hybrid Literary Genres, an ambitious, essential resource for practicing writers and both students and teachers of the craft.
In the introduction to Family Resemblance, hybridity is defined as an organic mutation of the four main generic literary forms — poetry, fiction, nonfiction, and drama — that creates "ancient magic, its calling into existence imagined ways of being and seeing that have not been articulated."
In her introductory essay to the anthology, Susanne Paola Antonetta shares a Mad-Lib-like sentence she sent to hybrid-writing colleagues to illustrate the infiniteness (and playfulness) of the form:
If a hybrid work were ____________ it would be ____________.
Some responses:
If a hybrid work were a snack food it would be chocolate-covered pretzels rolled in chipotle dust.
If a hybrid work were a window it would be fogged on one side with nose-prints on the other.
Go ahead, try it.
Antonetta acknowledges that any artistic work is born of hybridity and is experienced in hybridity but it's the act of "conscious hybridity" with its "element of choice" on the part of the artist that is the focus of this anthology.
As proof of the usefulness of order, Family Resemblance is thoughtfully organized into eight concentrations of hybridity: Lyric Essay, Epistolary, Poetic Memoir, Prose Poetry, Performative, Short-Form Nonfiction, Flash Fiction, and Pictures Made of Words. I admired the anthology's arrangement, as it's nearly impossible to fit hybrid work into stand-alone categories let alone exhaustively cover all possible iterations.
Family Resemblance contains the work of forty-three authors, over half of them women, from varied racial and cultural backgrounds. At the beginning of each chapter, the construct of the hybrid form is explained, and then five to six writers share both an example of that form and a craft essay to explain the creative processes behind it.
For example, Chapter Two, the "Epistolary" section, explains in the first sentence:
The word ' epistle' comes from the Greek epistole meaning 'letter' or 'message.'
It then briefly traces the background of the epistolary form dating back to the Greek-language New Testament Epistles, then to epistolary novels like Mary Shelley's Frankenstein (1818) and C.S. Lewis's The Screwtape Letters (1942), up to modern day email correspondence. And it reminds that the power of this particular form is "its ability to create the illusion of realism via a multiplicity of documents while avoiding the intrusions of an omniscient narrator…The reader seems to have walked into another person's life via privileged access to personal documents."
The six writers highlighted in this particular section have all worked with book-length epistolary sequences. Included are excerpts from Joy Ladin's The Book of Anna, in which she explores diary entries and poems written by a fictional Czech-German Jew who spent her adolescence in a concentration camp. Ladin writes in her craft essay about the exploration of trauma and form:
When trauma exposes hybridity of the self, it exposes the multiple, often incompatible, discourses—familial, cultural, aesthetic, psychological, religious, and academic—through which we give meaning to what we live through.
Chapter five, "Performative," is a hybrid form likened to the jester of ancient times, performing in front of the court, "allowed to speak truths so obvious they were often invisible, and so they were truths that would otherwise have remained unarticulated." Performative works of literature focus on the "performance of the identity, rather than the construct of identity itself."
Readers may be familiar with some writers in this section — Nick Flynn, Khadijah Queen and Terrance Hayes — but as poets, not writers of "performative" work. In this way, Family Resemblance challenges readers' perceptions of artist as well as form. Of particular note in this chapter is Khadijah Queen's essay preceding excerpts from the verse play "Non-Sequitur" in her book Black Peculiar. Historically, hybridity has had negative connotations: cross-bred, mongrel, interbred. Queen reminds us, "Not a one of us is pure or singular. We are genetic amalgamations, collages of remembered landscapes, and ideological gumbo. The struggle for purity can be destructive and dangerous madness, and an excuse for exclusion."
In the introduction to the "Pictures Made of Words" section, Marcela Sulak writes that "written language emerged from glyphs, the basic elements of picture writing systems, and that letters are, ultimately, tiny pictures representing the smallest parts of sound that we combine and recombine to make words on a page." The pictorial examples found in this final chapter are intriguing, even inspiring. The hybrid examples include: Craig Santos Perez manipulating words from official documents to illustrate attempts made to erase his Pacific Islander culture and land; Miriam Libicki blending comics and nonfiction to document African refugees in Tel Aviv, and Mira Bartók sharing unpublished illustrations from her memoir that visualize "different elements that stand for specific memories."
Following the eight chapters exploring different hybrid forms is a brief but useful afterword on "Teaching Hybrid Literary Genres" which provides concrete assignments to bring into the classroom as well as more intensive discussion of the form itself. As Kolosov writes, "The biggest and most fundamental advantage of teaching hybrid forms are that they disallow the possibility of taking genre for granted and they can explode assumptions about traditional genres."
Family Resemblance is a curious title, one that never fully resonates. But that is this reviewer's only grumble with this book. This anthology is an indispensable tool for those who want to push themselves as artists and teachers. It's also a celebration of diverse writers we should be reading, quite frankly, regardless of the form.
Not everything is revealed through order. There is mystery in the world. We should question what we know. We must find a way into difference. We can try our hand at something new. Readers of Family Resemblance will be inspired to surprise themselves.
+++
Marcela Sulak
is the author of three collections of poetry, most recently Decency (Black Lawrence Press, 2015), and her essays have appeared in
The Iowa Review, The Los Angeles Review of Books, Rattle
, and various anthologies. She's translated four collections of poetry and some have been performed in the Prague National Theater and have been used as subtitles for films. She is an editor at
The Ilanot Review
and
Tupelo Quarterly
, and hosts the weekly radio podcast "Israel in Translation" at
TLV
.1. She earns her keep directing the Shaindy Rudoff Graduate Program in Creative Writing at Bar-Ilan University in Tel Aviv, where she teaches American literature, hybridity, documentary poetics, prosody, and literary translation.
+
Jacqueline Kolosov
holds degrees in English from the University of Chicago (BA, MA) and New York University (PhD), and works as a professor of English at Texas Tech University. She has published three poetry collections, among them
Memory of Blue
(Salmon, 2014), and five novels for teens. The recipient of a Literary Fellowship in Prose from the National Endowment for the Arts, her essays, stories, poems, and hybrid works have been published in such journals as
The Sewanee Review, Poetry
, and
Prairie Schooner
. She lives in West Texas with her husband, the poet William Wenthe, and their daughter, as well as three intrepid dogs, a curious cat, and a Spanish mare who keeps her fully grounded in the present. Learn more at
www.jacquelinekolosovreads.com
+
Lisa Mecham
writes a little bit of everything and her work has appeared in
Mid-American Review, Juked
and
BOAAT
, among other publications. She serves on the Advisory Board for
Origins
literary journal and as a Senior Editor for
The Scofield
. A Midwesterner at heart, Lisa lives in Los Angeles with her two daughters.