Book Reviews · 02/25/2019
Falling and Other Stories
by Ben Stoltzfus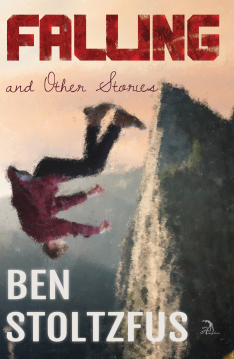 Anaphora Literary Press, 2018
Set in the mountains and foothills east of Los Angeles, "Falling," the lead story of its namesake collection, interweaves threads of human failing and falling with those of an earnestly described natural world threatened, perhaps inescapably, by wildfire and encroaching civilization. Juan's climb and ultimate fall, though recounted in bits and pieces, some of them seemingly contradictory, is told with a precision that emphasizes sights, sounds and scents. Features associated with the fertile west side of the mountain, and the stark flora and fauna belonging to the arid desert side to the east recur with an insistence that suggests obsession and at least the possibility of dream and memory.
Stoltzfus uses frequent jump cuts, to provide just enough information on such visions to keep the reader intrigued, but still not quite able to close the interpretive loop. Who is telling the story? Is there more than one narrator? Occasional use of outright contradictions keep the narrative even more open. Both spatial and temporal directions are problematic in this parable of perceptual slippages. Such openness is preserved to the end, yet the narrative maintains a kind of solidity through numerous associations of the characters with descriptions of the physical surroundings. But the fundamental paradox of this story is that these detailed descriptions can be no more than suggestions. They may point to possibilities and interpretive choices, but the reader's freedom is ultimately preserved as meaning shifts from segment to segment, never to be settled. Perhaps the only thing that is reliable is the telling itself, with its cycle of climbing and falling. Like resurgent and diverse life after the menacing wildfire, narration is a good in itself. It too will go on in all its variety, as is evident in the stories that follow.
"The Bank," set in rural Ohio and narrated by the son, who had long resisted a biblically inspired paternal law, is focused largely on the memories, preoccupations and, ultimately, the "fall" of the father. The latter's trip to the bank to deposit his Social Security check has become a ritual. "A trip to the bank is good. It restores the soul," he says. Indeed, religious allusions abound. But on the drive home, drawing from his memory bank, the father unexpectedly reveals details of his boyhood sexual initiation. This epiphany and final transfiguration, now fully human and without explicit biblical underpinnings, provides unanticipated solace, as son and father come to a much deeper understanding of each other. The bank, it turns out, does indeed restore the soul.
In a bitter-sweet tale of faded, yet persistent dreams, a lady of a certain age spills numerous details of her life, along with her coffee and the contents of her handbag, next to a professor seated beside her on a plane. Her memories, of son, daughter, husbands, and Dallas millionaires, seem no more reliable than her repeated assertion that each of the scotch and waters she orders is the first drink she has had in ten years. Her attempt to maintain herself as "a glamour girl," like the make-up and wig she wears, is built upon a foundation of worn realities. Yet, the postcards she writes and the pictures of her son she keeps in a Bible that no longer fits into her overstuffed handbag suggest a desperate courage. As the script-like dialog in this first of two stories with a female lead comes to an end, the reader might agree with the film professor's parting comment that it's been good talking with her.
In a diving trip off Catalina Island, two women who had been college friends re-kindle an old rivalry. Humiliated by Randy's success in gathering abalone, Jessica, whose perspective dominates the third-person narrative, finds therapeutic pleasure in the insights triggered by memories "rising to the surface." After coming to a realization that diving can be a plunge into dreams and self-understanding, she awakens in a decompression chamber following a near-drowning experience. Having survived the "fall" of a scuba dive gone wrong, Jessica has discovered, in this sympathetically related narrative, her own qualities as a "scuba queen.".
Two stories, in particular, betray an autobiographical strain that, one senses, informs each of the tales in this collection. Echoes of French literature abound in "Masks and Bergamasks," where multiple layers of self-aware narration reveal a teacher's enchantment with one of his students. The narrator's "familiar dream" brings to bear an array of references to Verlaine, Baudelaire, Rimbaud, Keats, and Shelley. In "Samantha's Choice" philosophical allusions join literary ones when a New England college student, encounters existential questions centered on sex and friendship. The narrator creates a "situation," as Sartre might say, where he and fellow-students Samantha and Philippe consider the question of choice. Is it free, as Sartre maintains, determined, as proposed by Freud and Lacan, or both, as suggested by Hemingway? When the students return from a ski trip, where much of the literary-philosophical discussion takes place, the narrative concludes with the practical inevitability of choice. Was Samantha's choice free, determined by circumstances, or both? There is no clear answer, as life and death inescapably intrude on the students' seemingly theoretical banter.
In the final story, the disquieting elements of former Mayan life and culture—where virgins are sacrificed and ball games end in the ritual death of the winning team—are richly re-imagined from the perspective of an ancient Mayan for whom such spectacles are the norm. Here Stoltzfus's associates close attention to physical detail with an ingenuous narration in which rhetorical questions seek to establish rather than inquire. For fate, in the form of various Mayan gods, is inescapable and beyond inquiry, except in the physicality of the game itself that "exists in a present that is absolute." This final piece offers an anthropology and phenomenology of sport, as it lovingly dwells upon the power, tactics, and skill of the game. Yet, much like the preceding stories, it too finds its meaning in the evident pleasure of the telling.
The range of narrative styles and settings, both spatial and temporal make these stories exceptionally intriguing and appealing. The variety of voices, male, female, young, old, contemporary, or past, is particularly remarkable and skillfully executed. Stoltzfus writes with evident knowledge—of flora, fauna, sport, literature, and, most importantly, human relationships—and a painterly attention to detail that fuse these tales into an assemblage that is bound to delight, engage, and even instruct the reader.
+++
Ben Stoltzfus
is Professor Emeritus of Comparative Literature and Creative Writing at the University of California, Riverside. He is a novelist, translator, literary critic and internationally recognized inter-arts scholar. He has published 12 monographs of literary criticism, five novels and one collection of short stories.
Romoland
, a pictonovel, his most recent publication, was written in collaboration with Judith Palmer, the artist. He has received many awards: Fulbright, Camargo, Gradiva, Humanities, Creative Arts, and
MLA
. Stoltzfus lives in Riverside, California, with Judith Palmer, his wife.
+
Roch C. Smith
is a retired professor of French literature at the University of North Carolina, Greensboro. He has written books on André Malraux, Gaston Bachelard, and Alain Robbe-Grillet, as well as numerous reviews of both scholarly works and fiction. His latest contributions, both published by
SUNY
Press, include
Gaston Bachelard, Philosopher of Science and Imagination
(2016) and his translation, with introduction, of
Bachelard's Atomistic Intuitions
(2018).