Book Reviews · 03/07/2016
Fake Fruit Factory
by Patrick Wensink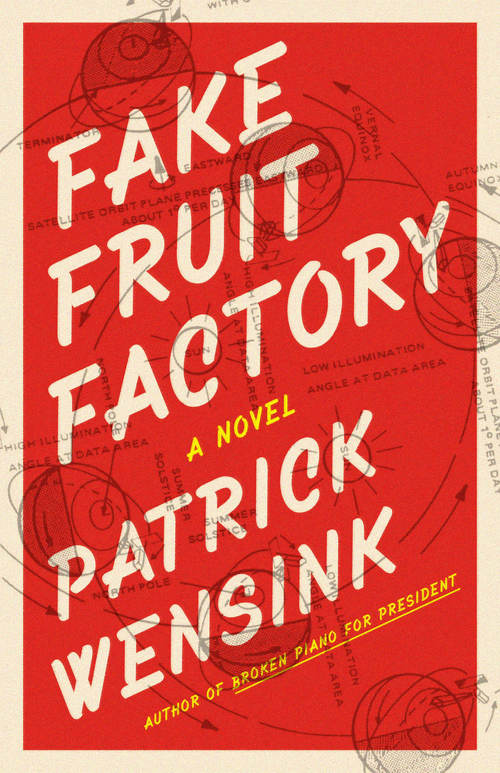 Curbside Splendor, 2015
The town of Dyson, Ohio, is dying. Once upon a time, it was a thriving community, buoyed by the town's plastic fruit factory. But in this comedic novel, the town has moved on from its glory days, and its residents, in their quirky ways, attempt to bring it back to life.
"Quirky" hardly begins to describe these characters. There's the mayor, twenty-eight year old Bo Rutili, an idealist who loves his town and his failing wine shop, compulsively uses hand sanitizer, and cannot commit to his long-suffering girlfriend, Marci; his nemesis, Donna Queen, who became the town's wealthiest woman by winning the lottery and who, after discovering her Native American heritage, renames herself Donna "Urinating Bear" Queen and attempts to open a casino; Troy Gomez, a grump whose ambivalence toward the town of Dyson eventually tips toward affection and who sets out to launch the Gerald Rosinski Imitation Fruit Festival (named in honor of the founder of the fake fruit factory); Cody "Razzle-Dazzle" Kellogg, a DJ who runs the low-watt station in Dyson and dreams of journalistic fame; and a mummy, who haunts the town's residents by, among other things, offering meals of foie gras. And so on. Fake Fruit Factory offers a cast so large that it can be difficult to keep track, and were this not a comedic novel, these quirks by which we understand them might be insufficient.
For the first two-thirds of this novel, the reader is left wondering whether predictions that a satellite will crash land in the town of Dyson and reduce it to dust and ash are true. The third-person narrator watches with detached amusement as each character pursues his/her own agenda while that question quite literally hangs overhead. Cody Kellogg, for example, convinces a group of protesters that the satellite warning is a hoax and positions them directly where the satellite is expected to land. He hopes that, when they are killed, his dramatic news report will propel him to stardom. Meanwhile, another character rides through town, stealing street signs and a statue of the town's founder, Hans Dyson, hoping to "preserve" them and perhaps reconstruct Dyson when the dust settles.
In the last third of the novel, after the satellite fails to flatten the town, the reader's attention shifts to yet another storyline: the theory that Gerald Rosinski, the founder of the fake fruit factory, left behind a cache of solid gold fruit. A treasure hunt ensues. Bo Rutili, by virtue of his grandmother's affair with Rosinski, is, along with his brother, the rightful heir to the golden fruit, but several other townspeople seek it out. Meanwhile the Gerald Rosinski Imitation Fruit Festival carries on, and though it doesn't save the town's finances or secure its future, it seems to satisfy those involved.
Bo Rutili, by virtue of being the most believably irrational character in the novel, seems to serve as the reader's anchor. Reading Fake Fruit Factory is like attending an overcrowded party, in which each guest's outsized personality demands more attention than any guest can provide. Yet Rutili is a worthy host. He's in love with his town, buckling under the weighty responsibility of governing such an ungovernable citizenry, and struggling to see that a good woman adores him.
One wonders why these characters love Dyson, a town that spent most of its existence famous primarily for Abraham Lincoln's having stopped there once to defecate. One may even struggle to care about saving it as much as they do. But in the end, Dyson is the most believable character in the novel. It's every small American town that is losing its battle with big city chain stores and sub-par leadership. But one reads this book to enjoy the antics of the characters, whose "quirks" tend to humanize them when they break down and reveal the genuine suffering underneath. At first it's funny. Then it's sad. Then it's funny again. But throughout, the novel feels, in an odd way, real.
+++
Patrick Wensink
is the author of three works of fiction, including the bestselling
Broken Piano for President
, and a forthcoming essay collection. He frequently contributes to publications like
The New York Times, Oxford American, Salon
, and
Huffington Post
. He once sold his own line of
BBQ
Sauce, was married in a doughnut shop, and got punched in the mouth so hard he lost a tooth. (Not all at the same time.) He lives in Louisville, KY with his wife and son.
+
Peter Biello
(
peterbiello.com
) is the founder of the non-profit Burlington Writers Workshop. He is the founding editor of
The Best of the Burlington Writers Workshop
anthology series and a co-founder of the literary journal
Mud Season Review
. He hosts
All Things Considered
and
The Bookshelf
on New Hampshire Public Radio. He holds an
MFA
in fiction from the University of North Carolina at Wilmington and a
BFA
in creative writing from the University of Maine at Farmington.