Book Reviews · 08/25/2014
Every Kiss a War
by Leesa Cross-Smith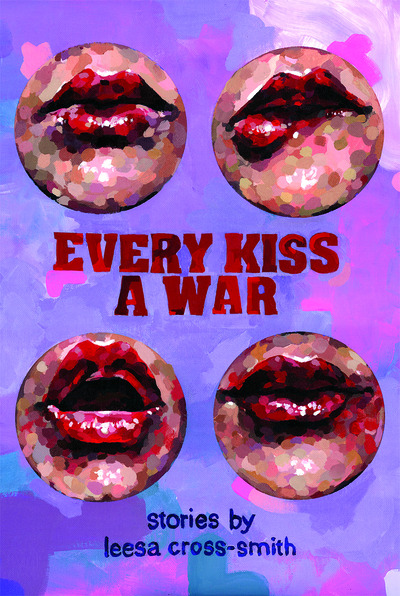 Mojave River Press, 2014
The stories in Leesa Cross-Smith's debut collection, Every Kiss a War —full of adoration and loss and infidelity and sex and mistakes and memory and regret—prove that, sometimes, an author can unearth the perfect title to represent her work as a whole, for within this assemblage, Cross-Smith crafts twenty-seven glimpses into the lives of those struggling with the physical and theoretical rubrics of companionship, challenging the traditional concept of fidelity and hip-checking tender, fogged lens romance for tumblers of whiskey in a dimly lit bar, for late nights and loud music. There is misery in the love Cross-Smith's characters encounter. There is anger. There is truth. And the collection fuses these sensations quite comfortably, demonstrating, more often than not, how incredibly gut punch powerful short, flash, and micro fiction can be when crafted by a talent as skilled as Cross-Smith.
Take "Bleed to Love Her," a flash fiction piece revolving around a nameless narrator and a woman named Mia who, while living in a commune, find comfort and support in each other's arms after their respective spouses fall in love and move away. The story is quite short, clocking in at just under three pages. And while the commune setting, complete with hippie undertones (Mia and the narrator have children named Bright, Avocado, Ocean, and Camper), provides a laugh, it's the simple interactions between the adult lovers that speak volumes to how new relationships thrive and crack. Fundamental confusions abound, from moments of crossed wires—when Mia asks, "Would you hand me that?" without specifying her target, the narrator laughs, having no idea what she wants—to the discomfort in the narrator's voice when he learns Mia's daughter has had her first period. "She's twelve, I thought she'd be older," he says, oblivious to the biological cycle of the opposite sex. Cross-Smith wisely chooses to make these characters somewhat awkward in this small story. They aren't perfect, and this limitation makes them translate as real to the reader. Thus, when the Venn diagram of their budding romance bestows enough overlap for Mia and her man to focus on the positive—they make soup together as a team, share a jar of red wine—their narrative burns with an aura of authenticity.
Many of these same ideas of disorientation and realness percolate in the slightly more experimental stories, "A Modest Guide to Truculence/Survival: Girls," and "What the Fireworks Are For." Both pieces take on a catalog structure, with the first reading like a checklist written by a woman to her younger self:
HEY, FIRST OFF: Ignore everything. But if you hear only one bird, listen. It could mean something. Wait. I take that back. Ignore everything but the one bird and the pulsing, cracked-white sky. And don't keep love letters. You can keep some letters, but don't keep any letters.
This opening is equally confusing and real, something you'd hear near closing time at a local tavern, perhaps. The list maker goes on to quote Pee Wee's Big Adventure, to present advice on comfortable footwear and boys, and to urge the girl to always look up at fireworks, for they are beautiful. The story reads unusually wise in its chaos, and the fireworks tag segues directly into "What the Fireworks Are For," a story told via numerical listing that begins a triptych of tales concerning Violet, a married woman who, on multiple occasions, flees her Kentucky home and her husband, Dominic. Violet's first escape lands her in Panama City with her friend Cori, where there are indeed fireworks, both in the sky and between Violet and a man named Roscoe ("I let him kiss me because fireworks," Violet claims).
Cross-Smith constructs a rather brilliant female protagonist in Violet, one that wields a great deal of power through her sexuality, yet who eschews the stereotypical role of the femme fatale. While Dominic, stuck at home by the phone, pleads for his wife's return, Violet uses her married state to flirt, to have fun, but also to develop a third dimension. Violet leaps from the page as a wholly formed person, full of contradictions and pronouncements that wobble between faithfulness and betrayal. She claims to have no intention of leaving Dominic, telling Roscoe, "I'm on the lam. I have a good husband who's good to me and I'm good to him some of the time…" but Cross-Smith keeps Violet close enough to the edge of infidelity that the door remains open. It is in these actions that Cross-Smith essentially places Violet in the role most male writers have situated male protagonists for decades: filling the part of the dominant creature holding the cards, making the decisions: a role the author continues to allow Violet to explore and exploit in "Hold On, Hold On" and "Cheap Beer & Sparklers," the two narratives that round out her relationships with Roscoe and Dominic. Cross-Smith pulls off a similar feat with two other stories in the collection: "Un Jour Comme Un Autre" and "Sinnerman." Like in Violet's journey, these linked tales deal with travel and affairs, but in this duo, a character is monitored first before his wife is murdered, and then years after her death. The juxtaposition offers the widower space to evolve. It also supplies the reader a window to witness the changes that occur to a single man from one decade of life to another.
One of Cross-Smith's greatest strengths as a writer is her inspired use of descriptive language. Never in her prose does a character simply kiss another. Instead, the encounter "feels like running and screaming down hills". The sight of an ex-lover brings on the sensation of returning home "after I've been on vacation for a week". In the land of Every Kiss A War, breasts are "heavy teardrops of sunned honey", mouths taste like unread Russian tomes, and crickets and frogs pulse "like a machine". With each clever phrasing, Cross-Smith fortifies her overall work, upping the ante and sparking the mind of the reader. This stylistic asset also helps ease the impact of the occasional clunky line of dialogue, or the similarities in some of the author's characters. Instead of these sporadic flaws drawing attention away from the collection, they glide by on the shoulders of Cross-Smith's stunning bag of verbal tricks. And that's what ultimately makes Every Kiss a War a stimulating read: the combination of smart, rich, honest material with equally smart, rich, shrewd writing.
+++
Leesa Cross-Smith is a homemaker and writer from Kentucky. Every Kiss a War was a finalist for both the Flannery O'Connor Award for Short Fiction (2012) and the Iowa Short Fiction Award (2012).Her work has been nominated for Best of the Net and has appeared in places like SmokeLong Quarterly, Little Fiction, Longform Fiction, Carve Magazine, Monkeybicycle, Pithead Chapel, Gigantic Sequins, Folio, American Short Fiction (online), Midwestern Gothic, Juked, Word Riot, Sundog Lit, The Rumpus, and many others. She and her husband Loran run a literary magazine called WhiskeyPaper.
+
Benjamin Woodard is a staff writer for Numéro Cinq Magazine and helps edit the literary magazine Atlas and Alice. His recent writing has been featured in Publishers Weekly, decomP, Cleaver Magazine, and The Bygone Bureau. Find him on Twitter @woodardwriter.