Book Reviews · 09/08/2014
Doll Palace
by Sara Lippmann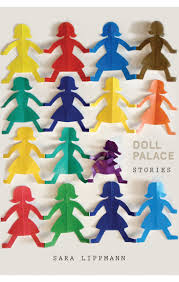 Dock Street Press, 2014
I had a doll when I was a little boy—apparently. I don't remember Cindy, but my mother never tires of reminding me how progressive she was in letting me have her: Cindy. The doll.
Progressive? Sara Lippmann's Doll Palace takes a more sardonic view of The Doll as toy, as child substitute, as moniker and as metaphor in contemporary US culture for girls and women. Repressive, oppressive, regressive, prescriptive—these -ives are more like it. While I'm sure Lippmann's perspective would be similar on male dolls, her treatment of The Doll is certainly about women. There is actually one male doll in the collection, an ersatz sex partner in "The Talisman"—but the penis costs extra.
Dolls are creepy. They're static, mannequin-like "coated plastic" made to be played with, dressed up and dressed down, to be filled up and cleaned out. They remain the same while reality ploughs along giving us liver spots and a past we can't ignore, and reality in Lippmann's Doll Palace is what I'd like to talk about.
Two narrative forms—two modes of experiencing reality that are so endemic, so at home, in the US today—dominate this collection. Lippmann's stream-of-consciousness style in many of these stories is not so much a stream as it is a storm, like narrative hailstorms, happening so fast, "always two breaths away from a panic attack":
. . . feeling everything at once. The full spectrum right there on the surface. Every kiss, every fender bender, forgotten line of a school play, every insult from our mother, touch from our father, every exhilaration and humiliation, fingers slammed in lockers, stretching me out like a mouse in a trap, all of it. (From "Foreign Bodies")
The reader experiences reality—tension, whether imagined or self-inflicted or tragically unavoidable—in a sort of ADHD frenzy: the reality of raising children, of losing children, of not being able to have children, of losing one's innocence, of finding life boring and pointless. These narratives are like those spinning plates on sticks at the circus, with each plate just one of a character's many seemingly disparate thoughts. A great example of this is "Come See for Yourself," told from the scattered perspective of a teenager. It is as if these characters' thoughts are a paperweight snow globe constantly stirred.
But there is a second narrative form here. In so many of these pieces, Lippmann employs a back-and-forth seesaw style, alternating adulthood and adolescence in waves as if to say there is no present without its past. You can't be who you are now without who you were then. That's how reality works. This structure recurs in Lippmann's fiction again and again, and of course it is poignant here in a collection where The Doll—the static embodiment of a little girl plaything who never grows old—is more than prevalent; it's heavy and agitated, always present, never allowed to settle. Like NYC.
I don't think you can read this collection without feeling its tie to New York and the pressures of living in the city, represented best by the dust and the excruciating noise in "Starter Home" but also by the character's desperation to be noticed, loved. The lives here feel erratic, overscheduled, over-stimulated, overly ambitious but somehow superficial. They are plastic.
The collection's denouement, "The Best of Us," is the story of Abigail, a woman who's been through a number of "plastic" surgeries and who, at the prodding of her husband, decides to celebrate her fortieth birthday at a spiritual retreat. Abigail is coming to terms with her inability to outsmart the natural process of aging. Her process—her "transit"—is from the Doll of Pittsburgh to mother. The role of mother, an important aspect of Lippmann's work, develops within Abigail as a changing mantra at this retreat where, it must be pointed out, the purpose is to find oneself:
Now it's your turn, Soleil says, pushing us out of her yogi nest . . . . Return to your original mantra or find something else, whatever speaks to you.
Your mother is:
A liar. A cheat. A whore. A hundred and one terrible things."
Which at the end of "The Best of Us" becomes
Your mother is—
Your mother
Is
Sitting, breathing, right here and waiting, booth of beige tile, for the walls to give, for the sound of her body's release.
Abigail's transit toward self-illumination follows the climactic and disturbing "Doll Palace," a motherless birthday trip to a sort of doll-fanatic's Disneyland, a pink and teal place where little girls are allowed to gorge themselves on cupcakes and hot chocolate and have dolls made in their likenesses. That these characters are unaware of how creepy this is just makes it all creepier.
"Doll Palace" is not the only palace of dolls in the collection. There's the soft-porn photographer's one-room shrine to female objectification in "Human Interest," the Hot Russian Girls in "The Second Act," and the strip club Babydollz in the story of the same name, but also more subtly in the abortion clinic waiting room in "Girl". I might even be bold and expand Lippmann's Doll Palace to the twenty-first-century United States of America.
Lippmann's prose is a stellar example of contemporary realism. What makes it so, on top of everything I've just mentioned, is the author's innovative word choice and phrasing. While my attempt at showing you this will be lacking, I'll give you a passage from "The Second Act," another narrative that swings between past and present and that economically suggests most of what I've touched on here. Lettie is a breast cancer survivor, and the girls in this passage are the singers on stage—the Hot Russian Girls:
Don't you just love them? Lettie says, which is our cue to pipe up, we love them, these girls, what's not to love (Adam, commercial real estate, Gramercy) we love Lettie and her fighting spirit, we gush, we go around the table, is there anyone spunkier, more alive than her, our spiritual light being (Rayna, yoga instructor) we talk over each other lavishing praise on Lettie, our arbiter of fun (Todd, I'm guessing, lawyer), our voices running together until I barely recognize my own in the din agreeing that if it weren't for her we'd be having another night of Dixie cups and head-to-head Wii contests with our kids.
Finally, I have to mention the formal choice to eliminate dialogic mechanics. It's trendy to play with the punctuation of dialogue. Yes, text looks cleaner without quotation marks, but in my opinion there needs to be a stronger reason to do so than simple cosmetics. Lippmann's "hailstorm of consciousness" style is a great reason. Tearing down the barrier between character and narrator is consistent with the way the author sees reality: everything happening at once, external stimuli bombarding the characters, voices from the past interrupting the present—in essence a storm of voices, which can be confusing at times, but that's how reality works.
There is so much more to say about Sara Lippmann's Doll Palace. A lot more will be said—and needs to be said—about this charged and challenging collection.
+++
Sara Lippmann
received a BA from Brown and an
MFA
from The New School. She has written for national magazines, taught college English, and currently co-hosts the Sunday Salon, a monthly reading series at Jimmy's 43 in New York's East Village. Her stories have been published in
Tupelo Quarterly, Joyland, Jewish Fiction, The Good Men Project, Slice Magazine,
and elsewhere, nominated for the Pushcart Prize, and included in Wigleaf's Top 50.
+
Christopher Allen's
reviews have appeared in
PANK

, The Lit Pub, Word Riot, Metazen
and
Book at Fictionaut.
Read his fiction and creative non-fiction in
Indiana Review, Quiddity, SmokeLong Quarterly's Best of the First Ten Years
anthology,
Connotation Press
and many more. He lives in Germany and blogs at www.imustbeoff.com.