Book Reviews · 06/23/2014
Dismantle: An Anthology of Writing from the VONA/Voices Writing Workshop
Edited by Marissa Johnson-Valenzuela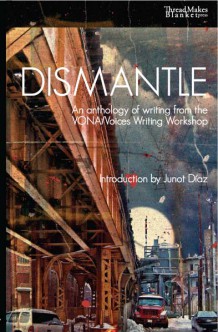 Thread Makes Blanket Press, 2014
Voices of Our Nation Arts Foundation, more commonly known as VONA, was founded in 1999 by Elmaz Abinader, Junot Díaz, Victor Díaz and Diem Jones. Envisioned as a supportive space for writers of color, the program remains the only writers' conference in the country with a multi-genre focus on writers of color as both students and teachers. For some writers, annual VONA residencies held on the UC Berkeley campus act as an alternative to the MFA route; for others, VONA serves as a welcome supplement to their graduate training. VONA has offered instruction, feedback, and a source of vital community engagement to over 2,000 writers, and in Dismantle: An Anthology of Writing from the VONA/Voices Writing Workshop, Editor Marissa Johnson-Valenzuela has gathered over 50 of those voices—emerging writers and award-winning faculty alike—in a single, beautifully presented collection.
Junot Díaz, VONA co-founder and author of the Pulitzer Prize winning The Brief and Wondrous Life of Oscar Wao, introduces this book with a candid assessment of his experience in the MFA program at Cornell: "That shit was too white… Too white as in my workshop reproduced exactly the dominant culture's blind spots and assumptions around race and racism." A condensed version of the introduction was recently published at The New Yorker and has been making headlines. VONA, Díaz writes, was intended to be an antidote to that pervasive whiteness, a space where writers of color could create community, challenge one another, and build platforms. Dismantle is both a platform for these writers, as well as a kind of artifact produced after 15 years of exactly the type of workshop Díaz and his colleagues sought to create, one where "our differences would be opportunities to connect, opportunities for communion."
This is not to say there is a single "VONA voice" running through this anthology. Instead, there are poems, stories, and memoirs from many different voices that add to (and invite participation in) a larger conversation of shared concerns. In his essay reprinted from The Millions, Chris Abani, longtime VONA instructor and author of, most recently, The Secret Life of Las Vegas, writes movingly about narrative taking root in a kind of "existential wound":
These wounds are often nothing more than the narratives we have built up over the years around an imagined or real hurt. But having a wound is not the same as being wounded. The former shapes the desire of expression while the latter merely creates silence.
The pieces in Dismantle are arguably linked then, by similar wounds. They bear witness to the damage inflicted by the constant squeeze of empire, by the sharp, silencing stabs of microaggression. In Mia Malhotra's hybrid prose poem, "Interior Security Regulations (Rohwer, Arkansas 1942)," we see the personal and political literally side by side in lines that blend the formal language of Japanese internment camp regulations with the intimate imagery of a sleeping couple:
Sleep widens like a jaw, yawns black lights shall remain off/ shall not travel shall not make trips stretches prickly across the woman's face/ arms neck taut in the dark. No child, no woman shall not move.
Sometimes these wounds serve to transport us to another time, while other pieces feel as if they are happening right now. In the opening of "Leaking Bodies," a short story by Rae Paris, a pair of ex-lovers considers a disturbing image in the newspaper's Arts section:
The flayed woman's staring at you both, sort of. Her head leans back and tilts to the side, and her eyes bulge like they might pop so it's hard to tell. Make up a song in your head whose only lyric is I want to be flayed.
The story feels like contemporary realism; the ex-lovers fool around, discuss their past, attend the exhibit in question, but the use of 2nd person and the extensive footnotes position the events in a larger story about bodies, brown bodies, and their history of abuse and display in the name of science and art.
There is joy here, too, intimacy and celebration and small, observed pleasures. I was thrilled to read Anna Alves' taut flash piece, "Mixipino," not only because, full disclosure, she's a fellow Rutgers MFA alum, but because of the sheer electricity of this first sentence:
Jules Serrano wonders wants wishes plucks a linen-sleeved vinyl disc from a creaky crate, slides the 33 rpm record out, his fingers caressing the grooves, tiny striations smooth soft never scratched no not scratched until he did the scratching learned the scratches got the skillz to make music from the mess of song and screech and bass and brawn of lyrics and orchestra and gunshots and bravado, all the voices rapping who am I and who are you and fuck tha police and fight the power and Elvis being a hero to most but never meant shit to me mother fucker was racist, simple and plain, mutha fuck him and John Wayne.
Dismantle brings together these voices, and more, many more. Heavy-hitters like National Book Award winner Nikky Finney sit comfortably beside emerging talent, achieving, as Johnson-Valenzuela puts it in her preface, the "careful dance" of balancing fresh voices with masters of the craft. Featuring a mix of reprinted work and exclusive pieces that appear in Dismantle for the first time, this anthology offers a generous sampling of work supported and inspired by an energetic, accomplished literary community.
+++
Marissa Johnson-Valenzuela is a writer, educator and semi-retired DJ who lives in Philadelphia. Her writing has appeared in Make/shift, Aster(ix), The Rust Belt Rising, Apiary, As/Us and elsewhere, and she has been recognized by The Leeway Foundation, Hedgebrook, and others. She teaches at Community College of Philadelphia, and is a founder of Thread Makes Blanket press.
+
Caitlin Corrigan
earned her
MFA
from Rutgers – Newark in 2014. Her fiction, essays, and criticism have appeared or are forthcoming in
Word Riot, The Review Review, The Nervous Breakdown, Monkeybicycle,

NANO

Fiction, Waxwing Literary Journal,
and the
Tin House
"Flash Fridays" series. She can be reached at www.caitlincorrigan.com.