Book Reviews · 01/02/2017
Deer Michigan
by Jack C. Buck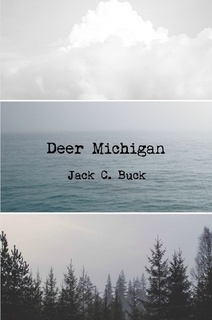 Truth Serum Press, 2016
HBO's Stranger Things combines a wonderful 80s Midwestern environment and the engaging narratives of early-teenage protagonists with a standard, unremarkable monster story that would have been utterly tacky and silly were it not for the whole thing being a joy.
Jack Buck's collection of micro-fiction, Deer Michigan, is like Stranger Things.
This is micro fiction, not flash, and as such is more a series of vignettes than a collection of fully-contained stories. They have a traditional, almost old-fashioned feel. They speak of a present-day narrator stuck in wistful memory of small town life and friends moved on. The best of these, like "Local Weather," a minimalist creative piece about a long summer, are so short and so nostalgic they are like prompt-cards for emotions and are quickly enjoyable:
It's in the color of Annabelle's shoulders and legs. It's still going fast out there on that two-way country road leading to the lake. It's heard in the choice of music being played in the next lane's car.
We are told that our attention spans are dropping due to technology (this reviewer rejects that assertion), but the super-short, jumpy style of Deer Michigan could be a perfect new writing form, a collection that immediately transports you to resonant parts of your own narrative and drops you there, at which point you might stop reading and ruminate, or continue to the next story. The minimalism Buck employs forces you to search for your own meaning—some readers may like this and some may not.
These tales are so short they had better be good, and more often than not, they are.
For the most part this is charming, evocative nostalgia, like the setting and characters in "Stranger Things": growing up in the 80s and 90s (although some of these stories make it sound like the 60s, perhaps a reflection of the wrinkle-in-time nature of the author's Michigan), important snapshots that carry this collection on its broad, introspective shoulders. This book is like an interactive narrative from a text-adventure video game, but instead of a wizard or monster, this is about "them" and "us," a community versus a fast-modernizing world. For example, from the titular story, an ode to the place that shaped the author's character, a "thank you" and a "how dare you" and then a slightly concerned question: what is and will be left?
Dear Saturday afternoon college football when the whole town shuts down to come together to watch the game. Dear lots of rain. Dear people who were laid-off from the factory. Dear wool tube socks that we all got for Christmas. Dear old Tigers Stadium. Dear farms. Dear weathered barn on a no longer existing farm.
Buck employs the familiar laconic style of another former frequent Michigan visitor, although he is a gentler, kinder Hemingway, and more feminine. The story "Home" in particular, a stream-of-consciousness musing on the intangible nature of home, could be plucked from a Hemingway short:
Somewhere there's a violin and a guitar and a song and a room and people are in this room, and some are sitting on the ground, and someone is hiding under a table after having just heard a poem read about them, and others are standing in the kitchen next to the window that's stuck and won't close using the stove as alight, and two or three are singing all different songs but the same song at once, and there is a friend bringing over knockoff speed later who hasn't arrived yet and he is bringing three or eight other people with him whom you haven't met yet and probably two of these people will end up staying for two and half weeks and one will never leave and one will end up moving out to Denver with you, and over the years more of them will decide to make Denver their new home because why not?
There are some imprecise inclusions, tales that do not fit with the collection's theme of small town life and sentimentality, such as "Drink Pop With Mao," a surreal adventure that is a distraction here. There is a dystopian arc towards the end that could have been better developed or skipped entirely. "when the water runs out" is speculative fiction about the privatization and commoditization of water, but it could have been incredible with the addition of an allusion to the ongoing Flint water crisis.
Some of the stories fall short or are plain wonky. But in all of them there are parts that are really good, and the nostalgic setting is created so well and is so pleasant to spend time in that it's easy to overlook the negative. Buck is clearly very good at this kind of snappy, evocative writing.
Sample this in bite-sized pieces, turn the pages as you would a desk calendar, make it last. Read another book simultaneously. Read it in one go and you might think "was that it?" or be disappointed by the absence of plot and structure, but savor it over days or weeks, and Deer Michigan comes to life as perhaps the reader fills in the plot-blanks with his or her own memories. In a new and scary political climate, this is a genuine celebration of Midwestern Americana, but not a rose-tinted one. And yet, the reader can feel the good times the narrator had there in the details we understand are universal shorthand for the experiences that shape us.
+++
Jack C. Buck
, a Michigan native, now lives in Colorado. He is a public school teacher. Jack enjoys being an uncle to seven nieces and nephews. Someday he hopes to travel the world. You can reach him on Twitter:
@Jack_C_Buck
.
Deer Michigan
is his first short story collection.
+
Simon Pinkerton
lives in London and has genes in common with the following groups, in order of the strength of the match (he was swabbed to find this out, liberally swabbed): United Kingdom, Netherlands (out of left-field that one), Norway, France. Make of that what you will. He writes short fiction and humor for a lot of excellent magazines, such as
Queen Mob's Tea House, Entropy, Word Riot
and
McSweeney's
. Find him
@simonpinkerton
, please, and writing links at
www.simonpinkerton.tumblr.com
.