Book Reviews · 02/02/2015
Crude Sketches Done in Quick Succession
by Andrew Brininstool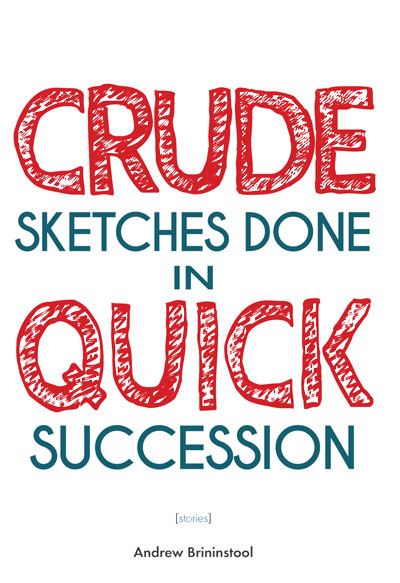 Queen's Ferry Press, Dec. 2014
The men in Andrew Brininstool's Crude Sketches Done in Quick Succession can't seem to accept their new circumstances. They fight it, often with zealous immaturity, as if unaware of how ridiculous their attempts show them to be.
In "Stick Figures" a man befriends a lapsed Mormon who pursues women with the tenacious verve of someone expending some long-gestating desires. Another man, in "Big Eyes, Wide Smiles," abruptly flees his family for a sex-filled adventure with Miss Oklahoma. The narrator of "Young Arsonists in Love," living on money he made from a ridiculous invention, hires some local kids to use his house as they see fit before setting the place ablaze. A man plans to leave his girlfriend after the end of a field trip with her son, whom he describes as "a generic terror," in "A World in Which None of This Shit Matters." In "A Season Too Many," a former NFL quarterback (now a back-up) contemplates his personal and professional futility.
You see the pattern here. Brininstool clearly has a certain milieu: men who are terrified by irrelevance, who fear, as the saying goes, that their glory days are behind them. In some respects, these characters are interchangeable, as their concerns seem remarkably similar even if their situations are not. After his extended tryst with Miss Oklahoma ends in disaster, Ron of "Big Eyes, Wide Smiles" resigns himself to the inevitable:
Sleep doesn't come easy. Ron knows that in the morning he'll call Charlotte; he'll talk to his wife. What he'll say to her is another matter. He doesn't know if he wants to go home. Returning means facing the pain he's caused, the rift he can never repair. It's clear to him now that he doesn't know why he left in the first place.
Maybe his reasoning can be explained by Daniel, of "A World in Which None of This Shit Matters." About to leave his girlfriend, he revels in the possibilities of freedom:
It doesn't matter. When he hits Topeka, the first thing Daniel will do is disremember Leland and Toddy and Annie. He'll disremember the night in the gym parking lot. The night he met Annie. Today. It will be a new world, a world in which none of this shit matters, and there's nothing that seems so sweet to him now.
One could write this off as a theme of the book, but that would imply a consistency that this collection lacks. In the opening story, "Kankakee," a young woman leaves New York City for a less complicated life in Illinois, but then she begins receiving strange packages in the mail from an anonymous source—little things at first, like lamps and cookbooks, then lumber, roofing, and bricks. The world she abandoned, or, more aptly, the life she might have had with Jon, her unstable ex-boyfriend, can't be cut off so easily. Its components eventually catch up with her.
"Kankakee" mostly works—it's even poignant in parts—but in hindsight it's a strange choice to begin the book. Since no rational explanation resolves the mystery packages, the story is meant to be read as an extended metaphor. The problem is, the rest of the stories eschew such inexplicable occurrences for more grounded predicaments, albeit ones with their share of eccentricities.
Sometimes Brininstool's stories recall Tom Perrotta, the master of suburban ennui, while at other times there is the undeniable influence of George Saunders (e.g., the invention in "Young Arsonists in Love" is prototypical Saundersian absurdity). You get the feeling of a novice (though very talented) writer finding his voice. The book works better in individual stories than it does as a whole. The two best pieces here, luckily, are worth the cover price, and it seems no coincidence that they do not feature callow, equivocating men.
In "Brass on Oak, Oak on Marble, Marble on Glass, Glass on Steel," a man helps his grieving mother buy back his dead father's work trophies and awards. The mother sold them in a confused state of mourning, and though the father's big game trophies are dismissed as "vapid achievements," the search for any remnants of his life becomes a poignantly futile enterprise. Still, after the mother ends up in a care facility, the man has only a fragment of his father left, but, he says, "It's more than some have."
The titular boy in "Mirabeau, the Truant," starts spying on his next-door neighbor with his father's binoculars as his town is inundated by falling debris from an exploded space shuttle. When the neighbor's husband catches him, the man isn't angry with the kid. "My wife," he says, "I've known her since she was a girl. We won't be together much longer." Mirabeau is brought face-to-face with the complexities of adult relationships—via the kind of man the other stories focus on—and here is what he experiences:
Mirabeau wanted nothing more than to leave, to get away. It wouldn't be the last time he felt this way…He'll be unable to recall what he knew just then, which was that nobody felt at home in the world. Everybody was filled with desire and longing…The space shuttle explosion had injected the town with a cause to feel alive and terrified and filmed and important. But it hadn't lead to anything new. It hadn't shifted anyone's life in a way that would last. It was already a footnote in history.
This is a beautiful moment in a beautiful story. It also encapsulates the men surrounding young Mirabeau in this collection. None of them is "at home in the world," too filled with "desire and longing" to settle into a life and accept it. If only they knew what this boy knew.
+++
Andrew Brininstool
is the recipient of a 2014 National Endowment for the Arts Fellowship in Prose. His work has appeared in
Barrelhouse, Five Chapters, Third Coast,
the
Tin House
blog, and
Best New American Voices 2010
. His stories have also received the Sherwood Anderson Fiction Award from
Mid-American Review
and the Editors' Prize from
/nor
. Born in Santa Fe, New Mexico, Brininstool is a graduate of the
MFA
program at the University of Houston. He serves as an Assistant Professor in the Creative Writing program at Stephen F. Austin State University.
+
Jonathan Russell Clark
is a regular contributor to
The Millions, The Rumpus,
and
PANK
, and his work has appeared in
The Georgia Review, Colorado Review, Chautauqua, Black Heart Magazine, Tarpaulin Sky, Thrasher Magazine
, and elsewhere.