Book Reviews · 03/26/2012
Crash & Tell
by Lori Baker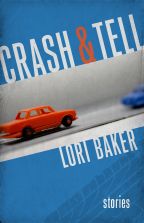 Yellow Shoe Fiction (LSU Press), 2011
Reviewers (myself included) sometimes have a compulsion to make connections between short stories in a collection—to build similarities where there are none. As if we can't let the stories be; they have to be part of something bigger. As if the fact they are contained within the same binding suggests they can't not be bound by some over-arching theme.
It would be somewhat cringe-worthy to watch someone try to fit Lori Baker's six stories–her phonetic pillows, theoretical bisque head dolls of Asia, root canal analogies, images of Jane Goodall's mother in a transparent nightgown, ferrets in the back of a red Lincoln Continental, and a pregnant neighbor with a cruel husband–into some simple amalgamation.
The different styles of narration should make it easier for a reviewer to not do this; the titular story is a quiet domestic horror told in the third-person; "The Coming of Age of Jane" is told through the first-person diaries of a fictional Jane Goodall; and the third-person point-of-view of "At Sea" feels like watching the story unfold through glasses that aren't the right prescription.
The collection begins with "Still Life" and a family singularly focused, obsessed with possessing an exclusive ancestral relationship with the history of photography. The story belongs to the narrator at first: when her Aunt Nina (who photographs those doll heads) decides to investigate the family's history, there's real fear that her search will reveal they aren't as connected as they hoped, and the family turns to threats to stop her:
One day a bisque doll she intended to photograph was disarranged from its pose and left in another, rather menacing, posture. Nina shot it that way and sent a copy to each of us in the mail; clearly, she would not be cowed.
But Nina only finds proof the family's obsession is justified; they are, in fact, related to daguerreotypists, portraitists, and so on, and this is the beginning of the story becoming:
Over time each of us identified with our various ancestors in turn, eventually settling upon a single progenitor as a model, or reference point, to whom we could return for encouragement in our moments of artistic and economic travail.
Cousin Louise chooses Trask Leery as her model, and begins to transform herself into the "unacknowledged and scandal-besmirched inventor of the first moving picture." She invites the family to gatherings where she recreates his inventions: at first it's just a replica of Leery's kinetoscope, but soon enough the story has taken a Steven Millhauser-esque turn. Louise invites the family to witness what they think are projections of images. But they are holograms, and Louise's presentations get increasingly more interactive and bizarre as she seems to become one herself:
And that was cousin Louise, another Louise, vaporous but clearly recognizable, hanging suspended over the bed, arms spread wide as if upon the crest of an invisible wave, tendrils of long black hair trailing downward. A smoky pink umbilicus, curled and glistening like an intestine, stretched from the small of the apparition's back to the abdomen of the pale and inert Louise who lay below.
Louise disappears after a series of these; she retreats into scattered light and the family soon turns against her and those formerly beloved ancestors. They have been burned:
We folded up the annals of our ancestors and endeavored to forget them; and slowly but surely we returned to our former, more placid, way of life.
In the final scene, our narrator, now a staff photographer for a local newspaper, and her Aunt Nina follow clues to Louise's final production. What happens is what makes this story worthy of the Millhauser comparison: inside a warehouse, they encounter holograms of dunes and a Ferris wheel, of Louise on the projected beach, running away from them. But as the narrator interacts with the holograms, she realizes the waves she's walked into are real. The starfish she assumes is an image she picks up and holds in her hand.
Afterwards, the narrator re-enters her "irreproachably real world of local parades, supermarket openings, and portraits of the mayor," and we are left wondering, in that that kind of horrifyingly magical way, what "real" means, what "reality" ever meant, anyway.
Now, if we were doing the expected "let's make connections (even if they're tenuous) between every story in a collection," we'd find a way to link "Still Life" with the second story: "The Coming of Age of Jane." But this semi-fictional Jane Goodall and her diaries don't need to have anything to do with the story that came before, or after.
Just as in real life, Jane Goodall's mother has accompanied her to Tanzania; just as in real life, Jane keeps a stuffed-animal chimp with her (fictional Jane named him Bobo—real Jane named him Jubilee). What happens in this story is a kind of competition: between Jane and her mother for another scientist's attention, but also between how Jane and her mother's relationship will analogize to the tower-building and subsequent fight between two female chimps.
Throughout the story, the narrator is always aware that she's imposing human-characteristics on the behavior of the chimps she's observing–though that doesn't stop her from doing it–because she uses a kind of circular logic to observe that the chimps "are, in a sense, willing participants in the violation of their own privacy." This idea, that the chimps are performing, well if I was writing a different review I might forcibly juxtapose Jane, or the chimps' behavior, and Cousin Louise, but the stories don't call for that; as much as I can know, I don't think they want that, so I won't.
And I won't tell you how the next story, "Crash & Tell," connects to the others, with its narrator who, somewhere slippery between irony and judgment, tells the story of those ferrets in the Continental and the seemingly feeble woman, Virginia, as she moves from one terrible relationship to the one that begins on the last line, which is sure to be just as terrible or worse.
Ditto for "At Sea," whose narrator struggles to make an analogy about the life of the main character, Beryl, who has outgrown her hopes and her husband, and Beryl's physical tumble in the water. Because I think Beryl is smarter than the narrator gives her credit.
And I think the first-person narrator in "Ghost Story," is nothing like Virginia or Jane or Beryl; she's a librarian's assistant who loves to never open books, so obsessed is she with potential, "I had felt that I was like them, unopened, full of potential, waiting for life," whose last action is to revere an inanimate object as she simultaneously refuses the opportunity to help another human being.
I could and do want to say there are recurring bouts of surprising language in each of these stories. One of Jane's chimps appears "slyly Jesuitical in manner," for instance, and she funnily observes at one point that her mother has lost her soul to a leech. But that makes it sound as if the stories need defending. They don't; each of them deserves its fresh start apart from the others.
Couldn't this be one of the best things we could write about a short story collection? That no story needs the other; that they live and breathe and finish and ignite emotions of their own volition?
+
Lori Baker has taught writing at Brown University, Boston College, and Wheaton College in Norton, Massachusetts and is the author of Crazy Water, which won the Mamdouha S. Bobst Literary Award for Short Stories.
+++
Jess Stoner is the author of the novel, I Have Blinded Myself Writing This (Short Flight/Long Drive Books (Hobart), 2012) as well as a choose-your-own adventure chapbook of poems, You're Going to Die Jess Wigent (Fact-Simile, 2011). Her prose and poetry have appeared in Alice Blue Review, Everyday Genius, Caketrain, Juked, and many other handsome journals. Jess currently lives in the sweat and brisket of Austin.