Book Reviews · 11/10/2014
Come By Here
by Tom Noyes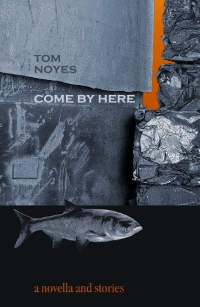 Autumn House Press, 2014
In his latest collection, Come By Here, stories and a novella, Tom Noyes hints at a nearing apocalypse. The end of the world is most literal in the titular novella, set in a landscape burning with coal seam fires. We see these fires from multiple perspectives—from Sensenig, who owns the problematic mines, to Philip and Joanne, whose son dies underground on a job. We see the government close roads and pay relocation costs; we see a figure called the Prophet predict that "[t]he day of fulfillment draws near." Environmental problems are often central to these stories—oil spills, industrial waste, dangerous fish—or they hover at the edges, persisting quietly, such as the smokestacks visible from a ball field in "Per League Rules."
Ambitious and intelligent, Noyes's stories are stronger than the novella, which struggles with its many voices and storylines. The Prophet is an example of this struggle. The Biblical tone is lovely—"In the beginning there was here as a boy […] And then came to pass the cathedral of lies"—but the story gets lost in the Prophet's mesmerizing voice. Noyes is fascinated by the way humans interact with and damage the earth, but he is equally intrigued by tense duets between characters. His prose reaches its cleanest, most chilling peaks when disagreements arise between unrelated men.
In "Come By Here," Chuck suspects that his wife, Vonda, is sleeping with her employer, Sy. Armed with a gun, Chuck confronts the man outside his office, kidnaps him, and demands to be taken "where you take her." Sy brings Chuck to a deer stand by way of "an old mining road"—the menace doubled, already, by the way the mines have ruined so many of the lives in "Come By Here." What follows is an increasingly tense scene in which Chuck "sidearm[s]" his gun, then regrets it. "'We can probably find it without too much trouble,'" Sy tells him. "'I don't have any more bullets,'" Chuck answers. "'And I'm not going to get anymore.'" Sy proceeds to find the gun and, unbeknownst to Chuck, drops it "into a large, smoking crevice." Noyes prompts us to wonder if trust can exist in such a place, especially between these men. With a burst of confidence—and perhaps ill-advised compassion—Sy announces, "'I don't think what [Vonda] and I have now is anyone's fault. Leastwise yours." Chuck picks up a pickaxe from the ground and tells Sy, "'Look at what I found'"—a sentence both childish and terrifying, and one that leaves us anxious with questions, as Noyes' best stories do.
Sy tells Chuck that he trusts him in "Come By Here." The potential follies of trust also appear in "Devil's Night," whose convoluted plot finds Joseph in a graveyard looking for someone else's dog. There is too much backstory driving Joseph to this point —his daughter Chloe has ballet class; the ballet instructor has a dog named Clementine; Clementine has a particular distaste for Joseph, who accidentally lets her out of the studio —but the scene in the graveyard has the same marvelous intensity of the one in the woods between Chuck and Sy.
In his search for the dog, Joseph makes his way to a graveyard, where he encounters a group of teenagers. One of them—a boy named Derek—holds Clementine. A tug of war begins: why should Derek relinquish the dog to a random man? "'[W]e'll go drop off the dog right now,'" Derek promises. "'I'm trusting you guys,'" Joseph says—a mistake, we suspect, in the world Noyes has created here.
We don't know if Clementine is returned to the studio, just as we don't know what Chuck will do with pickaxe in hand; again and again, we don't know who we can trust, though we meet numerous people who rouse our suspicions and doubt. Another such man is real estate agent Klecko in "Curb Appeal." Klecko is loquacious and overfamiliar, eager to sell a house near Buffalo, New York's infamous Love Canal—a "chemical dumpsite" according to homebuyer Clay, though Klecko describes it as "ancient history. We're talking '70s, early '80s. There was an industrial waste issue." The issue was, in fact, a subject of national fascination, but Klecko is eager to brush it aside and make a sale. He is one of Noyes' finest creations—chatty and amiable on the surface, with a hard-to-pin-down seediness just underneath. When he takes Clay and Clay's wife Michelle to a casual lunch, he's dishonest in order to benefit from a coupon policy. At an open house run by a fellow realtor, Klecko gorges himself on the cookies his colleague set out for her guests. Not ruthless behavior by any means, but uncouth enough to make Clay wonder if this is a man he can trust.
In "Bycatch," we find ourselves sympathizing with a narrator who clearly doesn't deserve anyone's trust. "For the last twenty-five years," he admits, "I've run an illegal gillnetter and trawler […] peddling all varieties of fish." When an Asian Carp surfaces in Lake Erie—water in which she does not belong—the narrator describes her as "a dark harbinger, a tragic omen, a nightmare come alive, a worst fear realized." The presence of the carp tells him the natural environment is in danger, but it also upsets the life he's built for himself. "I aim to turn everything in my nets into cash, so there's no rational reason for me to abide by this law," he says, referring to the illegality of his gillnets. "To do so, I'd have to abandon all good sense."
Good sense is lacking in most of Noyes's men, all of whom live in landscapes marred by local industry. Two of the weaker stories, "Soul Patch" and "Safari Supper," nod to environmental troubles, it seems, just so they can fit into the collection. Occasionally, the stories comment on a cultural landscape suffering from entitlement as dangerous as flames. The narrator of "Soul Patch," for example, hosts a reality show in which people win ludicrous wedding gifts. In "Per League Rules," Dom—a man who bullies his daughter, Kat—worries that "[t]his generation of kids, they don't know patience […] Kat grows grumpy waiting for microwave popcorn. She's never had to deal with a dial-up internet connection, never had to wait for a cassette to rewind." The downside of so much technological advance, unsurprisingly, is a decrease in stores of patience. In "Come By Here," Sensenig commiserates as he recalls his own childhood: "Back then you took care not to over-praise your children. Your sons especially. For their own good you took care […] Nowadays, every kid's a genius […] People overcompensate."
Noyes' stories ask us to look at the way we regard the earth. These characters live with the consequences of carelessness, yet they are rarely charged with the job of demanding sustainability. Trust and good sense are in limited supply—but what is to be gained by trusting a man like Klecko or Chuck? These stories ask us why the temptation to trust is so great, even though Joseph may be left waiting, uneasily, for the return of someone else's dog. The temptation to believe what we are told, Noyes reminds us, often chafes against what we can plainly see.
+++
Tom Noyes is the author of two other story collections, Spooky Action at a Distance and Other Stories and Behold Faith and Other Stories, which was shortlisted for Stanford Libraries William Saroyan Award. Tom has earned degrees in writing from Ohio University, Wichita State University and Houghton College, and his stories have appeared in such journals as American Literary Review, Ascent, Colorado Review, Image, Mid-American Review, New Ohio Review, Pleiades, Sycamore Review, Terrain.org and Third Coast.
+
Jackie Thomas-Kennedy
is a recipient of fellowships from the MacDowell Colony, Yaddo, the Ucross Foundation, the Saltonstall Foundation, Brush Creek Foundation for the Arts, and the Fine Arts Work Center in Provincetown. Her stories have appeared/are forthcoming in
Narrative, Glimmer Train, Georgetown Review, The L Magazine, Slush Pile, StoryQuarterly,

SLICE

, Canteen,
and the
Madison Review.