Book Reviews · 09/23/2013
Chasing the King of Hearts
by Hanna Krall
Translated by Philip Boehm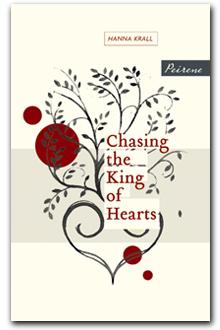 Peirene Press, 2013
Hanna Krall's Chasing the King of Hearts (translated by Philip Boehm) is a story of the Holocaust. But more than this, it is a story of individual imperative and an exploration of personal belief-making. The book opens with the early events of a typical love story—young people meeting at a friend's house, a girl who thinks she is in love with one man until she meets another, a quick engagement and a train ride to a guesthouse for an easy tryst, all followed by a hurried marriage and new jobs. Shayek and Izolda live their early romance as so many couples do.
From the strange, inexplicable spark that ignites at their meeting:
A young man is standing by the stove, warming his hands on the tiles. He's tall and slender, with straight, golden hair. His hands have a golden tinge. When he sits down he spreads his legs and drops his arms — non-chalantly, almost absent-mindedly. His hands just hang there, helpless, and even more beautiful.
To their first experience as lovers:
She talks and talks, hoping the words will drown out her fear, as well as her embarrassment and curiosity.
Only Krall backdrops these familiar-feeling moments with reminders that this is anything but familiar, anything but normal—talk of death by typhus among the friends as they are all by this time living in a Warsaw ghetto, being heckled on the train to that guesthouse when Izolda unwittingly shows her armband with its blue star, Izolda witnessing her first death as she works on the typhus ward, and Shayek locked inside a ghetto factory as the rest of the Jews in the building are deported.
It is at this point that Chasing the King of Hearts becomes an actual race. Shayek and Izolda are separated one afternoon when Izolda is put into a line and sent to the Umschlagplatz for deportation. But this novella belongs to Izolda, it is her story, and this moment is just the first of many in which she outright refuses to participate in what exterior circumstances have planned for her. For the next one hundred pages, Izolda chases and schemes and escapes and plots and lies and travels and hopes and fails and hopes again. And more than any of this, she loves. Loves her husband with an all-consuming and undaunted focus.
That focus becomes extraordinary when she is taken for a member of the Polish underground. In the midst of being beaten by the Gestapo, she is suddenly more shocked and angry than afraid—how could this man suggest she had any other cause but her husband.
This premise—that something as intangible and fragile as the connection and love between Shayek and Izolda should trump all impossible distances and insane governmental decrees and genocidal rules—is where the novella hinges. It is not so much that Izolda believes that within the context of the war she still deserves the success of her life and love, but rather despite it. On a purely psychological level, Izolda operates as if the war simply does not touch her. While her actions and movements are all prescribed and countered by what is happening in the Polish ghetto, in various prison camps, in Vienna, even in the Guben labor camp, her mindset remains firmly beyond these prescriptions. And this is this novella's most remarkable offering.
Krall explores this notion of individual will through several recurring motifs, religious and, more often, generally philosophical. Izolda often speculates on the number of events—people she bumped into, places she went, coincidences and decisions—that lead her to success:
Evidently God had decided she was meant to survive the war.
Or not. He had decided that she was meant to die and she opposed His verdict with all her strength. That's the only reason she survived. And no God can claim credit. It was her doing and hers alone.
This passage is also characteristic of the stylistic simplicity that dominates Chasing the King of Hearts. This is a narrative that does not waste words on lyrical description or much sensory imagery at all, fitting for a book with a focus on a period of such absolute deprivation. When sense-based images are emphasized—the perfume that rises from a towel beneath Izolda's head in a prison camp, descriptions of the earth and the sunshine in a childhood story she retells to a lonely old man, or the perfectly browned crust of a loaf of challah bread—they serve a nostalgic purpose or are experienced by both characters and readers as an almost physical shock.
While the careful minimalist sentences are ideal for the race-like pacing of the story, the narrative is actually not quite linear and is interrupted from time to time with scenes of Izolda as a much older woman, as well as, on a few occasions, memories of life before the war. These movements and their contents are not overly explained, and this gentle texturing gives the novella a dream-like feeling at times, creating a kind of poetry even if the language itself remains straightforward.
Chasing the King of Hearts is the twelfth novella to be published by England's Peirene Press, and is the last title in their 2013 series, Turning Point: Revolutionary Moments. It is interesting to consider the book within this framework. Not just as a literary artifact, a book that documents several historical turning points of World War II, but to consider how its internal logic follows this same idea. Within Chasing the King of Hearts, there are several scenes that could vie as the turning point. There is one in particular, which would be a shame to spoil for future readers and so I won't specify—a moment the book is moving toward that is finally fulfilled in a gloriously unexpected way and that continues to haunt long after the book is finished and placed back on a bookshelf. It reframes Izolda's chase, it informs Izolda's future. It confirms this novella's subtlety and power.
+++
Hanna Krall
was born in 1935 in Poland and survived the Second World War hiding in a cupboard. She began her writing career as a prize-winning journalist. Since the early '80s she has worked as a novelist. She has received numerous Polish and international awards, such as the underground Solidarity Prize, Polish
PEN
Club Prize and the German Würth Preis for European Literature 2012. Translated into 17 languages, her work has gained widespread recognition. In 2007
Król kier znów na wylocie
(Chasing the King of Hearts) was shortlisted for the Angelus Central European Literary Award.
+
Philip Boehm is the author of more than two dozen translations of novels and plays by German and Polish writers, including Nobelist Herta Müller, Christoph Hein, Bertolt Brecht and Stefan Chwin. Nonfiction translations include A Woman in Berlin by Anonymous and Words to Outlive Us, a collection of eyewitness accounts from the Warsaw Ghetto. For his work as a translator he has received numerous awards, most recently the Oxford-Weidenfeld Prize (UK), the Helen and Kurt Wolff Prize (US), and a Guggenheim Fellowship. He also works as a playwright and theater director, and is the Founding Artistic Director of Upstream Theater in St. Louis.
+
Michelle Bailat-Jones
is a writer and translator living in Switzerland. Her fiction, translations and reviews have appeared in various journals, including
The Kenyon Review,

PANK

, Hayden's Ferry Review, The Quarterly Conversation, Two Serious Ladies
and
Sundog Lit.
Her translation of
Beauty on Earth,
a classic novel by the Swiss author C.F. Ramuz was published in 2013 by Onesuch Press. She is the Reviews Editor here at
Necessary Fiction.