Book Reviews · 03/15/2021
Call It Horses
by Jessie van Eerden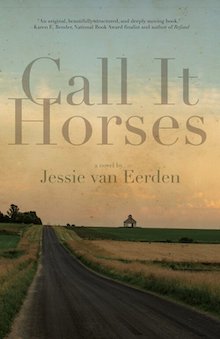 Dzanc Books, 2021
One Saturday in October 1990, three women hit the road in a rusty blue Oldsmobile, heading out from Caudell, a small West Virginia town. One woman carries an oxygen tank. Another bears the bruises her husband has left on her face and arms. The last, the driver and our narrator, hauls the dead weight of a lifetime of feeling unloved and incapable of loving.
One way to describe Jessie van Eerden's Call it Horses would be to call it a road trip novel, and it is true that the story's characters are on a quest for a wider horizon. But the women are on an unusual mission, one I won't divulge so that readers can experience for themselves the circular way that mission is ultimately revealed. As in any good road novel, the characters' plans and what actually happens part ways early on, creating the actual story.
In this multi-layered novel, the road trip comes with a frame. So another description of Call it Horses would focus on the slender epistolary structure that gives us the story via a series of letters that Frankie, the driver, is writing to a woman named Ruth, an academic interested in ancient languages about whom we learn only in fits and starts. It becomes clear almost immediately that these are no ordinary letters. Frankie isn't just sending news to Ruth or relating events, although these things are also true; no, Frankie is writing. The significance of this word, and what it means to be a person negotiating a worldview through words, are integral to the conversation Frankie conducts with Ruth in the pages of a cheap notebook:
I understood to some degree what you meant about that electric current in words. I understood that when I sat down to write Dear Mave and Ruth — and eventually, during the three years, simply Dear Ruth — the air shifted, and I had a feeling of starting over from the beginning. Of being changed into myself.
With these letters as the frame and the road trip as a pretext, Call it Horses entwines anecdotes, facts, and instances that together give life to all of small-town Caudell. Marvelously, the back-and-forth between the past, with its innumerable tangents and characters, and the present, with its single, straight line of highway, explains how Mave (with her oxygen tank) and Nan (with her bruises) end up in that Oldsmobile with Frankie, hightailing it out of a place so full of life and story.
One of the novel's many successes is how much it packs into a relatively short narrative. The larger story focuses on Frankie — how she became an orphan and how Mave, her "unsuitable" aunt, became her guardian, as well as how she lost a great love and made her way to a gentle but perhaps disappointing compromise of a marriage. But there are stories upon stories in these pages, subtly but richly woven portraits of the town's different women and their often difficult lives: of beautiful Clarissa who paints secretly in her bathroom, of Liza who buries news of her husband's death on page four of a letter, and of Frankie's other aunt Miranda, with her four children and stooped back. A few men feature as well, and their stories are treated with the same curiosity and compassion. But the bedrock upon which these stories are engraved is a much older story, of Mave and Ruth and their faraway love and life, and how much their relationship came to matter to a younger Frankie. Out of these layers comes a book that documents the opening of a mind, showing how an exchange of handwritten words between almost-strangers convinces a young girl that she might contain a valuable and interesting world that is worthy of expression.
Call it Horses examines the basic human need for love and how often we fall short in giving and receiving it. In Van Eerden's world, love is no simple thing — it may come quietly or with fists, it might be about giving up or giving in, it might exist in the self-sacrifice of caring for an elder or in the self-centeredness of choosing one's own path over other obligations. As the three women drive their Oldsmobile, heading toward a desert, hurtling outward from their lives, they keep returning to these questions: Who do you love? What do you love?
I stayed quiet. They did not ask me what or whom I loved and I was not sure how I would have answered since I was not sure I was capable of love. I was sure only of thirst. I was sure that I always reached for the notepad and for the pens that engrave more than write, their cheap ink drying up. Maybe I was sure then, behind the wheel of the blue Olds, that I would eventually write all this to you who would never read it and, in that act, is there possibly some form of love?
Without exception, the novel's myriad relationships all hold this idea of a basic need for love somewhere in their connecting tensions. By laying out the network of intimacies nestled within the frame of Frankie and Ruth's inquisitive correspondence, with its "language always on fire" and its queries about words and symbols and meanings, the novel gently but insistently asks us to consider the pure ways, the possible and impossible ways, the best ways and the worst ways, to signify love.
+++
Nonfiction editor for Orison Books, Jessie van Eerden is author of three novels: Glorybound (WordFarm, 2012), winner of the Foreword Editor's Choice Fiction Prize; My Radio Radio (Vandalia Press, 2016); and Call It Horses, winner of the 2019 Dzanc Books Prize for Fiction.
+
Writer and translator Michelle Bailat-Jones is the author of two novels, Fog Island Mountains (2014) and Unfurled (2018). Her short fiction, poetry, translations, and criticism have appeared in various journals both in print and online. In 2020, Platypus Press published her story, "Now we get over it" in their "Shorts" series of digital-first short fiction.