Book Reviews · 10/09/2017
Cake Time
by Siel Ju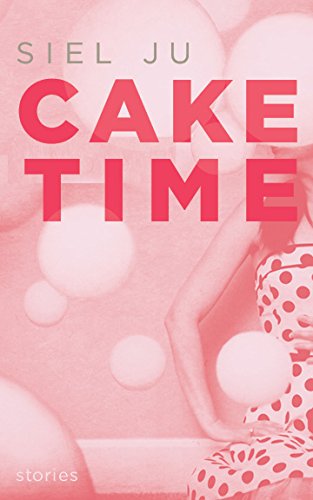 Red Hen Press, 2017
The "Difficult Man" is ubiquitous in fiction and pop culture. Male characters are influenced by John Updike's original immoral post-war family man Rabbit Angstrom, Philip Roth's navel-gazers, Raymond Carver's alcoholics, and thoughtful criminals like Tony Soprano and Walter White. Siel Ju's excellent novel-in-stories, Cake Time, subverts this trope to focus on the good and bad decisions of a difficult woman. The result is an irresistible read with tonal payoffs that are at times momentous and always evocative.
The unnamed narrator in Ju's novel feels like she could be the literary cousin of Denis Johnson's unnamed narrator in his masterpiece Jesus' Son. Ju's narrator wanders forward through time, from one story to another, in much the same way, tracing the arc of her addiction—not to drugs, but to the cycle of reckless relationships with men.
Cake Time gets the reader's attention with its first story, "How Not to Have an Abortion." Everything that makes this book so good is present in this first story. "How Not to Have an Abortion" is about abortion although no clinical procedure occurs. It is a story about how the momentary passion of relationships can devolve into something transactional and cold; it is a story that is dark and shocking, and ultimately ends with a miscarriage scene that delivers one of the more shocking lines in the book: "Go home and pull off the pad and dig your fingers through the clumps of blood for the semblance of a child. Find none. Throw it away, then wish you had searched harder, ripped it apart." Searingly dark lines like this pervade the book, and the sum of them might make for an oppressive read if Ju did not balance it with some seriously good and equally dark humor: "You made out with him behind the house for hours…He gave you hickeys, hideously big purple ones. You gave him a blow job, but stopped before he came because you thought you heard someone coming around the house…Those were the happy times."
One of the more refreshing aspects of Cake Time is that it's not possible to spoil the plot. It is a novel of tone and characterization. Certain threads do connect certain stories. There might be a boyfriend the narrator is trying to recover from in one story who becomes the quick subject of gossip in the next. A man she is serious about in one story is sometimes casually mentioned as an ex in another. Other stories stand alone with no mention of what has or hasn't taken place in other stories. But we are always going deeper into the mind of the narrator, watching her overcome certain mistakes only to fall into new ones.
A different type of writer might have spent page after page on introspection; it might have been tempting for Ju to write scenes from the narrator's childhood—how bad parents set the pattern for one bad relationship after another. Ju gives only a hint of this: there is a mention that her father left the family when she was seven, and a few lines about how her "passive-aggressive" mother has "remarried and moved back to Korea." The reader is never taken out of the present, but drawn seductively close to a character who is alone and searching for connection, a character who feels like a sort of West Coast Jane Eyre in the age of Tinder.
In the book's title story, "Cake Time," Ju explores the nature of consent, a theme she'll return to in other stories. She builds a narrative around the anticipation of something bad lurking in an ordinary night out. When the narrator says, "I tried out bad ideas, and when they didn't work, I tried them even harder," there is no doubt that trouble is ahead. The narrator and her friend encourage a couple to engage in drunken, exhibitionist sex. "Do it, do it, do it," they chant, and when the couple does "do it," one of the participants drifts in and out of consciousness. The subtleness of the sexual assault, and the narrator's contribution to it, is so upsetting, so plausible.
Subsequent stories explore marital infidelity, emotional sadism, and substance abuse, with sex playing a major role in the deconstruction of all of these themes. For this narrator, sex is often a way into the deeper, darker corners of self-awareness. And, at the same time, the sex in this book constantly offers her the hope of something more significant, something close to happiness through the navigation of chaos. "Maybe that's what I liked too," Ju's narrator says, "the collusion, cleaning up the small, organized mess of planned mistakes."
+++
Siel Ju
is a writer in Los Angeles. She is the author of two poetry chapbooks:
Feelings Are Chemicals in Transit
(Dancing Girl Press, 2014), and
Might Club
(Horse Less Press, 2014). Her stories and poems appear in
ZYZZYVA

, The Los Angeles Review, Denver Quarterly
, and other publications. She also edits
Flash Flash Click
, a weekly email lit zine for fast fiction. Siel is the recipient of a residency from The Anderson Center at Tower View and holds a PhD in Literature and Creative Writing from the University of Southern California.
Cake Time
is her first novel-in-stories.
+
Mike Marshall Wilson
's work has appeared in
The Adirondack Review, Midwestern Gothic, Potomac Review, Roanoke Review, The Rumpus
, and on
NPR
.