Book Reviews · 08/15/2016
Bull and Other Stories
by Kathy Anderson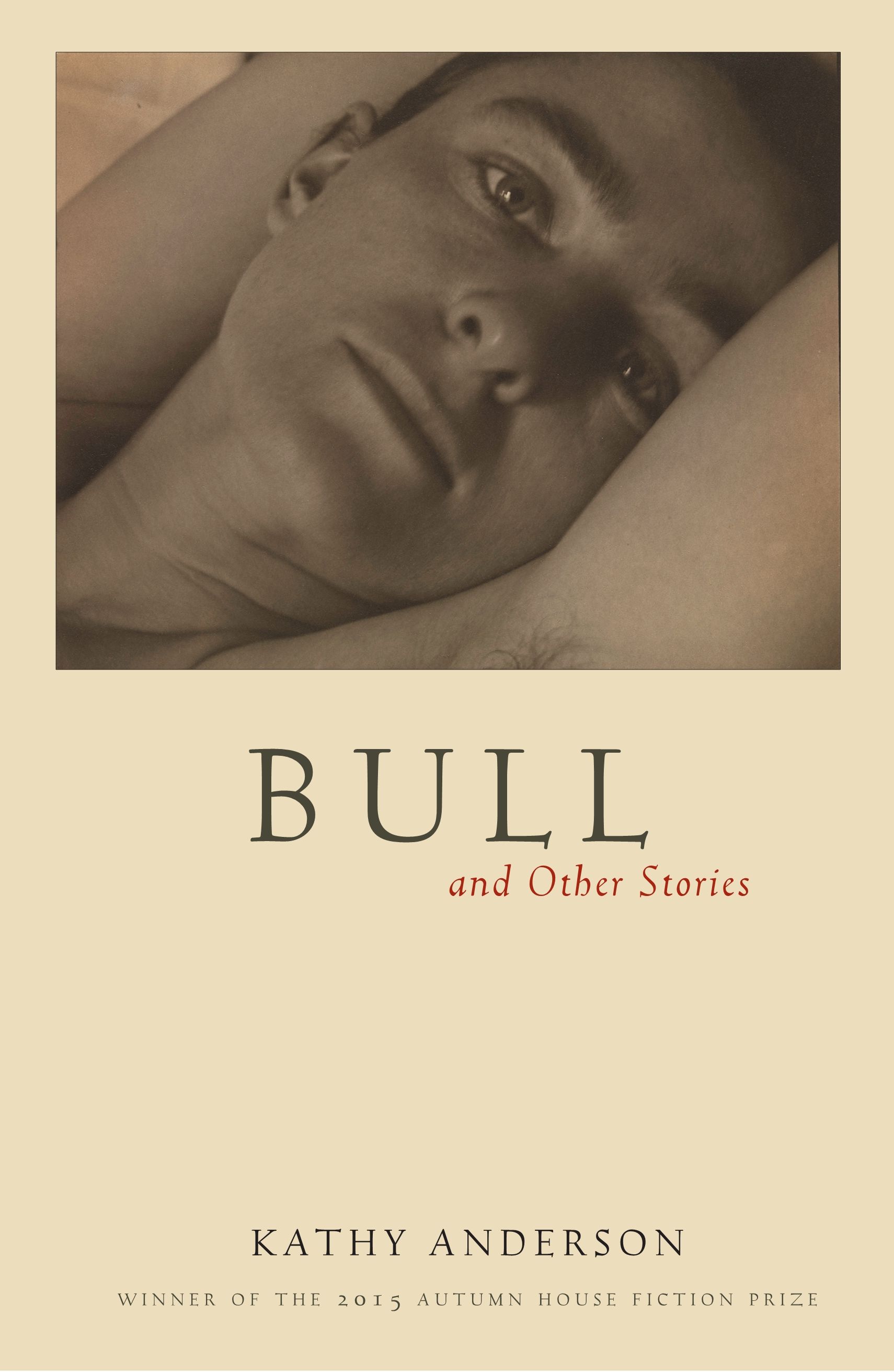 Autumn House, 2016
Every page of Bull and Other Stories is grounded in diverse protagonists and settings, each a discovery to treasure. Kathy Anderson, winner of the 2015 Autumn House Fiction Prize, has crafted a set of stories that match their laugh-out-loud humor with powerful emotional effect. There are no weak links in the collection; the stories start strong and end strong. Even through the filter of third person narration, these stories are imbued with the voices of their main characters from beginning to end.
In the first line of the book, teenaged Josh expresses the rage he feels toward his transgender parent: "His father was now his mother but he was still an epic asshole." In the moment, Josh's rage feels strong enough to last forever, though readers learn otherwise. At the very least, he feels supported by his friends—except Bernardo, an aspiring filmmaker who wants to make a documentary. "Don't you see, it's like a story of America, here in lower Delaware, all these farms and shit, and there's your dad, walking in a corn field with her long blond hair blowing in the wind, no city around to protect him, nobody else like him." Anderson's stories are about characters just like Josh's dad—vulnerable, tenderly lovable, attempting to survive a world that doesn't seem to support them. By the end of the story, a glimpse into the future shows Josh's story for what it truly is—a coming of age tale, where a young boy wrestles against the disappearance of his father before stepping into his own manhood.
Josh's ultimately life-affirming tale is followed by two stories that dive headfirst into bleak truths about the fragility of life. In "Go. Stop." a boyfriend and girlfriend's talk of cancer and other theoretical harms quickly turns to real life loss. The protagonist of "The Last Time," a funeral hearse driver, experiences the work day that forces him to retire after fifty-two years. Both stories set the tone for the collection: expect to laugh, but don't expect to skip over life's miserable moments.
Throughout the collection, Anderson's characters make peace with complex lives and painful histories, experiencing moments of quiet clarity in the aftermath of heartbreak. In "Chew On That," Breena Chew, the mother of an autistic son, butts heads with her husband, Jack. He hates the rabbits she breeds and he hates her attitude toward ten-year-old Dirk's condition—he wants their son to be challenged, fed a raw-foods diet, and hopefully cured of his struggles. After telling her other son, Caleb, that Dirk probably won't ever get better, she's proud of his calm acquiescence. "The religion in this family is acceptance and realism. See, once you accept, you can enjoy again. You can find something else to focus on. You can move along."
In "You Are the Bad Smell," a realtor who's "made a specialty of selling houses to lesbian couples" witnesses relationships, power struggles, and breakups through the lens of real estate, taking delight in the meltdown of a problem client before offering her comfort and compassion. This story is the bridge into a set of stories about lesbian characters and relationships, told through the eyes of women in love, or wishing for love. This cluster of stories explores LGBT characters and issues through a wide lens. The protagonist of "So Many Women, So Little Time" is Dee, "a gracious old butch, a southerner through and through." Dee entertains her ex-lovers in her "sumptuous oceanside house of glass in Miami Beach." These women aren't invited, they merely show up, creating a live-action curio cabinet of heartbreaks and disappointments. Although a heartbreaker, Dee felt the absence of each lover after she left. Now, their reunions are a small redemption:
Hawk Ann rested her cheek on Dee's cheek. But they come back sometimes, Dee thought. When the anger is gone, when the hurt ebbs, the lovers come back as exes. They forgive me. I forgive them. We start again.
Dee's ex Hawk Ann reappears in the final story, "Hawk Ann in Love." In a "slower Delaware" beach town, Hawk Ann's tale seems to promise all the magic that's been eluding characters throughout the book.
Anderson's greatest achievement is successfully avoiding the redundancy of plot or character that plagues some debut story collections. Her characters range in age from child to elderly, country kids to international travelers. Anderson writes Salty, a "minimum-wage poor" working man, with the same clarity and compassion she has for two sisters taking a final journey together, an abandoned wife, and a highly-educated librarian. These stories bring robust insight and humor to lives that might otherwise go unnoticed.
+++
Kathy Anderson
is a fiction writer and playwright. She was a finalist in the 2015 New Rivers Press Many Voices competition and the 2014 Flannery O'Connor Award for Short Fiction, among other prizes and awards. As a playwright, her plays have been produced and staged in major US cities and in Ireland. She lives in Philadelphia. To connect:
Facebook
,
Twitter
+
Rachel Mack
is a writer and a practicing therapist in Louisville, KY. She collects her writing at
rachel-mack.tumblr.com
.