Book Reviews · 12/25/2017
Book of Mutter
by Kate Zambreno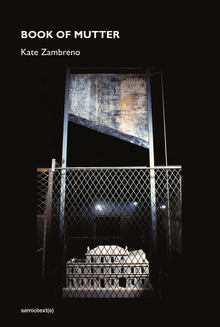 MIT Press, 2017
A quarter of a way into Kate Zambreno's Book of Mutter the following stand-out line surfaces amidst a collage of anecdotes related to memorializing, burial practices, and grief writing:
What does it mean to write what is not there. To write absence.
The line sits on its own, separated out from a preceding block of text commenting on Roland Barthes' Mourning Diary, and it feels, at first, like a standard academic question. A way to frame Zambreno's thirteen-year project to write about the death of her mother. And it certainly does do this. But its tone and position—that missing question mark, the clarified repetition of the idea of absence, and the white page that engulfs the reader as they finish the weighted word—give these simple sentences all the power of a lament and an entreaty. This isn't a curious professor posing a rhetorical question to a dispassionate audience, this is the fierce howl of a desire for sense-making.
Grief memoirs are interested in burdened negotiations of this sort because grief is always a plea bargain, an attempt to wring sense from this most senseless of experiences. But here's the trick: death is senseless in only one definition of that word, meaningless, but it engages the five senses relentlessly. So what does it mean to write what is not there? That missing question mark in Zambreno's line places her sentence somewhere between a defeated query and a brave gesture to the impossible. And she doesn't mention writing about what is not there, she is interested in the verb, the act of writing and what that very act might mean. In this way, the question is also about the asker. She could be saying_, what does it mean that I am writing what is not there_. And in this, immediately and cleverly, Zambreno embraces the conflicted dichotomy of absence versus presence.
Radiating outward from that initial, seemingly stark dichotomy are multiple layers: the present griever, the absent deceased, but also the griever's self and loss of self with respect to the deceased, both before and after the death—this means that the book takes up this question of how an individual is changed through relationship with another, and if that relationship (let's assume a strong one, here a mother-daughter) ends through death, how does the individual continue to change amidst that absence. Zambreno is also interested in the tactile and emotional experience of another person's presence and how their eventual absence has a different shape, a different form, both an echo and a wholly new feeling. Finally, Book of Mutter looks not just at Zambreno's mother, but the absence/presence of a half-sister, the more metaphorical absence/presence of Zambreno's father, and then finally and significantly, the book is suffused with Zambreno's collection of artistic and literary embodiments and ghostings.
In one example of her collecting and how she embraces and threads it, she begins with a description and quote from Civil War memorial cards, and then moves directly into a quote from The Odyssey:
Three times I rushed toward her, desperate to hold her, three times she fluttered through my fingers, sifting away like a shadow, dissolving like a dream, and each time the grief cut to the heart, sharper, yes…
Which then transitions into how Virginia Woolf uses this same shadow image in To the Lighthouse, which was Woolf's own mother memoir, her exquisite contribution to 'grief literature'.
These embodiments and ghostings are central to Zambreno's meticulous grief negotiations. It feels reductive to label this kind of work with something so simple-sounding as 'grief literature', but it is useful in the sense that it places Book of Mutter within a body of work that the book itself draws upon and then in turn nourishes. Alongside the contradictions and fraught gray spaces of absence/presence, Book of Mutter is equally interested in this intellectual body of marginalia and research and art that circles around grief, illness, self-perception, anger, and other subtle examinations on loss.
Circles around, although never delineates. This feels very appropriate as a reflection of grief's sidelong nature. Colette writes how 'curious' grief is, how:
…one can resist tears and 'behave' very well in the hardest hours of grief. But then someone makes you a friendly sign behind a window, or one notices that a flower that was in bud only yesterday has suddenly blossomed, or a letter slips from a drawer… and everything collapses.
Grief strikes when we are least expecting it and from a direction we could not have anticipated. The result is always collapse of some sort, and this is what Zambreno is hunting—artistic expressions of collapse. Her grief here is archival, meditative, violent, sideways. And it's a grief that pulls other grieving toward it. By collecting these objects, by stringing them through her narrative, Zambreno is saying that grief asks tangential questions, and therefore requires tangential, criss-crossing, messy, undelineated answers. Her answer comes through an explicit desire to sit with these other grief artifacts in a situation of intense contemplation. There is a way to read Book of Mutter in the way you might experience a museum. As the reader looks on, Zambreno gathers and curates these objects and holds them close, examines them, arranges and re-arranges them: Louis Darger next to Virginia Woolf, juxtaposed with Louise Bourgeois, beside Roland Barthes, over to Joan of Arc and then a glance at Mary Todd Lincoln, and so on and so forth. And at the same time, she places herself and her experiences alongside, inside, around, and within this great cataclysm of emotion.
The result of this curious museum is the Koan-like reality that to write what is not there only creates what is there. But the two can never coincide. The 'is not' and the 'is' just cancel each other out no matter how many times the writer (or photographer or painter or sculptor) introduces a different collection and contrast. So ultimately what Zambreno creates, for herself and for her readers, is the permission to consider the tiniest details of the trace, the echo, the approximation. In doing this she suggests, however sidelong, however hesitant, that there is just enough truth in shadows, that there is just enough body in ghostings, that there is always some presence in absence.
+++
Kate Zambreno is the author of two novels, O Fallen Angel and Green Girl. She is also the author of the work Heroines (Semiotext(e)). She teaches in the writing programs at Columbia University and Sarah Lawrence College. She is at work on a series of books about time, memory, and the persistence of art, which includes Book of Mutter and the forthcoming Drifts.
+
Michelle Bailat-Jones
is a translator and writer living in Switzerland. Her novel,
Fog Island Mountains
, won the 2013 Christopher Doheny Award from The Center for Fiction. She has translated two novels from celebrated Swiss author Charles Ferdinand Ramuz,
Beauty on Earth
(Onesuch Press, 2013) and
What if the Sun…
(Onesuch Press, 2016) as well as work from Claude Cahun, Julia Allard Daudet, Laure Mi-Hyun Croset, Timba Bema, and Céline Cerny. Her fiction, translations and criticism have appeared in
The Kenyon Review, Hayden's Ferry Review, The Rumpus, Necessary Fiction, The Quarterly Conversation, Cerise Press, Two Serious Ladies
and
PANK
.