Book Reviews · 08/24/2015
Big Venerable
by Matt Rowan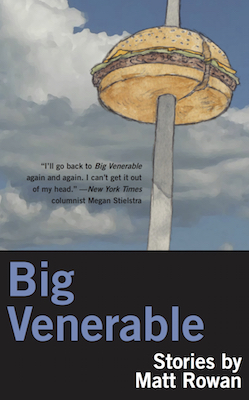 CCLaP, 2015
Short fiction writer Matt Rowan's second book, Big Venerable, collects seven stories, all of which center around seemingly mundane events. But these stories are far from mundane. Rather, Big Venerable is like stepping into a Salvador Dali painting: it appears to be the real world, yet there are things that are off-kilter, or stretched, and the sensation it inspires is off-putting.
This seems to be Rowan's overall goal. He lulls the reader into a reality so closely resembling our own that it is a jolt when a war breaks out in front of a superstore, or when people made from bread help run a bakery. He has the ability to make the reader become comfortable in these worlds, feeling prepared for anything. But Rowan likes to change gears, veering off into the unexpected.
While some of the stories are more offbeat than others, Rowan's somber tone and style easily ties them all together, creating a cohesive and unified read. This melancholy tone is especially apparent in "1208":
Meirion struggled to an upright position in his sofa chair. His shoulder hurt. His muscles ached from inactivity and he briefly grabbed both of his thighs and massaged them.
Rowan has an original voice and his style is fresh and new. His stories are set in peculiar worlds and populated with odd characters. Hidden beneath the outlandish and strange tales, Rowan sews together themes and morals that beg to be examined. While Big Venerable explores the familiar themes of consumerism, love, family and faith, Rowan offers readers an absurd, and sometimes funny, new way of addressing them.
These strange tales include the story "Infant Flight", in which a father consults a priest of doubtful wisdom when his young son decides to leave home and try his luck in Korea. Gus, the father of the runaway in the story, runs to the ironically named priest, Father Ernest, to help him find and bring back his son. To Gus, Father Ernest represents stability, faith, and great knowledge. But Rowan takes the theme of self-doubt and faith a step further: he removes the nearly heroic piety of those of the cloth by making Father Ernest into a sincere doubter himself:
Still, he couldn't shake his inner "Doubting Thomas." He hoped it wasn't Satan who put that guy there, the doubter inside, festering beneath his salty flesh like a test he was certain to fail. Was he supposed to have been born a Puritan, circa late 1600s, Lord? Because geez, if he was!
In the story that gives its name to the collection, "Big Venerable", a man-child is fired from his safe, corporate job amidst a revolution. And in "The Bureau of Everything Fitting Into Its Rightful Place" a woman is taken from her family because the government decides she isn't where she belongs. The main character, Myrna, changes from someone who actively hides from the world, to someone who inspires others to help her change it. This is the key to Rowan's Big Venerable. Underneath the surreality, Rowan suggests that unless you can change, your situation will only get worse and not better. Myrna changes her situation, as does Herbert Barkery from "The Baker's Family."
In "The Baker's Family", the reader witnesses Herbert realizing that he deserves, and wants, love. Many of us, consciously or not, find reasons why we can't be with someone, or why we don't deserve to be with the one we love. Herbert Barkery of "The Baker's Family" does this too, but Rowan doesn't give a common excuse: Herbert's family is made of bread:
But he had his family to think of too, the bread people he hadn't meant to create but loved just the same. That was why he couldn't pursue her. There—he had a reason. He was not kidding himself or making excuses.
Even though this is an otherworldly experience – having a family of "bread people" – Rowan cleverly manages to direct the reader's attention to the fact that we think of reasons to prevent ourselves from doing what we are too scared to do. It seems ridiculous that Herbert wouldn't pursue love because of the bread people, just like the flimsy excuses that real, actual people make, when they are afraid of rejection.
In the last story of the book, "So Many Old Rickety Bridges", a group of men go hiking in an artificial forest as there aren't any natural forests left. Everything in it is fake: starting with the trees, squirrels, newts, grass, and anything else you might encounter within an actual wilderness. As in much of the rest of Big Venerable, at first the strangeness is a distraction. The reader isn't quite sure what Rowan is getting at, and it is only from clues scattered throughout the story that it becomes clear what he is addressing, and which he forces the reader to consider as well. The characters' preoccupation with capturing their hike in pictures draws the reader's attention to the modern fixation with camera phones and selfies:
"I hope we got that on film," Jerome said from where he laid on the trail, visibly in pain, his clothing smoking a little. Bruno and Percy helped him up. "We did get it on film. I watched it on visual projection screen mode. Great pixelation, even for projecting against the surface of an artificial tree stump."
In moments like these, Rowan shoves a mirror beneath the reader's nose. Are we in fact creating artificial worlds with our technology and social media, and have we become too far removed from reality?
The worlds that Rowan creates are quite different from our own, but Rowan makes clear that while we don't share the same experiences, we ultimately share similar struggles and hardships: the questioning of faith, the quest for love, and living within a world of consumerism. Big Venerable has finally brought national attention to Rowan, and for good reason. The overarching themes are important, but Rowan's fresh take and quirky style are why this book must be read.
+++
Matt Rowan
lives in Chicago, IL, with a talented female writer and two talented chihuahuas. He co-edits
Untoward Magazine
and serves as fiction editor of
ACM

: Another Chicago Magazine
. Along with
Big Venerable
, he's author of the story collection
Why God Why
(Love Symbol Press, 2013). More at
www.literaryequations.blogspot.com
.
+
Kristin D. Urban is a freelance writer, book reviewer, art teacher, and yoga enthusiast. She writes for Literally, Darling, and her writing has appeared in Elite Daily, Huffington Post, Portland Book Review, and The Buffalo Almanack.