Book Reviews · 12/24/2012
Best European Fiction 2013
Edited by Aleksandar Hemon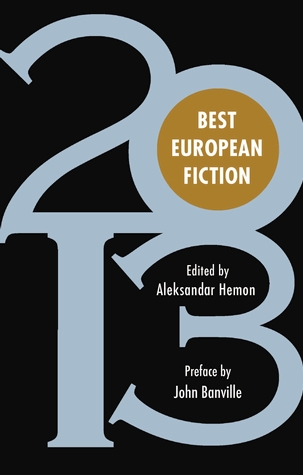 Dalkey Archive, 2012
One of the defining elements of Dalkey Archive's Best European Fiction project is the impossibility of gathering these assorted fictions under a single stylistic or thematic roof. And the most recent offering—the fourth of the series and the last edited by Aleksandar Hemon—is no different; the Best European Fiction 2013 is a mix of aesthetics and styles, a jumble of voices and settings and genres and perspectives, the stories as different from each other as are the 32 different countries and 28 different languages that this lengthy collection includes.
Hemon, who more than anyone else might be invested in finding a catchy and catch-all definition, happily does not reach for this, and instead writes in his introduction:
Perhaps one constant and unchanging aspect of European literature is precisely its slipperiness—it cannot be collared, reduced to a marketable formula, or posited as the absolute opposite to American literature. The reason for that ought to be obvious: Europe is nothing if not an intricate entanglement of languages, histories, borders, and varieties of human experience. It is not only complicated—culturally, intellectually, geographically—but is ever in the process of becoming increasingly more so.
Instead, for the second year in a row, the different pieces in the collection are separated into small groups along simple thematic themes like reality, memory, death, women, men, marriage and so on. These groupings are useful and certainly give a sense of structure to a collection that houses such widely different fictions. The themes become not only useful stopping points with which to break up a long anthology, but a way to compare similar ideas expressed from within a different context/culture/language.
Looking at the three stories grouped together under marriage, for example, there is not only a literary comparison to be had, but questions relating to the social and political, to European identity, to traditional customs and the fracturing/melding of European societies. This subsection begins with "Nada's Tablecloth" by Mirana Likar Bajželj (Slovenia), and it is a very familiar-feeling second-person narration of a young woman's wedding day, but it's also a story of merging communities and the particular tensions of modern Europe negotiating its traditional social groups. Then comes Christina Hesselholdt's "Camilla and the Horse" (Denmark), a hilarious first person story of a Danish couple at a German strip club and their Romanian love interests. This excellent story is literary and ironic and whimsical. It is post-modern and intelligent and it feels, inexplicably, that it could only have been written from a particular European perspective. Something about its level of jadedness and how quickly that bitter feeling becomes an absurdity. And finally, Dan Lungu's "7 P.M. Wife" (Romania) rounds out this whole theme by subverting it completely, by making the word "wife" mean something else entirely.
Interestingly, the themed subsections aren't always so transparent. The last theme of the collection, Americans, with three stories—one from Iceland and two from the same Norwegian author—asks the reader to stretch a little, to locate this idea of "American" amidst its somewhat inscrutable fictions. It is, I suppose, a gentle trick of the editor, a way to engage the reader in a conversation about how to order these fictions, how to classify them, how to impose a way of reading them. How, really, to invite non-Europeans to connect with such a wealth of Euro-centric literature.
But are these 35 stories really all that Euro-centric? At their most basic level only. Yes, these are fictions rich with Europe's persona and the personalities of its individual countries, but they are also stories that explore Europe's relationship with its neighbors and its partners and rivals around the globe. These fictions are looking inward as much as they have their eye trained on other populations, other geographies.
It's also nice to look at the collection in a purely aesthetic way – to separate them from their Europeanness and simply delight in the variety of metaphor and imagery, enjoy the diversity of word play and stylistic/linguistic construction. The difference in style between Paul Edmund's "Grand Froid" (Belgium) and Krikor Beledian's "The Name Under My Tongue" (Armenia) requires a readerly re-set in the space of a single flip of a page—they are grouped together in the same subsection, meaning that in some way we are asked to connect them. Nonetheless, the difference between Edmund's third-person realist (although ironic and unsettling) scene and Beledian's stream-of-consciousness, impressionistic outpouring requires a little pause, a breath, a willingness to cross not only geopolitical borders but literary ones, an openness to what one will find on either side.
Finally, an anthology of translations from so many different languages is a rare treat indeed and it seems to catalyze and focus all the debates about how to approach translated literature. Writing in and of itself is already a form of translation – a writer translating experience into the words at his or her disposal.
As John Banville mentions in his preface:
For a novel or a short story even in its original state is already a translation. The version it presents of reality is as far from actual reality as our dreams are from the events of our lives out of which they propagate their lovely or malignant blossoms. In our lazy way we tend to imagine that a piece of fiction is a direct statement of a set of facts or factual images when in fact—in fact!—fiction is a kind of dream-metaphor, a moulded and mannered traducing of 'what really happened'.
So it's interesting how shifting that first translation through another translation process, this time linguistic, tends to highlight the intricacies of the first. If it is difficult to translate Tania Malyarchuk's "Me and My Sacred Cow" (easily one of the very best stories in the collection) from Ukrainian into English, it is probably because of the moments when Malyarchuk attempts the impossible, when the words at her disposal have trouble negotiating that first translation of experience into narrative. In this way, a collection of translated fictions of this size and scope becomes then a real celebration of the impossible… and who can resist the beauty of that ambition?
+++
Dalkey Archive's
Best European Fiction 2013
is edited and introduced by
Aleksandar Hemon
with a preface by
John Banville.
This year's edition contains 35 stories, representing 32 different countries and 28 different languages. Find out more about the series at
Dalkey Archive.
+
Michelle Bailat-Jones
is a writer and translator living in Switzerland. Her fiction, translations and reviews have appeared or are forthcoming in various journals, including
The Kenyon Review, Hayden's Ferry Review, The Quarterly Conversation,

PANK
and
Fogged Clarity.
She is the Reviews Editor here at
Necessary Fiction.