Book Reviews · 10/03/2016
Bad Faith
by Theodore Wheeler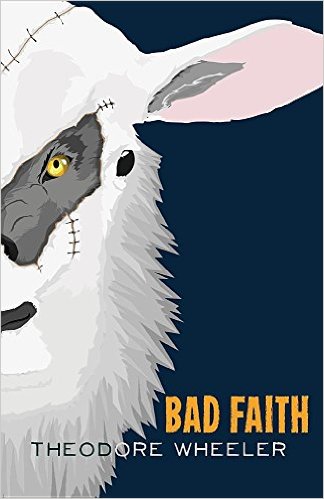 Queen's Ferry, 2016
In one scene of Alexander Payne's film Nebraska, Woody, played by Bruce Dern, gives his wife and son a haphazard tour of the farmhouse in which he grew up. He isn't a talkative docent, and falls into silence when the group comes to an upstairs bedroom. Woody eventually points out the spot where his brother died. One might expect a swirling, dramatic moment, but Woody just indicates it happened—and without any kind of emotion or explanation.
Theodore Wheeler's debut short story collection, Bad Faith, reflects a similar aesthetic. Like Payne, Wheeler is from the state, and still lives in Omaha. Most of the stories either take place in, or involve characters living in or hailing from, Nebraska. Through unpretentious, lucid prose, Wheeler paints a stark, blue collar, Midwestern landscape in these polished stories, with characters who often lack the vocabulary required to form lasting human connection or process their own emotions. They drink too much, they don't have MFAs or 401Ks, and they have difficult relationships with their parents, kids, or significant others.
And, importantly, they certainly don't talk about their problems. In the title story, Amy—who is struggling with her life choices so mightily that she absconds from her doting husband on a freight train—has internalized a lesson about keeping quiet: "It's okay to be sad, Amy learned, unless people know you are. Then it's bad for everyone. It's untenable." This may be especially true for the Midwest, where many states market themselves, including Nebraska, on the putative "niceness" of their denizens. Part of being nice, inevitably, is faking it.
Most of the characters in Bad Faith aren't nice, and Wheeler plumbs that not-niceness throughout. The Pythagoreans talked of good as definite and finite, and evil and indefinite and infinite. Niceness may make for a slogan, and a friendly face to provide directions, but it is often just a veneer.
Certainly, to understate the point, the pathological Aaron Kleinhardt functions as an extreme example of the danger lurking behind a friendly face. Although he kills his father in "The Mercy Killing of Harry Kleinhardt," it may not have been—as indicated by the title—entirely out of enmity. The story is a wonderfully jarring way to start a collection, not just because of the killing, but also as a result of how Harry meets his end, which colors the rest of the work here. The depravity of Aaron, who also appears in a series of vignettes between each story, is fully revealed in the title story, where he meets Amy after she absconds on the railroad.
The story is also the introduction to one of this book's dominant themes. Like most of Wheeler's characters, neither Aaron nor his father is able to express himself well:
"You should go," Harry repeated. "This…" he swept his shaking hand over the table. "This is happening whether you're here or not."
Harry can't articulate his feelings about his terminal illness—he can't acknowledge that his life is ending, not to mention his ambivalence toward his son. But neither does Aaron have words for it. Thus Aaron responds: "Are we going to eat or what?"
The same inability to deal with his parents sets James Dandrow, in "The Current State of the Universe," down his path: "I thought about the ways my life could have been different," he narrates at one point, "if only we'd known the right things to say to each other, me and my parents." "Universe" takes off from the basic concept of a revenge-for-hire business (here "etiquette-revenge"). Dandrow, a self-described troubled kid, works in the "karma industry," bent on righting the ills of the world, one illegal act at a time. As he says: "We're the Furies of the modern world—the vengeance of a god gone corporate." The story emerges from a light opening into the more familiar chiaroscuro of the rest of Bad Faith. A subversion of the revenge narrative, "Universe" not only demonstrates what can all be upended when you work for the infernal goddesses, but it also slyly contravenes the typical morality tale, too. It's an appreciated departure from the rest of the stories of the volume, displaying Wheeler's range.
Another fine story, "The Missing," takes place in El Salvador, far from the Great Plains, and is a vivid portrait of Steve, a father dealing with "The Mrs." and the anxiety of a third child on the way. It doesn't matter that he doesn't say it, or that he can't express it; many anxieties, and maybe even the biggest ones, are ineffable. Steve prepares himself to be mugged while in the country, and imagines getting "blown away, execution style, and dumped in the trees." After his friend runs off with a girl, he meets a family dealing with a loss from the Salvadorean Civil War, which wasn't "talked about in the shack house." Something similar happens there, as it did with Harry and Aaron: "It was true, Steve could see this. The old-timer shifted with displeasure each time the nephew said the words Tenango y Guadalupe." "The Missing" lightly handles Steve's anxiety while also putting it in context: as both absurd compared to the Salvadoreans' and yet altogether real and understandable at the same time.
A chasm persists between what these characters do and what they feel, such as the way the father of the narrator in "How to Die Young in a Nebraska Winter" acts after his son from a previous relationship dies under mordant circumstances. Unlike Amy, many cannot jump on a train and ride the rails, leaving their unfulfilling life behind—especially not if they have kids.
Perhaps the most hopeful story in Bad Faith comes in "Impertinent, Triumphant," when the narrator, Sam, finally responds to the many affairs of his wife by reluctantly pursuing an illicit romance of his own. It's in this example of someone actually acting on bad faith that something positive shines through, even past Sam's lack of knowing himself. At first, his body's reluctance prevents him from consummating the affair, but eventually he becomes aroused. Finally, he finds himself in communion with his body. "God," Sam says to the woman in the middle of oral sex. "Just finish."
+++
Theodore Wheeler's short fiction has appeared or is forthcoming in Best New American Voices, The Southern Review, The Kenyon Review, Boulevard, The Cincinnati Review, and Five Chapters, among others, and received special mention in a Pushcart Prize anthology. His fiction chapbook, On the River, Down Where They Found Willy Brown, was released by Edition Solitude in 2015. A graduate of the Creighton University creative writing program, he's won the Tarcher/Penguin Top Artist Writing Contest, the Marianne Russo Award from the Key West Literary Seminar, and in 2014 was a fellow at Akademie Schloss Solitude in Stuttgart, Germany. He lives in Omaha with his wife and two daughters, where he is a legal reporter covering the civil courts of Nebraska. In Spring 2017, Amazon's literary fiction imprint Little A will publish his debut novel, Kings of Broken Things.
+
Greg Walklin
previously reviewed
Simone
by Eduardo Lalo,
Paris
by Marcos Giralt Torrente, and
Dead Stars
by Álvaro Bisama for
Necessary Fiction
. His fiction and nonfiction have appeared in or are forthcoming in
The Millions, Midwestern Gothic, Pulp Literature, Palooka
, the
Colorado Review, Ploughshares Blog
, and the
Lincoln Journal-Star
, among other publications.