Book Reviews · 08/07/2017
And Then
by Donald Breckenridge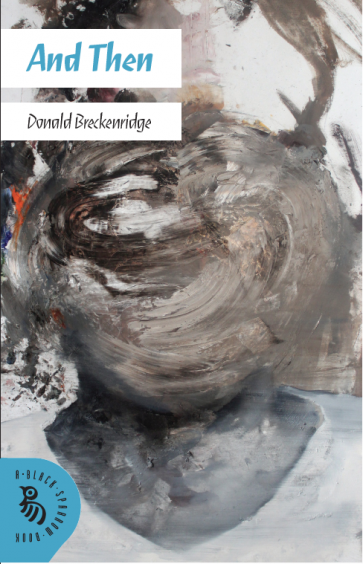 Black Sparrow, 2017
And Then is the latest novella from Brooklyn-based writer and fiction editor of the Brooklyn Rail, Donald Breckenridge. The book presents itself as a collage of interwoven stories concerned with how our lives intersect in strange and sometimes esoteric ways, and how the past is never that far behind. And Then is a taut meditation on the living and the dead, and the hold they have on our present lives.
The fractured narrative style of the book begins with an uncharacteristically linear and straightforward beat-by-beat narration of the Jean Rouch film Gare du Nord. This opening passage is an extremely tight and minimal piece of prose that helps prepare us tonally and stylistically for what is to come. Breckenridge's narrative treatment of the film is such that it works incredibly well as its own piece of short fiction, which is remarkable. Breckenridge's apt transcription of on-screen marital strain and one wife's desire for another life is beautifully rendered:
She wants to know why he thinks her desire to travel is so ridiculous. She wants to know why he thinks her fantasies about escaping their everyday existence are so unrealistic.
Here, Breckenridge has brilliantly reproduced a feeling from the screen, to the page, in an effort to bring us closer to the type of quiet longing that stalks the characters within And Then. Not only does Breckenridge's narration of Gare Du Nord represent a kind of postmodern playfulness/meta-exercise, but it also works as a great emotional backdrop for the novella that follows in earnest.
Structurally, the book alternates between a few different storylines and shifts skillfully between them paragraph by paragraph. Breckenridge possesses a deft narrative hand, and the paragraph by paragraph style works well juxtaposed with the book's brevity, giving us momentary vignette-style glimpses into each fractured storyline. One such story follows a twenty-one-year-old cashier named Suzanne, who, like the wife in Gare du Nord, has a nagging wanderlust and desire to leave her current life behind. To achieve this, she ends up robbing the convenience store she works at with her equally despairing boss John, a drifter running from his failed marriage. Eventually the narrative catches up with Suzanne in New York during the 70s where she lives out a bohemian lifestyle and falls victim to heroin. And Then paints a nuanced picture of sorrow and malaise as feelings that are ultimately inescapably tied to the present and the past, and there is no consolation for the downcast and troubled.
Another narrative within the novella follows a student who is looking after his professor's apartment over the summer. Breckenridge cleverly and subtly manages to weave the story of the student and that of Suzanne's stay in NYC together, albeit ten years apart. As the layers are pulled back on the student's voyeuristic stay, he discovers that Suzanne is the woman in the photographs in some boxes that his professor wanted him to throw away. We indirectly get a glimpse of a past that not only lingers in the apartment of his professor, but also makes itself apparent later on via a strange paranormal encounter.
Stylistically, And Then is an exciting and wholly inventive read. Breckenridge's prose style can at first seem disorienting, but his ability to carefully insert dialogue in the middle of a string of narration works to create a vivid and almost cinematic reading. The capacity of Breckenridge to juxtapose narrative action and dialogue side by side creates a richly impressionistic experience that works:
When John looked back the 7/11 was framed in the rearview mirror, "Would you mind," he reached over, "doing the honors," opened the glove compartment, "should be some papers in here as well," handed her the bag then shifted into third…
The language throughout And Then sees Breckenridge take a cue from the minimalists, employing plainspoken and direct language that acts as the perfect tool to describe some of the more banal passages of the book:
I asked the waitress for a chocolate donut and told her I didn't need a bag. She handed me the donut with a serrated sheet of wax paper folded over it, "that will be ninety cents," and two napkins. I removed a dollar from my wallet and gave it to her…
Through the banal, Breckenridge asks us to dig into the subtext of the narrative. We find a rather bleak and depressive world of Carver-esque characters who are looking for a way out and looking to come to terms with a past that is shrouded and hard to access emotionally and intellectually. The world of And Then is a place where the despairing continue to despair without much relief, and in the case of the nonfiction passages about Breckenridge's father, characters despair stubbornly without want of relief. The epigraph of the book, from Eugene Ionesco's Present Past Past Present perfectly foreshadows the silent longing that defines the characters:
I have the key to happiness: remember, be profoundly, profoundly, totally conscious that you are. I myself, sorry to say, hardly ever use this key. I keep losing it.
The heartbreakingly fractured memoir of the author's deceased father charts a period of several years when he purposefully declined in health. In the same direct, matter-of-fact quality that is Breckenridge's tonal choice throughout, he details his father's slow and calculated death. These passages are the most tactile and brutally painful of the entire book. Written in the unsentimental tone that marks the book from beginning to end, Breckenridge talks about the last time he saw his father:
He was able to feed himself again, with supervision, but his teeth hadn't been brushed in weeks…I told him I knew he wanted to die at home and I respected his choice but we were not yet ready to say goodbye…he looked up and thanked me.
With And Then, Breckenridge has created a haunting collage that is both melancholy and without solace. The yearning characters are seemingly at odds with life from the start, and there is no redemptive power to be found within these pages. Breckenridge has also announced himself as a truly original stylist, and his new novella should be featured on some "best of" lists by year's end.
+++
Donald Breckenridge
lives in Brooklyn with his spouse, Johannah Rodgers. He is the Fiction Editor of the
Brooklyn Rail
, Co-Founder and Co-Editor of
InTranslation
, and the Managing Editor of
Red Dust Books
. He has written four novels, edited two fiction anthologies, and introduced the
NYRB
Classics edition of
Henri Duchemin and His Shadows
by Emmanuel Bove.
+
Michael Browne
is a writer and publicist based in Los Angeles. His work has recently appeared in
Entropy
and
Westwind
. Michael is also an editor at
Angel City Review
and can be found on Twitter here:
@BrowneLaurence
.