Book Reviews · 01/30/2012
And Also Sharks
by Jessica Westhead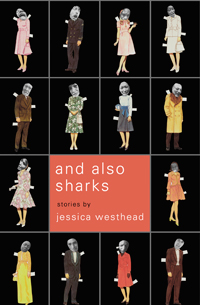 Cormorant Books, 2011
So I was reading Jessica Westhead's short story "Coconut," from her collection And Also Sharks, and I sort of lost myself and laughed out loud and laughed out loud until the guy next to me asked me what I was reading. So I explained, "Well, there's this woman who starts shoplifting, stealing all these things. She steals a baby and then the baby is facedown in the bathtub," and then I trailed off, unsure how to continue my plot summary. And anyway, at this point we were both embarrassed, and clearly he thought asking me about the book was a mistake, and I felt ugly for having laughed at all.
Many of the early stories in Westhead's collection elicit this kind of reaction. In "We're All About Wendy Now," both the narrator's cat and her co-worker are dying, and the office sets up a kind of shrine on the not-yet-dead woman's desk:
The only pre-cancer photo of Wendy they could find was from an old staff potluck, which had been up on the Staff Fun bulletin board. It was a crowd shot, and Ruth P. had it enlarged, so it was kind of grainy. It showed Wendy holding a plate of food, her mouth open to receive a cocktail shrimp tail first.
Of course the cat dies, and the story ends with Wendy's oncoming death.
Then there's "And Also Sharks," which is a kind of demented love letter written by a commenter obsessed with an Oprah-esque lifestyle blog, "Planet Janet," who praises Janet's bravery and her ham casserole recipe, among other things:
Last week I did the exercise you suggested where you cut out pictures from magazines that appeal to you, and paste them onto a piece of paper to make a collage which represents how you want your life to be, but all I had at home were a bunch of Reader's Digest and an old copy of National Geographic which was the Shark Issue, so my collage ended up being about this family that got trapped by an avalanche and also sharks.
The image is funny, sure, but the collage is an entry into more serious concerns, and invokes a kind of crippling sense of doom:
Maybe on Planet Janet there are no sharks and maybe there are no avalanches, but some day there might be. Some day it will snow on your mountains and your oceans will fill up with fins.
While Westhead has a sometimes affected, nearly always endearing kind of quirkiness down, what saves the narrators in her stories from feeling a bit too misfit and twee is their bizarre, uncomfortably familiar unraveling.
In a list of her favorite books, Westhead mentions Pastoralia and CivilWarLand in Bad Decline, and it's easy to see that George Saunders' exquisite escalations is an important influence, especially when the stories shed their comical moments to reveal an anxious, ugly terribleness.
Westhead uses micro escalations, like in "Todd and Belinda Rivers of 780 Strathcona," where returning a People magazine to a neighbor fundamentally unsettles a husband and wife's relationship. And there's the macro escalations, as in the "The Healing Arts," which moves back and forth between the narrator, Dean, with a friend at a car show, and Dean's barren wife, who announces that "none of her wishes in life would ever come true," because she tried to donate a cookbook whose recipes failed, only to have it returned to her. The scenes at the car show grow increasingly violent, and the story ends with a stranger brutally beaten and then Dean comparing he and his wife's relationship to a loving couple he's watching at a grocery store:
Josefina and me, we're better than these people. We don't have to put on a show like that, because we understand each other. The two of us have an understanding. And I felt better.
Throughout the stories in And Also Sharks, Westhead's narrators proceed through comical, increasingly bizarre situations, until each usefully abrupt ending, where they end up changed, or not, and the reader is left to ponder a future for them, which is nearly always bleak and almost never funny.
+++
Jessica Westhead
is a Toronto writer and freelance editor. Her fiction has appeared in literary magazines such as
Matrix, Geist, The New Quarterly,
and
The Indiana Review.
She also stapled together
poetry winner,
a zine exposé of the nefarious
National Library of Poetry
. Her chapbook
Those Girls
was published by Greenboathouse Books in 2006, and her novel,
Pulpy & Midge,
was published by Coach House Books in 2007. She was shortlisted for the 2009
CBC
Literary Awards.
+
Jess Stoner's novel, I Have Blinded Myself Writing This (Short Flight/Long Drive Books, a division of Hobart), will be published in February 2012. Her choose-your-own adventure chapbook of poems, You're Going to Die Jess Wigent (Fact-Simile), came out in the summer of 2011. Her prose and poetry have appeared in Alice Blue Review, Everyday Genius, Caketrain, Juked, and many other handsome journals. Jess currently lives in the sweat and brisket of Austin.