Book Reviews · 08/25/2013
An Elegy for Mathematics
by Anne Valente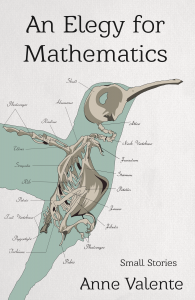 Origami Zoo Press, 2013
The fourth line of "The Water Cycle," the ninth story in Anne Valente's slender collection, An Elegy for Mathematics, reads:
But sometimes it made me feel strange, for reasons I can't explain, to think that maybe you knew we had separate lives in some way, and that sometimes we did things that weren't always the same.
The narrator and the "you" of this beautiful little story are a mother and daughter, and the question the story ultimately asks is about what the tie between them is made of, how is it formed, but this single twisting sentence works to open up a discussion about the kind of questions Valente is posing throughout the collection. How exactly are two people connected? What does that connection feel like – physically, mentally, metaphorically? And how are we different despite that fundamental association, what does our difference do to affect and alter the bonds between us?
Valente revolves around this idea in a number of ways: how at times an imperfect lover carries the same complicity, the same echoes, of a parent; how something as intangible as desire can become a very felt (and sometimes painful) lived experience; how a physical body transforms itself, breaking or altering the connections that previously bound it (perhaps in violence) to another body; how can death work a transformation on a connection that was not physical in the first place.
Beyond these larger explorations and questions, Valente is also very much interested in metaphors of the body and metaphysical renderings of physical experience. In the first piece, "10 Permutations of Desire," she explores this mingling:
In dreams, finches replay the melody of their songs. What hums through them ghosts back, a ceaseless signature of time, a song braided to the birdbeat of their small hearts long after the song has passed.
She does this again in "A Field Guide to Female Anatomy," perhaps the most complex and riveting of all these pieces, a work that invites multiple readings. Here Valente is going through the smallest details, listing, creating a richly textured but invisible narrative out of hints and images. There are moments of real and precise description:
NECK (CERVIC)
FIELD MARKS: Slender column that connects the head to the thorax. Contains seven vertebrae. Contains the larynx, invisible to the eye.
DESCRIPTION: Can turn 90 degrees in either direction. Can work in tandem with ears and eyes to keep the body alert. Bears the mark of hickeys. Bears the mark of thumbprints. But more often bears the mark of nothing, the most visible and obvious place.
Valente uses this kind of methodical, pared-down prose with real skill. Just feel how loaded the word "slender" becomes, and what menace both "visible" and "obvious" suddenly contain. She can also subvert this kind of precise language, using it to push the story calmly toward the fantastic or metaphorical.
SHOULDER BLADE (SCAPULA)
FIELD MARKS: Two ridges twinning the posterior of the torso, mimicking the shade of folded bird wings.
DESCRIPTION: The wings are folded. They are waiting beneath skin. What matters is not that they are folded. What matters is that they can unfold.
For all its brevity, "A Field Guide to Female Anatomy" is one of those impossibly short fictional pieces that manages to contain an epic narrative in all its hints and unspoken story. It is an impressive piece of collaging.
Another hallmark of An Elegy for Mathematics is its diversity of voice, approach, and style. Valente's pieces sit along a spectrum that runs between poetry and prose, and they explore the different possibilities of creating emotional tension through fictional revelation: a list, a scene, a narrative summation, first and second and third person perspectives, first person plural, realism and fantasy—each piece takes on a new voice, a new method, and it is to Valente's credit that, in the midst of all this spectacular variety, the collection retains a balanced atmosphere and feeling.
Because these forty-seven pages could easily be read in one sitting, in one breath, with the slim fissures of white space between each story providing just enough of a reset to prepare the reader to go on to the next. And after that first rushed and heady reading, the individual stories ask to be taken up again at a slower pace, on their own terms, one by one. This is a collection that will sustain multiple re-readings, that is as elegant as it is intelligent, as simple and touching as it is provocative and complex.
+++
Anne Valente is the author of the forthcoming short story collection, By Light We Knew Our Names (Dzanc Books, 2014). Her fiction appears or is forthcoming in Hayden's Ferry Review, Ninth Letter, The Journal, and Redivider, among other publications, and won Copper Nickel's 2012 Fiction Prize. Her work was also selected as a notable story in Best American Non-Required Reading 2011, and her essays have appeared or are forthcoming in The Believer, The Washington Post and The Rumpus. Originally from St. Louis, she currently lives in Ohio.
+
Michelle Bailat-Jones
is a writer and translator living in Switzerland. Her fiction, translations and reviews have appeared in various journals, including
The Kenyon Review,

PANK

, Hayden's Ferry Review, The Quarterly Conversation, Two Serious Ladies, Cerise Press
and
Fogged Clarity.
She is the Reviews Editor here at
Necessary Fiction.