Book Reviews · 10/15/2012

Àgua Viva
by Clarice Lispector
Translated by Stefan Tobler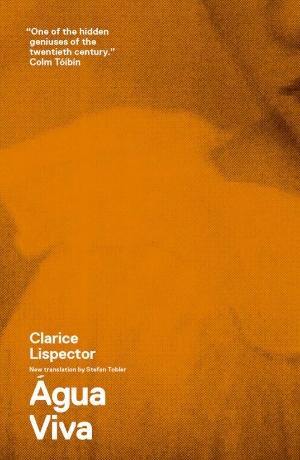 New Directions, 2012
There is a Clarice Lispector (1920-1977) revival going on in the English-speaking world, and it's always exciting when an author of relative obscurity suddenly inspires general discussion and becomes available to a larger audience. The notion of "relative obscurity" isn't quite correct with respect to Lispector, however, except perhaps in the wider, English-speaking world. Lispector, a Brazilian writer of Jewish Ukrainian descent, was celebrated during her lifetime, notably in Brazil and Europe, and some of her work was translated into English in the 1980s and 90s, but this year's re-translation of four of her novels by New Directions, as well as a recent biography called Why This World by Benjamin Moser, means that she's getting a lot of attention again. And deservedly so.
Lispector is the author of nine novels and as many short story collections; she also worked as a journalist and wrote for children. Her fiction is intensely introspective and plays with language in a way that can be both disturbing and revelatory. She has been and still is compared to Virginia Woolf, an easy comparison meant to give readers an indication of what to expect from her writing even if Woolf predates Lispector by some forty years. Grouping Lispector with some of her direct female contemporaries, writers like Iris Murdoch, Nadine Gordimer and Doris Lessing, all born between 1919 and 1923, makes for a startling comparison, mainly because none of them share much of her stylistic vision. Another list of contemporaries would include Janet Frame and Carson McCullers, and yet another, which seems more fitting, puts Lispector with France's nouveau roman writers like Nathalie Sarraute and Hélène Bessette.
Nevertheless, the comparison to Woolf is a useful one as Woolf's style is generally understood. Both Lispector and Woolf do work in a kind of breathless, stream-of- consciousness and both were obsessed with capturing the movement of thought. To give some nuance to that comparison, however, I would say that Woolf, even at the height of playfulness, remains unable to cross from the intellectual to the sensual, while Lispector incorporates the sensual on every level, and is more deeply concerned with a fusion of physical and cerebral.
Àgua Viva, Lispector's seventh novel, isn't perhaps the obvious choice for a reader's initial entry into Lispector's work. Better known and slightly more accessible titles include Near to the Wild Heart, her first and highly celebrated novel, published when she was only 23, as well as The Hour of the Star and The Passion According to G.H. Regardless (perhaps because of) its difficulty, Àgua Viva is an incredible piece of writing. One of the four selected for re- translation and publication this year by New Directions, it is a curious monologue of tremendous depth and obscure beauty. It is a non-novel, a non-narrative, and yet it works within a carefully constructed framework that manages to contain its strangeness inside a unified flow of thought.
Written by an unnamed narrator and written to an unnamed "you", Àgua Viva is a meditation on the act of creation using the idea of the written word, as opposed to other creative media, as its vehicle. With this "letter," Lispector asks what it really means to write to someone, how to transpose thought into missive or message, and what part of an individual is captured or lost in the act of writing:
I want to write to you like someone learning. I photograph each instant. I deepen the words as if I were painting, more than an object, its shadow. I don't want to ask why, you can always ask why and always get no answer — could I manage to surrender to the expectant silence that follows a question without an answer? Though I sense that some place or time the great answer for me does exist.
It is also a meditation on the individual — how does a narrator portray the self? Is this possible? Is it desirable? Lispector's stated goal throughout the text is to somehow re-create, through words, the instantaneous instant, the "instant now." An instant that is constantly changing, constantly being reborn. This rebirth becomes painful for the narrator, and she both embraces it and rejects it repeatedly.
As might be expected, the only description of the changing instant that Lispector settles on with any certainty is one that combines the sensual with the cerebral:
Only the act of love — the limpid star-like abstraction of feeling — captures the unknown moment, the instant hard as crystal and vibrating in the air and life is this untellable instant, larger than the event itself: during love the impersonal jewel of the moment shines in the air, the strange glory of the body, matter made feeling in the trembling of the instants — and the feeling is both immaterial and so objective that it seems to happen outside your body, sparkling on high, joy, joy is time's material and the essence of the instant.
Despite this lovely poetic description of the "instant now," certainty isn't this narrator's goal, and much of the text riffs on the absolute uncertainty, the subjectivity and the impossibility of defining all the narrator has set out to define. There is much apologizing for the crudeness of the writing, for the unskilled nature of this literary invention — rather sly, actually, as Benjamin Moser's thorough introduction tells us that Lispector worked on this novel longer and more carefully than she did on any other. So there is the artifice of spontaneity. There are also comparisons to other art forms like music and art, forms the narrator would like to channel while working through this writing exercise. The beauty of this book is undeniable, even if Lispector's comparisons and images can be tricky to untangle. Indeed, some are impossible to fully grasp and the reader's work involved in navigating them is sometimes frustrating, sometimes delightful.
Much of what Àgua Viva hinges on is the fragile narrative structure Lispector throws over the piece, the idea that the narrator — a painter attempting to create art for the first time with words — is writing an intimate letter to a single individual, presumably a lover. And yet really, the book could also be read as a letter from the author to her reader. The intimacy of that contact between author and reader, especially in light of Lispector's raw honesty throughout her monologue, is wonderfully overwhelming
Much has been said about the strangeness of Lispector's writing, especially her Portuguese and the way she subverts traditional grammar and punctuation — for an English reader, her writing is certainly strange, and poetic, and both fierce and rambling. Reading her is exciting. Àgua Viva is one of those books that fascinates not only for its fictional and linguistic innovations but also for the way in which it reveals its author's complicated and stunning interior universe.
+++
Clarice Lispector (1920-1977) was Brazilian journalist, translator and author of fiction. Born in Western Ukraine into a Jewish family who suffered greatly during the pogroms of the Russian Civil War, she was still an infant when her family fled the disastrous post-World War I situation for Rio de Janiero. At twenty-three, she became famous for her novel, Near to the Wild Heart, and married a Brazilian diplomat. She spent much of the forties and fifties in Europe and the United States, helping soldiers in a military hospital in Naples during World War II and writing, before leaving her husband and returning to Rio in 1959. Back home, she completed several novels including The Passion According to G.H. and The Hour of the Star before her death in 1977 from ovarian cancer.
+
Stefan Tobler was born in Belém, Brazil and translates from Portuguese and German. One of his other recent translations is the poetry collection,
Silence River
by Antônio Moura (Arc Publications, 2012). He won the English
PEN
Writers in Translation prize.
+
Michelle Bailat-Jones is a writer and translator living in Switzerland. Her fiction, translations and reviews have appeared in various journals, including Ascent, The Kenyon Review, Hayden's Ferry Review, Atticus Review, Necessary Fiction, The Quarterly Conversation, Cerise Press and Fogged Clarity. She is the Reviews Editor here at Necessary Fiction.