Book Reviews · 10/16/2017
After Coetzee: An Anthology of Animal Fictions
Edited by A. Marie Houser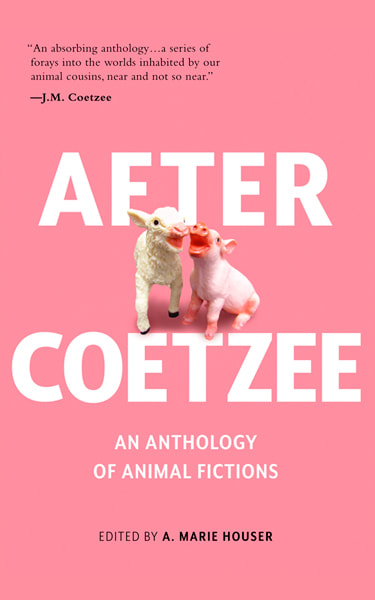 Faunary Press, 2017
In After Coetzee: An Anthology of Animal Fictions, activist and scholar A. Marie Houser curates a provocative collection revealing the fissures of freedom and communication between human and nonhuman animals. By using J.M. Coetzee's work on animals: Disgrace, The Lives of Animals, and Elizabeth Costello as a springboard, she has amassed sixteen narratives, many from award-winning authors, comprising a dazzling array of literary strategies.
"To writers of a certain conscience," she states, "Coetzee's triptych provided an opening, indeed gave permission, to seriously address our misapprehension of nonhuman animals, question our figurations of them, and engage them in our texts as subjects in themselves, for themselves."
While the parameters seem broad—engaging in the subject of animals, for animals—the task is beautifully accomplished by the rigor and quality of the contributors. They address the topic obliquely and rarely take a confrontational tone; instead, their stories are driven by a relentless and compassionate curiosity. In addition to the authors discussed below, the volume is rounded out with fiction and poetry by Laura Madeline Wiseman, Justin Maxwell, Gabriel Gudding, Olga Kotnowska, and Gary Barwin.
Kyoko Yoshida begins the volume with a mischievous tone in "Number 2 Pencils for the White Cat," in which a cat visits a struggling writer and gives him a priceless gift—a bestselling story—but the writer cannot understand what the cat wants in return. In "The Goat," David Brooks addresses the need for the titular goat to be anthropomorphized and given a name for the human protagonist to find it a home:
The goat was now Molly, and the text spoke of her grief, her need for careful treatment and understanding.
In the same stroke, he connects the inaccessibility of Molly's thoughts with his unease about her intentions: "who am I to say what a goat's sadness looks like?"
Some pieces are unabashedly political—e.g., Melanie Rae Thon's "Galaxies Beyond Violet," in which God declares, "Behold the honeybee! … Behold the honeybee who makes your life possible." Thon's story gets to the heart of the matter, oscillating between a discourse on honeybees (who, like polar bears on ice floes, have been political volleyballs for decades) and the dire situation of migrants crossing the Sonoran Desert into the United States, connecting the oft-ignored dots between climate change, migration, and gross inequality.
As the migrants risk sunstroke and dehydration in the desert to work in slaughterhouses across the border, Thon exposes that invisible labor, both human and animal:
Imagine pollinating your own blossoms, scrubbing anthers, gathering pollen, carrying your treasure home in tiny baskets, remembering to dry it for two days at precisely the right temperature, returning to your fields and orchards, lying on your belly in the dirt or climbing high to fertilize each flower. You carry a tiny duster made of bamboo and chicken feathers. Too much is too much. One light dip, one flick, one flutter: may you dwell in the open heart: clear your mind of all distraction.
Animals are also linked to precarious labor in Michael X. Wang's brutally forthright "Cures and Superstitions." Wang invites the reader to witness the harvesting of organs from vulnerable young men in rural China; while shocking, this is also an invitation to see all bodies, human and nonhuman, as fragile and susceptible to cruelty.
Other writers use their unique appointment as a lens for viewing particular species, especially those in captivity. W.P. Osborn's lingering, tragi-comic "Our Fathers, Which Aren't in Heaven" laments the capture and display of a white elephant in a failing zoo, while J.T. Townley's "Who Is This Dimaggio?" and Amy Cicchino's "Her Man" shrewdly approach the moral dilemma of keeping pets, without shying from the question of imprisonment. In "Procyon Lotor," Ariana-Sophia Kartsonis argues for the perseverance of instinct even after a lifetime behind bars:
Before we made our escape, our bodies dreamed these climbable places, our arms ached to pull us into a tree's hold, even before we'd touch our first branch. Our bodies knew such a thing to long for; they ached to reach that unmade memory.
Moving beyond instinct, Diane Josefowicz asks if an animal can be an individual by imagining the situation of a primate who has been falsely categorized by her taxonomist in "One of Your Number." Between his efforts to prove he is a striped-face capuchin monkey, and definitely not a flag-tailed pongo raccoon, the primate also reports he once had a singular name, a fact that goes "entirely unseen" by the humans in the story:
The right name says: I am this, and none other. Names carve the world of ideas, separating an idea of this from another idea, of that, creating boundaries which, if sustained, can hold all sorts of things—anger, hatred, devouring love. Put another way: A robust nomenclature keeps the papaya salad away from the slipper snail casserole, so nobody gets a headache.
The contributors also implicitly and explicitly draw links between feminist and animal narratives of being unseen or unrecognized as an individual agent. In David Armstrong's "Truth Be Told," a man is inadvertently responsible for the death of his new lover, Jeanine, because of his inability (or unwillingness) to see her past his sexual desire. She pleads and pushes back:
"See me," she says. It's the unpardonable language of hope … See me. See me. See me.
The philosopher Emmanuel Levinas grounds his ethics in the face-to-face encounter with another, a kind of seeing that simultaneously underscores our proximity and distance. He argues that this encounter is what commands our ethical action, even as it confirms our inability to fully understand the other person. After Coetzee, by inviting us to listen to the voices of animal others, and indeed by the authors' commitment to encountering them, ratifies itself as a politically powerful volume, and one which affirms an ethical imperative.
Many of the stories are morally rigorous: by exploring the vulnerability of others, they elicit empathy, not only for zoo-, laboratory-, and housebound animals, but also for the vast and varied insect world, like that in Jonathan Balcombe's "Red Admiral":
Because they are so small and easily crushed, insects symbolize the most abusable and malignable of life forms. Though they are inexorable and dominant in their numbers, individually they are vulnerable. If we can acknowledge the integrity of the individual insect, then we can acknowledge that of all other sentient life forms.
Through conscientious attention to what goes unseen, this collection conveys the sense that language and literature are powerful resources for examining the unspeakable. Whether we fool ourselves to imagine we can speak in an animal voice while simultaneously broadcasting our complete and utter ignorance to the intentions of those same animals is beside the point: writing outside the self—indeed, outside the species—allows writers to illuminate the subject with even greater percipience and push the boundaries of how we perceive our animal kin.
After Coetzee is urgent fiction and poetry direct from our fractious, fragile social and environmental moment. Using Coetzee's novels as a gateway into the prerogatives of nonhuman animals and the humans who interact with them has produced works that are both penetrating and ethically charged. This striking and intelligent inaugural publication from Faunary Press is a pioneer which deserves to grace the shelves of anyone interested in animal rights and the future of how we share our life on earth.
+++
A. Marie Houser
(Editor) is the founder of Faunary Press. She writes creative pieces (fiction, nonfiction, and hybrid prose) and academic works that are often ficto-critical in approach and style. Subjects: critical disability studies with a focus on chronic illness and critical animals studies; J.M. Coetzee and the figure of Elizabeth Costello; aesthetics and rhetoric.
+
Hannah Weber
is an editor, freelance writer, and doctoral candidate based in Brighton, U.K. Her current research focuses on critical theory and European border literature. More of her work can be found here:
hannahweber.co.uk
.