Book Reviews · 07/15/2019
A Girl Goes Into The Forest
by Peg Alford Pursell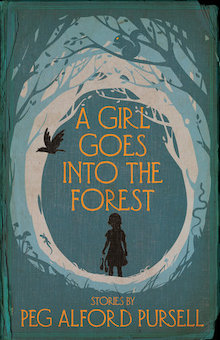 Dzanc Books, 2019
A mantra thrums through the pages of A Girl Goes Into The Forest:
No one can deter a person from her mistakes.
Young women on the verge, on the cusp of becoming, with each generation tying their future to a man. Because they long for the world out there and mistakenly believe that he knows the way. And always, mothers, the genetic memory of how far women have come — the distance they must still traverse — wringing their hands, watching from the sidelines, knowing they cannot stop their daughters from doing "whatever hard thing she is determined to do."
Such is the beautiful ache that is A Girl Goes Into The Forest by Peg Alford Pursell, a collection of hybrid prose and fables, 78 shards of broken mirror held up for our reflection. Arranged in nine sections, each is punctuated with fragments borrowed from Hans Christian Andersen's, "The Snow Queen." The section titles/epigraphs, such as "How Far She Has Come In The Wide World Since She Started Out In Her Naked Feet" along with the underlying Snow Queen saga, add a layer of complexity to the collection.
In "The Snow Queen," first published in 1844, splinters from a shattered looking glass lodge into a boy's eye and heart. Once affable and lovely, the boy becomes cold, wicked and mean. He hitches his sleigh to that of the Snow Queen and disappears. He is presumed dead by the villagers, but a girl undeterred ventures into the forest, overcomes obstacles, and ultimately saves the boy. Like "The Snow Queen," Pursell's stories acknowledge female agency, where a woman is both author and hero and where fairytale endings are more like glimmers of hope.
In "My Father and His Beautiful Slim Brunettes," the narrator fashions herself as Janis Joplin with her wild hair and raspy voice and low riding bell bottoms. Her mother is nothing more than a 200 pound footnote, while her philandering father looms large, James Dean cool with a motorcycle and his son's red mustang to entertain his brunettes. The narrator practices her singing in the bathroom. She practices her departure from the middle-of-nowhere by sizing up the boys in town, deciding which one she'll choose to make out with. She likes the rich ones:
…because these boys already knew there was a world out there. It was pictured on the album covers scattered in their rooms. They had the evidence of a world where there was Janis. A world where girls longed like her, and went where they wanted to go.
The narrator joins a band and leaves town affixed to the band's leader. It'll be 7 or 8 years later before she'll return home, after the band signs with a label, her head bald except for the bleached fuzz growing in. The situation at home will be as complicated and unforgiving as ever. She'll leave again, but not before she shows her young nephew how to spark a rebellion.
Most of Purcell's stories are fragments, no more than a paragraph or a page or two, like black and white home movies, spliced together. They read like flickers of memory: teenage marriages, lackluster weddings, lonely mothers and absent fathers, aging parents, estranged children. Abandonment. Terminal illnesses. Car crashes. Molestation. Regrets. Secrets. Affairs. And always the need to leave, to escape, to move on.
Within those minimalist confines, Pursell can encapsulate an entire life, while a single sentence can cut like a knife. She capably carves out heartache and despair. A woman wonders if a person can be too good at surviving. A son, burned while undergoing rites to become a Zen priest, explains that "pain is how you know you're alive."
The collection leans more toward realism than fairytale and yet there are moments of whimsy and enchantment. Throughout, there are cottages, new, old, collapsed and abandoned – metaphors for lost virginity, empty wombs and dashed dreams. Driveways made of crushed shells and gravel mimic the fractured memories and fragility of relationships. Birds are children. Pretty pink cakes, described as "frivolous mindless things aging in the sun" stand in for women and naughty squirrels who want nothing more than to eat the cakes are men. Slim hipped country singers in sequins undulate like mermaids.
A witch appears in "Gilded Cage" wherein an old woman afflicted with scoliosis lives alone at the edge of the forest. In "Confetti," paper dots leak from a professional man's head like salt from a salt shaker. In "Unraveled," an old sweater embodies a husband's grief for a dead wife. In "Other Side," a sister climbs out a window and ascends to an unseen destination. And in "Sensory Imprint," a daughter hopes to capture the essence of her mother in a nightgown.
These 78 stories are not linked and yet the arrangement, the juxtaposition of one pressed against the side of another, creates a conversation. Then there are the echoes, recurring themes and motifs, and fractals. The mind wants to finish the story, find commonality, resolution, perhaps reconciliation.
In "Laundry," a man dies a violent death from an accident. In the subsequent story, "Schematics," a woman visits a silent room, sits at a desk where
[H]is laptop is set to the side, a film of dust on its closed lid. He's in the particles she breathes in this study, his epithelial cells, the thirty thousand scales of skin that had flaked off his body per minute.
The absence of this man is palpable, the cause unspoken. The abandoned laptop reveals the man's death, the preceding story suggests the manner in which he has departed.
Similarly, In "Starflower" and the two successive shorts, "Aftermath" and "Cavern Obscura," a mother longs for reconciliation, a young woman's blood spills on a linoleum floor, and a mother holds her daughter's hand while a judge orders the girl's husband to prison. Given the many previous stories of mothers and daughters, men taking daughters away, estrangement, and hints of physical abuse as in "Iguana" where a mother remembers the time a "red scarf tied at her daughter's throat slipped to reveal bruises," this trio suggests a denouement, an end to the mother's empty grief.
Ultimately, A Girl Goes Into The Forest, explores the ineffable mother/daughter bond, its strength and fragility, and its many layers of complexity. A daughter may yearn for connection, yet needs to pull away. And the mother, who never wanted to be a mother at all "when there was a whole world out there that she knew nothing about," who mistakenly believed that she could shape their collective narrative, must cope with the emptiness of her womb and then her house once her girl is gone, left with knowledge that the road to forgiveness (for all the mistakes she has made) is "a tight, foul-smelling shoe lined with fear and remorse."
+++
Peg Alford Pursell's
debut collection,
Show Her A Flower, A Bird, A Shadow
won the 2017
INDIES
Book of the Year Award for Literary Fiction and was featured in
Poets & Writers
annual 5 over 50, December 2017. She is the founder of
WTAW
Press and Why There Are Words, a national literary reading series. She earned her
MFA
in Creative Writing from the Warren Wilson
MFA
Program for Writers. She lives in Northern California.
+
Lisa Slage Robinson
is a lawyer and writer living in Pittsburgh. In 2018, she received an
MFA
in Creative Writing from Chatham University. She formerly served as the associate editor of
The Fourth River
. Lisa writes to explore invisible landscapes and magical feminism. She is currently working on a collection of linked short stories entitled "The Esquire Ball and Other Stories from the Great Black Swamp."