Translation Notes · 12/06/2013
I Stole The Rain
Our Translation Notes series invites literary translators to describe the process of bringing a recent book of fiction into English. In this installment, Lisa McCreadie writes about translating I Stole The Rain by Elisa Ruotolo (Frisch & Co).
+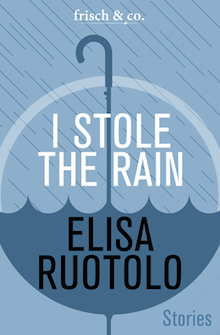 What initially struck you about the book when you first read it?
I think what first hit me was Elisa's unique style of writing: for one thing, she uses quite a bit of dialect so you immediately know there's going to be a degree of research involved and writes in these winding Italian structures which my Anglophone mind finds tricky to digest! In terms of the stories, personally, my favourite thing about foreign literature is picking up on little character traits and quirks that remind you of someone you know, despite the gap in culture, language, background and (not in this instance) time period; I guess I like the idea that, wherever you go, we're all basically the same. And so, although they're very different to one another, I was thrilled to discover that the human element is very much present in all three stories.
What were the main considerations you had to take into account during the translation process?
One thing that is very present in Elisa's writing is a strong sense of place; you really get a feel of Campania region and the dialect is a contributing factor in this. This was such a balancing act in terms of translation as I wanted to reflect this feel in the English by trying to steer clear of Standard English, where appropriate, such as in dialogue, in favour of a more regional vernacular. I also wanted to retain a sense of the Italian in terms of structure, whilst writing in (hopefully!) idiomatic English. Given that it's a collection of short stories, you also have to think about voice, since you're jumping between three different characters. A wise translator once told me it takes about 10% of the text to get into character properly so you can imagine the extent of revision involved!
Any particular terms or phrases that you really had to puzzle over?
Quite a few. One example that springs to mind is the doctor's visit in "I Am Super Legend" where he says "Let's stick it up their jacksies". Rather than "it", in Italian makes reference to "gli alamari" (braiding on a military uniform). Literally, in English, this would make little sense but the point of the sentence is that the doctor says a word that Federí doesn't understand and keeps referring back to throughout the story. And so I think in the translation the sense (and the vulgarity) of "let's get it up them" is preserved. Even the title "I Am Super Legend" took a bit of puzzling over. The story itself was inspired by an Italian short film called Io sono molto leggenda so I investigated a bit to see if I could draw anything from that. Then started considering the options so that it wouldn't hit the ear too strangely in English: "I Am Legend" alone sounded fine to me (probably because of the film) but Federí is first nicknamed Legend and then promoted to something stronger to reflect his celebrated "talent" so it had to be something more. Very Legend? Ultra Legend? Hyper Legend? It's the translator's job to be picky about the little things!
What is the most enjoyable part of the process from your perspective?
Well, finally handing it in to the publisher after proofreading for the umpteenth time is a pretty wonderful feeling! But in terms of the text itself, the tiny section of the whole that I most enjoyed working on was the short poem in "Look At Me":
bq. "Dear priest, so big and fat,
Oh so deaf, and a bastard at that…"
In a rather dense, complex text, and at a fairly advanced stage in the book, this injection of fun and nonsense was just what the doctor ordered! It presented an opportunity for some serious creativity but, of course, you have to balance that with carrying across the rhyme, the key message of each line, as well as any absolutely essential words (such as the later reference to a dope, the insult spoken earlier in the chapter which is the motivation for the poem in the first place).
How do you feel about it now it's over?
Translating literature is many things: exciting, frustrating, exhausting but never dull! Ruotolo has been a challenge but a pleasure to translate and it makes it all worthwhile to see such a promising writer's debut being well received.
+++
Elisa Ruotolo
(Santa Maria a Vico, 1975) has published several short stories and teaches Classics.
I Stole the Rain
is her first book.
With an MA in Translation and Interpreting,
Lisa McCreadie
works as a translator from French, Spanish and Italian and is also currently learning Norwegian. She considers herself to be a protégée of the
BCLT
, having attended Summer School in 2012 and won its 2013 Italian Mentorship under eminent translator Howard Curtis.
I Stole the Rain
was Lisa's first commission in collaboration with e-publisher Frisch & Co.