Translation Notes · 10/17/2013
A Handful of Sand
Our Translation Notes series invites literary translators to describe the process of bringing a recent book of fiction into English. In this installment, Will Firth writes about translating A Handful of Sand by Marinko Koscec (Istros Press).
+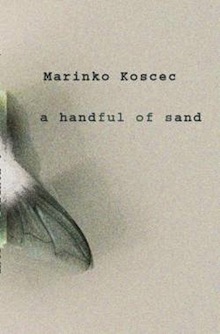 I work as a literary translator and mainly translate novels and short stories for publishers in Britain and the US. Between April and September 2012 I translated the novel A Handful of Sand (in the original To malo pijeska na dlanu) by the Croatian writer Marinko Koščec for Istros Books with funding from the EU Culture Programme. This was by far the most challenging and engaging of the dozen or so novels I've translated so far, and in this short essay I'd like to touch on some of the issues I faced.
Koščec, who was born in Zagreb in 1967, has been dubbed Croatia's foremost literary stylist, and when I read the book prior to translating it I realised with a gulp what I was in for. The whole 220-page novel, which is billed as "a love story and an ode to lost opportunity", is full of intense language like this:
I remember his drawings (…) Each in its own way showed living labyrinths: scenes of teeming action, dense and compact, full of interlaced movements, collisions, rifts and transformations. They were covered from edge to edge in intricate patterns, calligraphic tendrils and arabesques which intersected and merged, plunging into one another, vanishing into depths and forming bizarre figures here and there with unbelievable, enchanting colour combinations. There wasn't a single empty spot. It was impossible to recognise anything from the earthly world from up close. But when I moved back a little, without realising what they were about, I felt a childlike sense of bliss — at the absolute tranquillity they emanated.
I had met Koščec at a book fair a year earlier and established a friendly rapport with him. We corresponded profusely during the translation process and I asked him a lot of questions, at first of a general nature and then, increasingly, in detail. I like to discuss things with my authors even when I'm fairly sure what my solution is going to be because there are often ambiguities in the original or multiple translation options in English, so being certain about the author's intentions is important to me. Almost all of my authors appreciate this attention to detail.
A hallmark of Koščec's writing is the way he invents words or uses them in unique contexts, such as referring to a large strapping man as having a "basilical frame" (trobrodna ramena); or saying that someone leaves a "barking" (lajanje) at home to guard their flat, rather than writing that it's a dog barking; or using the expression "invisible to the simpleton's eye"(nevidljivo prostačkom oku) rather than referring to the "simple eye" — that would be boring, Koščec says. Almost every page of the book was demanding in this respect.
Another challenge consisted in dealing with the author's exaggerations and fantasy, where unusual circumstances drift off into the absurd. Koščec does this as a way of illustrating hypothetical scenarios — how things COULD have been. When reproducing this intentional blurring of boundaries between reality and fiction, I had to fight my translator's instinct to do away with confusion and ambiguity. They had to remain in the text!
The two main protagonists in A Handful of Sand have no name — something I've encountered in about half the novels I've translated from the countries of ex-Yugoslavia. This is irritating in itself for Anglo-American readers, who tend to expect more character development, but it also creates difficulties in its own right: there are a lot more "he's" and "she's" in the text which need to be distinguished by different means.
The novel contains several stream-of-consciousness passages, and I think it's these which I found hardest to translate. Perhaps it's because I was unable to fully overcome my fixation on conventional syntax, but I ended up "compromising" these passages by inserting a number of semicolons. The root of the problem is that Serbo-Croat is a highly-inflected language, i.e. the endings of words tell you about their role in the sentence and their relationships with the other words, whereas in English we have rigid word order and other ways of showing these relationships. As such, these streams of consciousness seemed very wild and free when I did the draft translation, with different parts of speech strewn all over the place, and despite my efforts to preserve the punctuationlessness there were several junctures where I felt I needed a semicolon as a kind of soft break.
No, there was one bit which was even harder! It was where I had to translate several extremely lyrical lines embedded in one of the streams of consciousness. This intense poetic language involved several instances of rhyme, combined with several strands of alliteration, and on top of that there was a kind of phonetic chain where each word echoed its predecessor (although after a few words the sound was quite different again). And the poor translator had to render the content too, not just worry about all these playful formalities! Here is part of this exceptionally hard nut — an excerpt from a love scene:
(…) I sample one morsel after another, only to return obsessively to the epicentres, tirelessly drawing from the chambers of relish, from your breasts and armpits and groin and all the folds, furrows, openings, cavities and dark spaces; I penetrate, press, plumb, probe, plough; you tremble beneath me and rise up, fit flush against me, squirming, moaning, gasping, striving to break through the membrane which hampers complete osmosis (…)
The complex features of the original described above have been partly lost here — I would say unavoidably so — but perhaps this at least conveys a notion of the magnitude of the task.
As well as being a challenge at a linguistic and intellectual level, translating this novel was also an unexpectedly emotional experience for me. It was almost a bit uncanny: the love scenes are so convincing that I couldn't help feeling turned on; the separation scenes got under my skin to such an extent that after spending a day working on one of them I'd start to wonder if my relationship was OK; and I cried several times while working on the wistful, bitter-sweet ending. I guess it's because I related closely to the author's rich, melancholic tone. It's good when a translator can do that.
In all immodesty: I most sincerely recommend this novel!
+++
Marinko Koščec is a Croatian author and professor of French literature at the Faculty of Humanities and Social Sciences in Zagreb. He is also an editor at the SysPrint Publishing House and teaches novel writing at the Sarasan creative writing centre. He is the author of five novels:
Someone Else
(2001) was awarded the Meša Selimović prize for the best novel published in Bosnia, Croatia, Serbia and Montenegro, and
A Handful of Sand
was nominated for the prestigious Jutarnji List award.
Will Firth was born in 1965 in Newcastle, Australia. He studied German and Slavic languages in Canberra, Zagreb and Moscow. Since 1991 he has been living in Berlin, Germany, where he works as a freelance translator of literature and the humanities. He translates from Russian, Macedonian, and all variants of Serbo-Croat. See
www.willfirth.de
.