Research Notes · 09/19/2014
You Are Free To Go
Our Research Notes series invites authors to describe their research for a recent book, with "research" defined as broadly as they like. This week, Sarah Yaw writes about You Are Free To Go from Engine Books.
+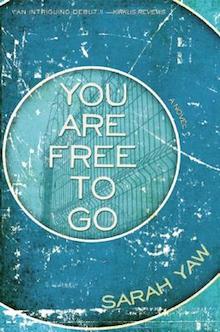 You Are Free To Go explores the relationship between the world inside and outside of the prison in my hometown. When I began to write it, I had to make a choice: seek official access from prison administration and risk intrusion from the state DOC, or use different means to research the book. I knew I wanted to answer these questions in the novel: What is it like to grow old and mellow in prison? What is it like to mourn and love in a place where vulnerability can be mortally dangerous? And why do free women accept the overtures of prisoners? None of these truths relied on a perfect rendering of Auburn Correctional Facility, and I learned early on in the drafting that I only needed the details that could help support the development of my characters' worlds; anything else would be distracting. So I set out to cat around town, surreptitiously hoarding information that could lend verisimilitude, rather than precision. This turned out to be much more fun than bearing the heavy burden of official access.
My community college students and colleagues were the greatest resources. Early in the writing of You Are Free To Go, I had a remarkable student who ran the prison mailroom. She was a beautiful woman who served as the model for Lila, an important character who bridges both worlds. I marveled that a woman like this could work there, interacting each day with prisoners, and return each night to a middle class life in our beautiful lake community.
Around the same time, a college colleague invited me to her house for an evening with church ladies knitting hats for cancer patients. These were educated, upright women who spent their entire careers working in the prison. One worked in Industry on the license plate line. All day, she supervised criminals. She had more contact with incarcerated men than with any other colleagues. She saw how they behaved, saw how the guards treated them. She knew who was good and who was bad on the inside. In her view, those designations, good and bad, had less to do with a green or blue uniform and more to do with character. This was a well-read, spunky woman. She dominated most of the evening, so it took me a while to turn my attention to a stately woman in her seventies who knit quietly, waiting her turn to speak.
This quiet woman was clearly respected by the others. She wore lovely pressed clothes, was married to a local golf pro, and spent her life on the outside at country clubs with the local elite. But each day of her decades-long career, she went to work and sat before a typewriter and a stack of files full of the details of crimes committed by incoming prisoners. She was secretary to the warden. It was her job to type up the crimes committed by each prisoner who entered this facility. This one woman catalogued thousands of horrific crimes. She sat straight as a stick. She knit fluidly. She was serious and proud when she spoke of her career. It was a job. She didn't show any cracks.
At the end of our evening together, the women wished me well. "Good luck with your book," they said. Then added, "Please don't mention any of our names."
Talking to these women, to friends whose parents were guards, and people who knew prisoners personally was helpful, but I longed to get inside and had no idea how to do it. Then one day, I got a lucky break. Another colleague called and said, "Hey, I'm bringing my CJ corrections class into the prison. Want to go?" I was going in! I was going undercover as a student. It was perfect.
I knew the trip inside would let me see the world I was attempting to render and provide essential details. I also expected the prison — the feeling of being locked inside — to surprise me. I saw cells, the sparrows that live throughout, messhalls, Industry, the yard, the hospital. We were given a thorough tour, and the CO who brought us through was respectful of the prisoners and emphasized that this was their home. Despite witnessing a clandestine exchange of contraband between two messhall porters while the guards managed a sudden eddy of civilians and prisoners in the kitchen, it was an uneventful trip, no surprises, and confirmed what I already knew: That prison was a life of high vigilance and opportunism. What did surprise me, however, were the other women who were on the tour with me.
Like the characters in You Are Free To Go, when I was a girl, I received collect calls from prisoners looking for connection with the outside. Unlike my characters, I never accepted them. I was only eight-years-old and innocent. I remember vividly the feeling of being touched by this forbidden world. It was the first time I felt the predatory, sexual intent of a man. There were only a few of these calls and they were concentrated during a specific time period, just when I was learning that there was more to life than childhood, and that what awaited me was unknown and potentially dangerous. Growing up, it was common to see vans of prisoners around town and the intensity of their gaze was always alarming. It was impossible not to feel consumed, violated even. As an adult, I became more and more aware of women seeking relationships with prisoners, and this fascinated me, so I set out to write about it.
You Are Free To Go was loosely inspired by an early short story of mine in which a woman accepts the collect calls of a prisoner. Emma, a family friend who had dated prisoners, happened to read this story and was excited. She said the scenes of going inside to visit were spot on. I asked her why she dated prisoners and she said, "Men in prison are the best kind because you know where they're at." And this pointed to the complicated relationship our town has with this place. There are women who seek prisoners as spouses. Families are started, as in my book, after men are incarcerated for life. And while this had confounded me, her answer was alarmingly simple, and, I think, revealed a great truth about female desire: Some women long to be everything to someone.
When I dressed to go inside, I wore a gigantic Syracuse University sweatshirt. I knew underwire bras were a problem, so I avoided them and covered myself in a way that wouldn't reveal anything about my body. But the other women on the tour did not. They dressed up like they were going on dates, and this shocked the hell out of me. They had prepared themselves to revel in the attention of hundreds of captive men, and this gave me the last bit of evidence I needed to capture the forbidden intersection between life on the inside and outside of the prison walls.
+++
Sarah Yaw's
novel
You Are Free To Go
 (Engine Books, 2014) was selected by Robin Black as the winner of the 2013 Engine Books Novel Prize. Sarah received an
MFA
in fiction from Sarah Lawrence College, and is an assistant professor at Cayuga Community College. She lives and writes in Central New York.