Research Notes · 03/09/2018
Whiskey & Ribbons
Our Research Notes series invites authors to describe their process for a recent book, with "research" defined as broadly as they like. This week, Leesa Cross-Smith writes about Whiskey & Ribbons from Hub City Press.
+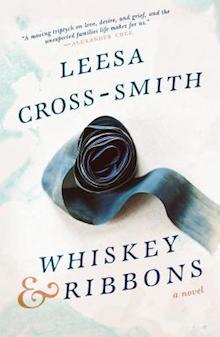 Write a short story that won't let you go. Be embarrassed to submit it to a fancy contest but submit it anyway and be eating a veggie burrito at your desk when it's announced that it has won Editor's Choice. Decide to write it as a play and fail. Decide to write it as a screenplay and fail. Start it shortly before September 11, 2001, and stop writing when the world stands still. Write the character as a landscaper, a bike-shop owner. Name him Jude and change it to Dalton. Write the character as a police officer and never question it. Name him Charlie and change it to Eamon. Write the character as a ballerina and never question it. Name her Evangeline because you thought of naming your daughter Evangeline because it sounds so beautiful. Evangeline. Evangeline means bringer of good news. Watch the slain police officer's funeral and think about his wife, his family, his friends, this horrific, random, senseless act of violence. Love the snow, love being snowed in. Begin the book again and write in Eamon's voice and halfway through, kill him as a surprise to the reader. Cry into your hands when you write his obituary. You should be good at this because you used to write obituaries for the local newspaper after you got out of college. Take Eamon's voice out of the beginning and write in Evangeline's voice. Have her get snowed in with Dalton because snowed in = they can't go anywhere and they have to face things, talk. Have them face things, talk. Start with that kiss, that loaded minefield of feelings. Listen when a reader talks to you about "navigating that tricky territory." Use war language and analogies because they so often go hand-in-hand in matters of the heart. Everysingletime you see a cop car, think of Eamon, killed in the line of duty. Think of the police officers killed in the line of duty. That weight of being the good guy in a world full of bad guys. What do they have on their duty belts? Look it up. First, look up that they're called duty belts. Look up whether any/all police officers wear their uniforms home, take their patrol cars home, wear their bulletproof vests home. What are the most boring jobs police officers have to do, how many pens do they go through in order to tackle the endless amounts of paperwork? Go back to ballet class after fourteen years of dance and twenty-five years of not going to ballet class. Remember what it's like to kiss a boy for the first time, to have him kiss you back, to feel guilty about that kiss, to feel like you're breaking a rule you haven't written yet, a rule you don't even want to write. Get pregnant, become a mother, imagine life without your child's father. Imagine a baby never meeting his father, imagine another son not remembering his father, feeling abandoned, being adopted. Imagine all those times you didn't know how to feel and didn't know how to ask someone to tell you. Imagine needing help and not having to ask for it. Wrestle with the format, the voices. Go for long walks and think about it. Make posters and listen to "Clair de Lune" and Bach's cello suites and Chopin, hip hop piano covers, Rachmaninoff, Mozart, Bon Iver, Otis Redding, Phil Collins. That's it, Phil Collins. Make "One More Night" Evangeline and Eamon's song. Decide to write the novel (because it's a novel now, you're sure of it?) in three alternating, intertwining voices. Braid the voices together like ribbons, let a ribbon slip out. Have them echo one another in their own sections. Write it like a fugue. Listen to fugues. Three voices and one drops away. Have Eamon's voice drop away, leaving only two voices remaining. Think about this anytime you could be thinking about anything else, obsess over this, don't let this go, write this. Stay up until four a.m. working on this. Buy separate binders for each character, assign them each a color, make sure their sections are equal in both weight and character development. Make sure their voices are distinct and reflective of their mood and their mood only. Consider families and accidental families and how grief clouds and shadows and blurs everything. Consider where to find the strength to go on. Consider fulcrums and fires. Consider being bound together tightly with someone else in both good ways and bad. Write and don't stop writing until you finish and don't tell anyone about it until you're finished. Think about brotherhood and surrogate fatherhood and whiskey. Consider ribbons and tying, sleekness and slick. Drunkenness and anxiety. It is still snowing, the world is quiet. Eamon toasting to whiskey and ribbons while he's alive and Evangeline and Dalton toasting to whiskey and ribbons when he's dead — Eamon's son, a six-month old living ticking timer for how long Eamon's been gone. Consider crying. Considering believing. Consider hoping. Consider giving yourself one more night. Consider (somewhere else) where grief has an expiration date. Where is God? Is He here, does He see this? Where are we? Who are we? What is this? What do we do now? What do we do with this? Where do we put this? It is still snowing and right now there is nowhere else to go. So let's stay here. This is cozy. Are you in your pajamas? Stay in them. Do you have wool socks and slippers? Keep them on. This is warm. Do you want hot chocolate? Marshmallows? I've made a fire. God sees this. He knows. He loves you. I love you. So let me take care of you. Do you feel Sinatra-blue? Well, you're holding up really well. You're doing the best you can. Come here. Are you comfortable? Is this okay? Shh, you're okay. It's all right. You're safe here.
+++
A
PEN
Open Book Award Nominee,
Leesa Cross-Smith
has been a finalist for the Flannery O'Connor Award for Short Fiction and Iowa Short Fiction Award. She is the author of the short story collection
Every Kiss a War
and lives in Louisville, KY.