Research Notes · 11/01/2019
Tired People Seeing America
Our Research Notes series invites authors to describe their process for a recent book, with "research" defined as broadly as they like. This week, Claire Hopple writes about Tired People Seeing America from Dostoevsky Wannabe.
+
Recipe for Tired People Seeing America by Claire Hopple (V) (GF)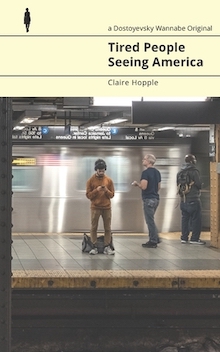 Ingredients
1-5 books by Amelia Gray, Scott McClanahan, Deborah Eisenberg, Sam Pink, Laura van den Berg, Zach VandeZande, Tao Lin, Denis Johnson, John Edgar Wideman, Joan Didion, Karolina Wacklawiak, Rikki Ducornet, Christopher Merkner, Rachel Khong
2 qts. interrupted sleep
1 c. essence of hotel rooms (various sizes, colors, conditions)
7 gal. introversion
3 c. falling short of expectations (get imagined expectations if your grocery store carries it)
5 tbsp. appreciation for your hometown only once you're outside of it
½ bag aging relatives
1,000+ long walks in your neighborhood
1 ½ tsp. affinity for exotic jobs and animals
3 moves (at least one across state lines)
10 work conventions
2-6 people from your past who feel more important to you than they should be
2 ¼ c. zest of personal and professional failures
3 full-time positions in marketing and mental health fields
Childhood nostalgia (substitute

MSG

) – season to taste
+
Prep Time
5 years
+
Cook Time
1 year
+
Directions
Place books in large pot, cover, and let simmer. Look up the definitions of the same four words found in these books at least six times each.
Bring to a boil over high heat, then reduce heat to medium-low until tender.
Stir in remaining ingredients.
Muddle literary magazine rejections in mortar and pestle, sprinkle overtop.
Reach full umami by adding more nostalgia to dish once plated.
+++
Claire Hopple
is the author of
Too Much Of The Wrong Thing
(Truth Serum Press, 2017). She lives in Asheville, North Carolina. Her fiction has appeared in
Hobart, Heavy Feather Review, Timber,
and others. More at
clairehopple.com
.