Research Notes · 03/21/2014
The Wives of Los Alamos
Our Research Notes series invites authors to describe their research for a recent book, with "research" defined as broadly as they like. This week, TaraShea Nesbit writes about The Wives Of Los Alamos from Bloomsbury.
+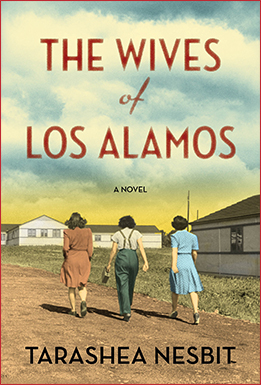 1. Peggy Pond Church: Such joy it is to be the first to bend the cool, sweet grass.
2. Natalie Mirenda writes her husband after not hearing from him in over two weeks: Frank, when I walk alone, I seem to feel you sneaking up on me…I turn around and you're not there.
3. Melissa Faulds Meeth thinks standing in line for milk is a necessity, but she refuses to stand in line for non-necessities. Her son, Rick, and his friends stop by the grocery store every day and when a scarce item is put on the shelf, like soap powder, he hides it behind a less popular item, like canned beans, and runs home to tell his mother.
4. I was writing this novel peacefully. But then my daughter died and it occurred to me that this was not peacefulness at all that I was feeling. It was the privilege of one who had not had anything upsetting happen in a very long time.
5. Blue stars in the windows of homes with family members in battle; gold star if he dies.
6. Uranium, number 92 on the periodic table, a heavy metal used for pottery glaze, Fiestaware, glass cake plates that glow. But now, something more powerful than uranium can be made, physicists think, by bombarding uranium with neutrons to create a sequence of events, a chain reaction.
7. With each explosion, another explosion.
8. In December, President Roosevelt gives a speech. His words enter the ears of Americans through their radios, after meatloaf… But all our present efforts are not enough. We must have more ships, more guns, more planes — more of everything. We must be the great arsenal of democracy.
9. To make one thing [atom, electron, neutron, person] strong enough and unhappy enough to leave its home, and take over another's home, until each home is taken over by another, until someone wins, and someone is without a home.
10. Katherine Kitty Puening Harrison is married to a physics graduate student, but meets and sleeps with Robert Oppenheimer at a party. Oppie invites her to his ranch in New Mexico for the summer and she goes, stays, gets pregnant, asks her husband for a divorce, is not granted it, runs to Reno for a quick divorce, gets it, and marries Oppie that November. Peter is born in May, and a few years later, Toni.
11. One wife saying, We didn't start the war, we finished it.
12. Laura says, I shared the wartime sense of excitement and dread that permeated the whole isolated community of Los Alamos.
13. Eleanor says she prayed for peace after World War II, lest the name of Los Alamos live in infamy forever.
14. I'm annoyed at my conflation but what else is there? We are not very different trans-historically.
15. A man named Tibbets said, When we make a flight tomorrow, this is what we are going to see. No one said atomic bomb. Once we were in the air I told them what we are doing, the weather cleared, there was no decision left. We drank coffee. It was routine. We were bothered not in the least by any fighter opposition so we could concentrate strictly on the bombing problem. The bomb was released. The bomb blast hit us in two shock waves, this was a perfectly unexciting and routine thing. Until we saw the damage that had been done.
16. President Harry S Truman came on the television. He said, We may have to destroy four or five cities until they actually think we have a bomb.
17. A recent graduate, Volney Wilson, is handling the control rods, determining when to let the neutrons get knocked out and when to let them knock out others. Leona Marshall, a recent chemistry doctoral graduate, thinks he's spectacular: not only does he have this important job, but he's invented a swimming stroke called the Dolphin, the efficiency of which helped him win the Olympics a few years prior, though he was disqualified because no one had heard of this new stroke. Last summer she swam with him and Fermi in Lake Michigan and thought, How he can swim.
18. Leona's brother is a flamethrower in Okinawa; she is certain he will not last another invasion. All the young PhDs in unpressed tweed suits and moccasins have changed into dark clothing and are spending each day in the unheated double squash court, below the University of Chicago football stands, soldering and watching gauges. The black graphite dust floats like dark fog through the floodlight beams.
19. Eleanor Roosevelt gives a speech at a relocation center in Arizona addressed to the Orientals. Japanese Americans that cause trouble are shipped to Isolation Centers in Moab, Utah, isolation centers in Death Valley, isolation centers at a former Indian boarding school at Luepp, Arizona. One man is moved to an isolation center for calling a white nurse an old maid.
20. Vienna sausages and peanut butter and whiskey. The scientists get drunk quickly from being so high up in the mountains; they'll say later they acted sort of strange. They carry oats for the horses. They ride at night. It rains in the evening. One night, on a mountain ridge in the middle of a thunderstorm, lightening, Robert Oppenheimer says, Which way should we go? This way its only 7 miles home, and points to the left. But this way is longer but much more beautiful, and points to the right. They take the path to the right.
21. Oppenheimer hears from Jean Tatlock, the woman he loved before he loved his wife. He is in Berkeley on business. He goes to her.
22. The FBI follows him and summarizes what they see:
On June 14, 1943, Oppenheimer traveled via Key Railway from Berkeley to San Francisco on the evening of June 14, 1943, where he was met by Jean Tatlock who kissed him. They dined at the Xochimilcho Café, 787 Broadway, San Francisco, then proceeded at 10:50 P.M. to 1405 Montgomery Street and entered a top floor apartment. Subsequently, the lights were extinguished and Oppenheimer was not observed until 8:30 A.M. next day when he and Jean Tatlock left he building together.
23. Six months later Jean Tatlock commits suicide. Her note says: I wanted to live but I got paralyzed somehow.
24. For the first time an American president announces the number of nuclear weapons America has, in 2010: 5, 113.
25. What do I support without my knowledge? How do I push against what is not visible?
26. The title of a Santa Few New Mexican article published the day after Hiroshima was bombed reveals the rush: Now the Stories Can Be Told.
27. One wife saying, I have never lost the sense of helplessness I felt so strongly that day, August 6, 1945.
28. Phyllis called her time in Los Alamos two very crucial and upsetting years.
29. Akiko Mabuchi Toba will say in an interview later, The only thing we could do was go behind that barbed wire to prove we were loyal.
30. One wife, in her memoir, addresses the little lady of Hiroshima: I wanted to tell you that, as an American woman, I grieved with you. I wanted to say, 'I'm sorry.'
+++
TaraShea Nesbit's writing has been featured in the Iowa Review, Quarterly West, Hayden's Ferry Review, and other literary journals. She teaches creative writing and literature courses at the University of Denver and is the nonfiction editor of Better: Culture & Lit. A graduate of the M.F.A. program at Washington University in St. Louis, TaraShea is currently pursuing a Ph.D. in creative writing and literature at the University of Denver. She lives in Boulder.