Research Notes · 07/22/2016
The Voyager Record
Our Research Notes series invites authors to describe their process for a recent book, with "research" defined as broadly as they like. This week, Anthony Michael Morena writes about The Voyager Record: A Transmission from Rose Metal Press.
+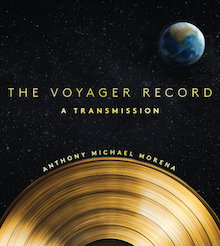 I like to think of research as infotainment, something that should be as much fun for writers as the books they want to put into the world. It's a reading experience that I tried to recreate in The Voyager Record, my long lyric essay about the collection of sounds, images, greetings, and music that was strapped onto the twin Voyager space probes and launched into space in 1977. My goal was to create something that could be shelved in poetry but still give decent tertiary source. The following is a partial list of the resources I used—and in some cases am still using—to put the book together and support it.
+
Liner Notes:
Murmurs of Earth (Ballantine Books, 1978) was my primary reference for The Voyager Record. With sections authored by each of the record's main collaborators and blow-by-blow explanations of the contents, this is the authorized version of Voyager's story. Murmurs is more than a 33⅓ for the Golden Record (which wouldn't make sense since the record plays at 16⅔ rpm): these are the liner notes that didn't get sent into space with the rest of the album. But does that technically make it part of the record? Is this a primary or a secondary source? I can't tell exactly. In the notes at the end of The Voyager Record I say that my book is just as much an ekphrasis of Murmurs of Earth as it is of the interstellar message, a research and research topic fused together. The book was such an intimate resource for me that it's actually present in the text. In The Voyager Record I explain how I found a copy of Murmurs of Earth at the top of a stack of books in the Science section at the Strand Bookstore in New York, where I worked. It's an encounter that has always felt numinous to me, like a personal November 12, 1955, and The Voyager Record is my flux capacitor.
+
TV Time:
Voyager has made a few appearances on TV and in film over the years, so another big part of my research for the book was to watch or rewatch as much of that as possible. It was mostly science fiction, with the notable exception of The West Wing episode "The Warfare of Genghis Khan." When I was younger I had this stupid running joke that whenever I was partying/being self indulgent and not hitting the books I'd call what I was doing "research." But if you walked into my living room in 2012 and caught me watching Starman and I said that, it would be true.
+
Twitter Feed:
Twitter is a great place to find more raw data. A lot of people who have written about or worked on the Voyager projects are on Twitter and you can follow them, if that is what you are into. Some are just cool robots. One of my favorites is @NSFVoyager2, an unofficial Voyager 2 bot that makes daily updates about Voyager 1 & 2's distance from the Earth in light years, and any periodic command routines that the spacecraft is given to perform. This is actually more informative than the vanilla @NASAVoyager verified account run by NASA.
+
Signal vs. Noise:
While I was in the middle of writing the book I decided to set up some Google alerts about Voyager in case any news stories came along that might be good to introduce into the narrative. This was in the late spring of 2012, so there was actually plenty there to find: the first data was coming back in support of the theory that Voyager 1 had reached interstellar space, the edge of the heliopause. Google alerts did a good job keeping me informed of all this, and that won me over to the service.
But Google alerts are pretty bad at separating the results you want from garbage you have no use for. Did you know that MOOG makes a model of synthesizer called the Voyager? Or that there is a cruise ship called the Voyager of the Seas? There is also a Voyager Transformers spin-off, a Kindle model, a Reebok sneaker, a men's fragrance, and line of scuba gear, a USB flash drive model, a 3-D printer, and one off-coast deep well drilling ship, all of which will clog up your space probe-related search results. Even after sifting out a lot of the bum criteria, I still wind up scanning through a bunch of useless notifications. It's partly my fault. Because Nick Sagan, voice of the record's English greeting and son of Carl Sagan, was a writer on Star Trek: Voyager I keep that one around on purpose. But there are others I haven't weeded out for no particular reason: a Voyager minor league baseball team, a Voyager mutual fund, a sculpture in Reykjavik, and a solar powered robotic boat that went adrift in the Atlantic Ocean to name just a few. I guess the reason I haven't excluded these terms is pure laziness, but maybe a part of me thinks that if I keep them around I can catch something bigger, a common thread hiding somewhere in the metadata that will unite all of these Voyagers together, and reveal something spectacular. I just don't want to miss it.
+++
Anthony Michael Morena is a writer from New York who lives in Tel Aviv. In 2015 he received his MA in creative writing from the Shaindy Rudoff Graduate Program in Creative Writing at Bar-Ilan University. His poetry and prose have appeared in The Normal School, Ninth Letter, Flapperhouse, and Queen Mob's Tea House. He has also been a guest editor for The Ilanot Review and a regular reader for Gigantic Sequins, a good-looking, biannual, black and white literary arts journal. The Voyager Record is his first book.