Research Notes · 05/09/2014
The Transcriptionist
Our Research Notes series invites authors to describe their research for a recent book, with "research" defined as broadly as they like. This week, Amy Rowland writes about The Transcriptionist from Algonquin Books.
+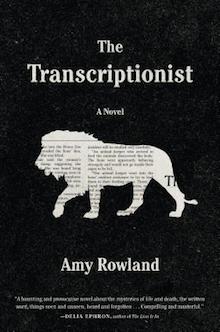 The Transcriptionist is about a woman who transcribes copy for newspaper reporters and becomes obsessed with a blind woman who commits suicide in the lion's den of the Bronx Zoo. It's also, I hope, about ethics in journalism and the role of the newspaper in times of crisis. How do you research this? How do you research life? How do you research the collective anxiety of New York in 2003?
My early New York Times job was research of the anthropological sort; I was an embedded observer, and began sketching scenes for The Transcriptionist while I worked as one, though I didn't finish writing until long after I left. At first, I was uncomfortable with the idea of writing a novel about a newspaper. In some way, this book was my declaration of independence. When I began transcribing copy for reporters in August of 2001, I had no idea what the result of hooking myself to a machine and serving as a human conduit would be. It was painful; listening hurt. Taking the news into your body and releasing it through your fingertips is a very different experience than reading the paper. But the job was a good way to learn how the news is made. I transcribed copy, sometimes finished, sometimes raw. And it was fascinating to see the edited, printed result — how stories had been shaped and structured and nipped and tucked or expanded and redirected.
One of the challenges of writing this novel was not just trying to capture the role of the newspaper but trying to find the pulse point of New York in the early 2000s. So I did what New Yorkers do, I walked. I considered it fieldwork, walking research.
When I first moved to the city, I walked constantly, and I revisited some of the places where I had found comfort or consolation or invigoration — Madison Square, Tompkins Square, Bryant Park, Gramercy Park. I returned to Gramercy's Parkside Evangeline, a Salvation Army owned home for single women that I lived in for a year when I was young, a girl of slender means. The staff of Parkside allowed me in the lobby. I didn't need to go further. As I stepped inside, it all came back: Those difficult days of sheltering in Parkside's oddly comfortable atmosphere of privacy and surveillance. (Men were forbidden, visitors were frowned on, and once you closed the door to your room, you were in a solitary cell.) Upon entering the building, I had walked into the past, though filtered through faulty memory, and could go away and turn it into fiction.
As I noted above, my protagonist, Lena, becomes obsessed with a woman who commits suicide at the zoo. And when the woman's body is lost, Lena's search takes her to Hart Island. I wasn't able to go to Hart Island — a part of New York reserved for the unclaimed dead — but I attempted to excavate a small piece of the city's buried history. Melinda Hunt and Joel Sternfeld's book of text and photos, "Hart Island," was the perfect entry to reimagine this real place. I seem to gravitate to that — taking a very concrete setting and populating it with my own ghosts. It was somewhat the same with the Record, the fictional newspaper where my novel is set. I roamed the halls of the old Times building on West 43rd Street in my mind, and there I met my characters.
Another thing about researching novels, and I'm using the term "research" very loosely, is that it's the cumulative effect of things you experience — you never know when something you read or see or hear is going to find its way into your fiction blender and come out as something recognizable but warped. It's also about what you choose to ignore. For example, I reread Evelyn Waugh's great newspaper novel, Scoop, but I didn't read Tom Rachman's The Imperfectionists. You have to guess what you want to study and what you should step away from. Some of the best writer advice I ever got went like this: "Are you still reading Beckett?" "Yes." "Stop."
I love archives and could have researched this book forever — language, Wittgenstein, NYC parks and burial grounds, the ethics of journalism, the history of newspapers, of obituaries, scribes through the ages, even Chaucer's scrivener, who makes a brief appearance. In the end, everything I read or saw or watched began feeding into the book. You have to pay attention because the part you use is often not what you thought you were looking for. After my initial alarm, I realized that's how it works. You serve the story; you are in service to the story. But better, you don't have to serve anything except the story.
+++
Amy Rowland has spent more than a decade at the New York Times, where she worked, notably, as a transcriptionist before moving to the Book Review. Her articles have appeared in numerous publications, including the New York Times, the Smart Set, and the Utne Reader. She lives in New York City.