Research Notes · 10/14/2016
The Solace of Monsters
Our Research Notes series invites authors to describe their process for a recent book, with "research" defined as broadly as they like. This week, Laurie Blauner writes about The Solace of Monsters from Leapfrog Press.
+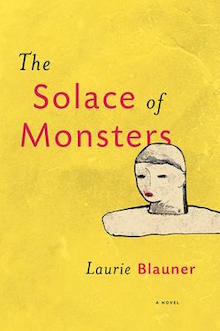 I, like my character Mara F, in my new novel The Solace of Monsters am composed of all the books I've ever read, including the ones I have forgotten. It's the same way we are all conglomerations of all the people we've known, for better or for worse. Our lives are what we do with that experience and knowledge.
Mara F. is given 97 "classical" books that she is allowed to read by her father, Dr. F. They also toss educational words back and forth between each other and, occasionally other people, which express their emotions and describe "one another and everything around us." Words for them are a way of exploring the world like a sixth sense. Mara's body is failing but her mind remains intact, including excerpts from the lives of the people that comprise her body.
I would call research curiosity that is usually satisfied. Most of the scientific information from the new novel is from the internet, usually Wikipedia. "Cyanoacrylate compound" is a joke, being a sort of Krazy Glue. Of course my main source for research was Frankenstein by Mary Shelley but I'd always been partial to the "monster" and the new creature's point of view, having written a series of poems called Frankenstein that appeared in my fourth book of poetry called Facing the Facts in 2002 by Orchises Press. Mark Brazaitis, the judge of the 2015 Leapfrog Fiction Contest, was correct and perceptive in his description of The Solace of Monsters in that Ishiguro's Never Let Me Go and Haddon's The Curious Incident of the Dog in Night-Time should be included as influences, as should everything I've read.
I have done more traditional research in my previous two novels. Infinite Kindness was set in 1867, London, and was about a nurse who practiced euthanasia and knew Florence Nightingale. The Bohemians was set in 1924, New York City, and concerned a group of artists and the mechanisms of love. I read non-fiction books so I could internalize the sensual, geographical, and cultural implications of those times and places and people. The research writing can be dry or unrealized but it was background data that informed the characters and their actions. Those details helped bring the people to life and affected what they did.
For example:
Research: Humbert Humbert, an adult professor, is infatuated with 12 year old Dolores Haze, also named Lolita.
Fiction: Lolita, light of my life, fire of my loins. My sin, my soul. Lo-lee-ta: the tip of the tongue taking a trip of three steps down the palate to tap, at three, on the teeth. Lo.Lee.Ta. (First page of Nabokov's Lolita).
Mara F. is curious about the world outside her father's house and initially does what little investigation she can about it: limited time on a computer; digestion of the 97 books; a man from her father's work is invited over to their locked home for dinner. In a sense all of Mara's time in the world (as ours should also be) is a form of research, the placating of our inquiries. And while research answers some questions it also raises many others, thank goodness, since that is the origin of many books. Some questions cannot be answered, which renders fiction to be absolutely necessary.
+++
The Solace of Monsters
is
Laurie Blauner's
fourth novel and won the 2015 Leapfrog Fiction Contest. She is the author of three previous novels,
Infinite Kindness, Somebody,
and
The Bohemians
, all from Black Heron Press, as well as seven books of poetry. A novella called
Instructions for Living
was published in 2011 from Main Street Rag. Her most recent book of poetry,
It Looks Worse than I Am
, was published in 2014 as the first Open Reading Period selection from What Books Press. A poetry chapbook was published in 2013 from dancing girl press. She has received a National Endowment of the Arts Fellowship as well as Seattle Arts Commission, King County Arts Commission, 4Culture, and Artist Trust grants and awards. She was a resident at Centrum in Washington State and was in the Jack Straw Writers Program in 2007. Her work has appeared in
The New Republic, The Nation, The Georgia Review, American Poetry Review, Mississippi Review, Field, Caketrain, Denver Quarterly, The Colorado Review, The Collagist,
and many other magazines. She lives in Seattle, Washington. Her website is
www.laurieblauner.com
.