Research Notes · 02/03/2017
The Mean Bone in her Body
Our Research Notes series invites authors to describe their process for a recent book, with "research" defined as broadly as they like. This week, Laura Ellen Scott writes about The Mean Bone in Her Body from Pandamoon Publishing.
+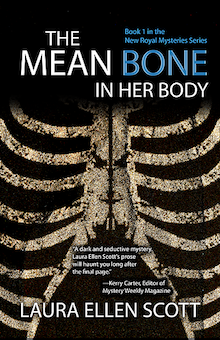 The Mean Bone in Her Body is my most intentional mystery novel, the first of the New Royal Mysteries series, set in a college/prison town called New Royal, Ohio. It's about what happens when a disturbed graduate student from a newly launched crime writing program stumbles onto a local murder scene. She writes about her discovery, becomes a success, and then never writes another word as she descends into irretrievable mental decline that her mentor, the least liked professor in the program, decides to investigate.
Unlike my previous two novels, the foundation of Mean Bone comes from personal experiences — I am a writing professor who grew up in Ohio near a college town. When I was a kid, my sister was in and out of psychiatric facilities. When I was in middle and high school, my father was incarcerated. I've always thought of universities, prisons, and mental hospitals as different versions of the same thing, sort of like siblings in the community: you have the good one, the bad one, the disturbed one, and when they get together, they make a family. In Mean Bone I try to give that notion some exercise.
New Royal is based mostly on Athens, Ohio, home of Ohio University as well as the notorious Athens Lunatic Asylum, a Kirkbride building with a bat-wing floor plan. It's a terrifying structure, now owned by the university and repurposed as an art museum. About an hour to the West in Chillicothe, there are two prisons. One of these housed my dad. Years later, my husband taught freshman comp to inmates in the same facility. When I re-make Love Actually, I'll replace the airport scenes with scenes from prison visitation halls. Then the movie might make sense.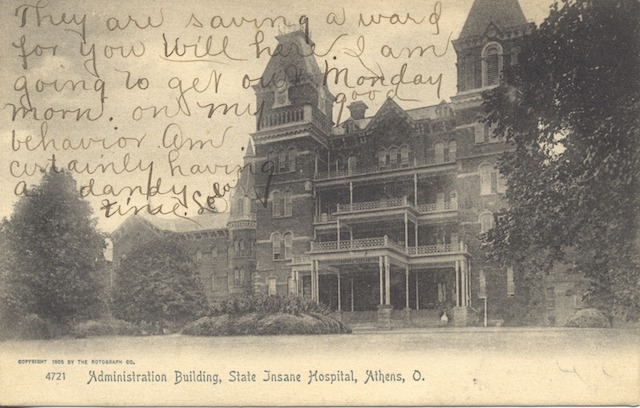 I researched contemporary practices in mental health and corrections, but I haven't been back to Ohio in years. I still think of it and its state-sponsored institutions as gothic and brutalist, which is perfect for a book about madness, but my gloomy nostalgia won't be enough to sustain a series. (Of the three houses I describe in Mean Bone, two are dilapidated, so I think I've drained that well.) The next book in the series — working title: The Clerk of the Orphans Court — is about aspiration and corruption, which means I'm back to form, diving deep into historical records — again, from my ancestors, but the book isn't about them. They just happened to write everything down for the last three hundred years, and for that I'm very grateful. Nevertheless, a trip "home" seems necessary to move forward with the series. I can do a lot of good work with documents, but only if I know what questions to ask. Coming up with those questions is the real work of creativity, and that requires an environmental charge.
+++
Laura Ellen Scott
is the author of
Death Wishing, The Juliet,
and
The Mean Bone in Her Body: Book One of the New Royal Mysteries
. Based in Northern Virginia, Laura teaches at George Mason University. Connect with her on
Facebook
and at her blog at
lauraellenscott.com
.