Research Notes · 08/29/2014
The Luminol Reels
Our Research Notes series invites authors to describe their research for a recent book, with "research" defined as broadly as they like. This week, Laura Ellen Joyce writes about The Luminol Reels from Calamari Press.
+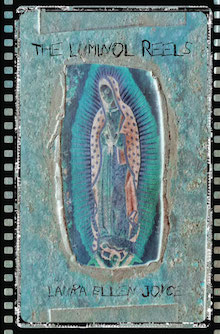 The Luminol Reels developed over the course of around three years. It began as part of my doctoral research, and then took on a shape of its own. Derek White's artwork brought the book into being, and created a visual dimension to the work. The Femicides of Ciudad Juarez are the subject of this book, but I couldn't represent those horrors directly so I looked for other ways to approach the material. I have been influenced by the following artworks, disasters, crimes, and myths (in no particular order):
Greek tragedy is perfect. There is an excess of emotion, hysteria, blood lust. But amongst this chaos there is control: Greek tragedy follows a carefully observed set of literary conventions, and, ultimately, these plays were created as a form of worship, as religious observance. This controlled excess is something that The Luminol Reels attempts to emulate. The tragedies that most inspired this book are Euripides' Medea and Sophocles' Electra, in both cases for the vengeful female protagonists. Related interests include: The Oresteia; The Bacchae; Antigone; The Virgin Suicides and tragic choruses.
Catholicism obviously, but especially rosaries and novenas: The exquisite sadism of rosary meditations have always interested me. The names of the prayer cycles are so rich and resonant: sorrowful, glorious, joyous, and luminous mysteries — full of agonies, scourging, and miracles to meditate upon. As a child I collected rosary beads: plastic, glow-in-the-dark, crystal, and kept them in secret places, to ward off danger. The structure of the rosary is a direct influence on the layout and tone of The Luminol Reels. Related interests include the game Bloody Mary shrines of any kind; crucifixion images; Catholic memorabilia; and gold robes, altar cloths, and tabernacle covers. All of these find their way into the text in one way or another.
Cunt Space is a corruption of Rem Koolhaas's essay "Junk Space". "Junk Space" is a major influence on the topography of The Luminol Reels — the tone of space as psychosis, art as horror, is something that came through from my reading of "Junk Space." Cunt Space takes Koolhaas's thesis and views it through the filter of the female body. The landscape of The Luminol Reels is cunt space, as articulated by Elfride Jelinek on Josef Fritzl, whose subterranean prison which was created for the abuse of his children. Jelinek states that Fritzl:
Constructed an idyll which he has artlessly built in the form of a female body, with its many niches and passages, where you can't look in at everything from everywhere, it is not art to use something as the female body, even if you don't have one, there are blow-up sex dolls, hollowed out apples, animals, etc., but it is an art to build spaces as a woman might, and decorate them with pretty patterns, a temple, only built for the lust of the father.
Related interests include: Extimacy "Soft as Snow (But Warm Inside)," by My Bloody Valentine; Carolee Schneemann's Interior Scroll.
Excessive Female Voice is important to The Luminol Reels. This is perhaps most easily represented through vocal expression, and many of my favourite female artists are those who use their voices in unpretty, unharmonious ways. "Portrait of Linda in Three Colours, All Black" is one of the best examples of this. On this record by Sonny and Linda Sharrock, Linda begins singing melodically and ends the track by screaming in an excessive, but precisely controlled way. Tanya Tagaq's vocalization is rooted in Inuit throat singing and is absolutely electrifying. Pharmakon has live sets of exactly 20 minutes. Her screams are intensified and looped and yet she has absolute control over her sound and her physicality. Related interests include Diamanda Galas; PJ Harvey; Hole; Riot Grrrl.
Found or Repurposed Material makes its way into the book. I've taken material from scientific journals, religious pamphlets, etc. The artwork includes found photographs that have been treated and repurposed. Examples of repurposed, collaged, remade, and found material that I have loved include Sara Tuss Efrik's Persona Peep Show, Tytti Heikennen's Fatty XL, The Atrocity Exhibition, found footage cinema.
+++
Laura Ellen Joyce
lectures in literature at York St John University. Her research interests are in experimental literature, gender and sexuality, psychoanalysis, pornography, and ecocriticism. She was project co-ordinator of the
AHRC
Global Queer Cinema network between 2012-2013. Her novel,
The Museum of Atheism
, was published in November 2012.