Research Notes · 06/08/2018
The Listening Room
Our Research Notes series invites authors to describe their process for a recent book, with "research" defined as broadly as they like. This week, Kathleen Rooney writes about The Listening Room: A Novel of Georgette & Loulou Magritte from Spork Press.
+
The Making of The Listening Room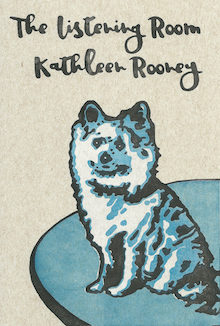 The pieces in my new book, The Listening Room: A Novel of Georgette & Loulou Magritte (Spork Press), are about the life and work of the Belgian Surrealist artist René Magritte (1898-1967), told through the alternating perspectives of his wife Georgette — his lifelong companion, frequent model, and muse — and their shared series of Pomeranian dogs, all called Loulou. Married for 45 years, the Magrittes never had children, and their dogs became like family to them, even as the couple maintained a tightknit yet varied group of human friends and extended family.
This book draws heavily on research I conducted in my capacity as the co-editor, with Eric Plattner, of Magritte's Selected Writings, a lost manuscript that he and I rediscovered, edited, and brought out for the first time ever in an English edition in Fall 2016 in both the UK and the United States. The more I learned, through his writing and through my checking of various facts, about the Magrittes' domestic set up, the more I became intrigued.
Because Magritte's paintings are rooted in language and thought, I felt that essayistic prose poems might be a fruitful way to engage with them. Further, I wanted to see what might be discoverable in the images if I looked at them from neither the artist's perspective, nor the museum-goer's, but rather from the perspectives of the two beings who were closest to him during the course of his life.
Given that Magritte was so interested in the extraordinary mystery contained within ordinary things, it seemed appropriate and in keeping with his project for these poems to partly inhabit the unfamiliar perspective of his animal familiar. Even though a dog's consciousness is largely hidden from its human companions, why not try to imagine a dog's theory of mind? Since these three — René, Georgette, and their series of beloved Loulous — spent so much time together in an environment that was crucial to Magritte's creativity, this approach offers a way to see well-known paintings anew.
The pieces are ekphrastic, but also narrative, and repetitive; they are about routine and domesticity, and the ways in which beings learn — from themselves, from those around them, and from pictures and texts — how to see and how to be.
To that end, they are in part about instruction and training: how Magritte moved his viewers to see his work, how his household moved him to think and act, and how often we don't fully apprehend the ways in which our circumstances affect us until those circumstances change. Humans train animals, but animals also train humans. As my friend Caro once told me she came to understand only after her dog had died: "I realized my family stopped audibly growling… when no one even realized we had been growling in the first place."
+++
A founding editor of Rose Metal Press and a founding member of Poems While You Wait, Kathleen Rooney is the author, most recently, of the novel Lillian Boxfish Takes a Walk (St. Martin's Press, 2017). With Eric Plattner, she is the co-editor of Rene Magritte: Selected Writings (University of Minnesota Press, 2016). Married to the writer, Martin Seay, she lives in Chicago and teaches at DePaul University.