Research Notes · 05/19/2017
The Last Wave
Our Research Notes series invites authors to describe their process for a recent book, with "research" defined as broadly as they like. This week, Gillian Best writes about The Last Wave from Freight Books.
+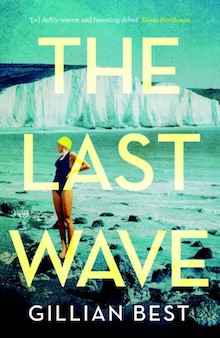 There were two key bits of research I did for The Last Wave: the first, speaking to accomplished Channel swimmer Sally Minty-Gravett, and the second, a weekend trip to Dover.
I was a competitive swimmer for a long time and most of my swimming has been done in a pool. I have swum in the sea and will do at every available opportunity, but I knew enough to know that the sea and a pool are very different things. And I have never swum the Channel.
The Channel Swimming & Piloting Federation put me in touch with Sally, who runs a swim school in Jersey. I wrote to her and asked if she might have a bit of time to answer some questions. Our phone call gave me the important details to understand what Martha, my main character, might experience as she swam.
Sally talked to me about the sores, about what the salt water did to a body. There were a couple of things she told me that really stood out, and spoke to the character I was creating. Sally said, "When you get in the water, you have to know you won't get out until you've reached the other side." This seems, on the face of it, pretty obvious, but when you consider that you might be upwards of twenty hours in cold water, trudging onwards, sometimes swimming and not making any progress because the tides are changing, her advice becomes more salient.
One of the other important things I got from that phone call was when Sally was lost for words. I asked what it felt like to swim the Channel, and her reply confirmed for me something I had imagined: that it was intangible, impossible to describe. It was in her pauses and started-but-not-quite-finished sentences that I came to understand that she looked on it with something like reverence.
There was a lot of what Martha was doing, and feeling about the water, that I had done and felt myself. Her obsession with the sea is one that we share. I have always wanted to be able to read the sea, to understand what it's trying to tell me by looking at it, the different colours in the water, the way the waves crest into shore, the tides and currents. And when it came to describing the practical bits of her swim — the preparation with the pilot, the feedings — Sally was very helpful, as was the Federation's website. But a lot of the swimming and sea passages were imagined, built on years of reading everything I could about the water.
There were things that no amount of imagining on my part could've ever come up with. The White Horse Inn is one of those. This place exists and if ever you find yourself in Dover, call in. It's fantastic. And there really are names and times of Channel swimmers and swims scrawled on the walls.
I came upon the White Horse purely by accident. After walking along the headland, along the White Cliffs, on one of those surprise sunny warm days, it was time for a pint. All I was looking for was a decent pub that might have something to eat — I would've been quite happy with a bag of crisps and some nuts. When I walked into the pub, I saw the names written on the walls immediately. When I was ordered, I got to chatting to the publican, and he told me that the Federation holds their annual party there. I didn't know any of the names on the walls, but they made it feel as though I was walking into a club house, a fraternity that I wanted to belong to.
I went to Dover when I was about halfway through writing the book. I was a bit stuck and it felt like a good time to go and get a sense of the place. A book I'd read about Channel swimming had said there were pebbles on the beach, and I wanted to see those, along with the general area, where the swimmers might train, that sort of thing. The Dover I've created isn't exactly as Dover really is: I wanted a pier, Dover has a breakwater. The way the town's laid out in The Last Wave is different to reality. This is not a slight against Dover or the good people who live there, but the truth of the novel was more important to me than accuracy.
Finally, another stroke of luck occurred when I was in Dover. It was a hazy day, one of those infrequent days here of sunshine and warm weather. And as I watched the ferry setting out for France, it looked as though it were about to sail off the edge of the world. There was something in that image that sparked the sense of an idea in me, and gave me another angle to how Martha might feel as she swum.
The research I undertook for The Last Wave served as a way to give the novel the right flavour. I had enough facts and small, precise details to give my imagination the fodder it needed to write The Last Wave.
+++
Gillian Best studied at York University, Canada, University College, Falmouth and the University of Glasgow. Her fiction and non-fiction has been published widely. She won the Bronwen Wallace Prize and was shortlisted for the Bridport Award and the Wasafiri Prize. She lives in Bristol.