Research Notes · 10/26/2018
The Girl & The Fox Pirate
Our Research Notes series invites authors to describe their process for a recent book, with "research" defined as broadly as they like. This week, Kate Gehan writes about The Girl & The Fox Pirate from Mojave River Press.
+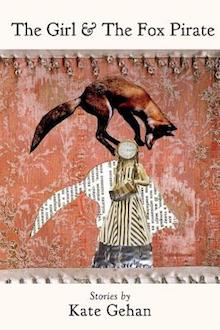 Fall in love, fall out of love, over and over. Make it a life project to engage in the most destructive, euphoric waste of time you'll likely never quit.
Run when you are young and run as you grow older. Run fat, when you are pregnant, when you are thin, when your hip hurts, when your head hurts, when you are hungover, when you are grieving, when you are supercharged and vibrant. Trudge across the beach, dart through the forest, prowl the suburbs and cities like a wolf in spandex.
Read the local police blotter and invent the motivations of strangers.
Go to museums with your family, and then go back alone. Figure out what it feels like to be the plaster, the sculpture, the artist, the viewer, the ray of light creeping through the edge of the window blind slicing across the torso of the goddess.
Eavesdrop and take notes and forget half of what people tell you about themselves. Make up the rest.
Drink and don't drink, watch everyone drink, love drinking, hate drinking, become intimate with and weary of the odor of wine and whiskey emanating from skin. Consider your family's interlocking history with the stuff.
Hold the souls of the unborn within you and reach back to primal energy to expel a few from your body. Want to do this thousands of times while simultaneously aching to be alone. Turn in your hands the orb of motherhood's powerless responsibility. Work each day to transcend your every weakness and become a paragon of effort. Fail at all of it.
Peck at a keyboard while your friends research cures for disease, play music all over the world, defend the disenfranchised, guide the next generation, protect the environment, hang their art on gallery walls, add tangible value to the world. Choose to believe you are adding value to the world.
Investigate how a feminist would feel about the permanent line forming between her eyes.
Dance wildly at every possible opportunity, especially in the car and while making dinner. Anticipate the pleasure of music vibrating your bones until your very last day.
+++
Kate Gehan's
writing has appeared in
McSweeny's Internet Tendency, Sundog Lit, People Holding, WhiskeyPaper, Cheap Pop,
and elsewhere. Her fiction collection,
The Girl & The Fox Pirate
, is available from Mojave River Press. Find more
@StateofKate
and
kategehan.com
.