Research Notes · 05/29/2020
The Distance from Four Points
Our Research Notes series invites authors to describe their process for a recent book, with "research" defined as broadly as they like. This week, Margo Orlando Littell writes about The Distance from Four Points from University of New Orleans Press.
+
When Research Becomes Too Real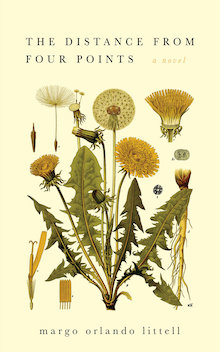 My novel The Distance from Four Points is about a wealthy suburbanite who unexpectedly becomes a small-town landlord after her husband's tragic death. I based the small town of Four Points on my hometown in southwestern Pennsylvania, though Four Points is a little poorer, a little rougher, than its real-life counterpart. Growing up, I didn't have personal experience with decrepit rental properties like the ones I write about in my novel; as an adult, I drove past these blighted homes many times on visits home, but I'd never been inside. My novel involves small-town landlords and the properties they rent out, and to create a believable world, I knew I needed to get an inside look at what these homes were really like.
I began my research by scouring rental listings on Zillow, mostly single-family homes and duplexes. The photos of the available rentals were never staged, sometimes blurry, and always offering a raw glimpse of real life. Sinks full of dirty dishes, couches piled with laundry, rooms overstuffed with junk and furniture, window coverings missing or broken or torn. The landlords posting these pictures weren't out to fool anyone: what you see is exactly what you get.
There was an endless supply of these photos, but I knew I needed to be inside these homes myself. Like my protagonist, Robin, I'm a former small-town girl now living in a wealthy suburb far from home — I needed to experience what she experiences in my novel, the shock, disgust, and disbelief when she encounters the filth and disrepair of Four Points rentals. While visiting my hometown for Christmas in 2014, I arranged to have a local realtor show me some properties. My husband, always game for real estate adventures, came with me. We saw properties that had been abandoned for years, as well as properties where tenants were currently living. In two cases, the door of the property fell down when the realtor tried to unlock it. There were missing floorboards. Broken windows. Smells that drove us out to the sidewalk. The empty properties had been stripped by vandals of all pipes and wiring.
But there were also spectacular architectural details that had somehow survived decades of abuse and neglect. My hometown was once a booming coal and coke town, with more millionaires per capita than anywhere else in the country. Many of the barons' homes are still standing, though they've been split into two or three apartments; most have been badly neglected, and many are condemned. Amid the blight, however, were original stained glass and woodwork, stunning staircases, high ceilings, parquet floors. One home in particular captured our hearts: it had a turret missing its pointy peak, and a mysterious tunnel in the basement. With each discovery, the ruin became romantic.
We'd told the realtor we were interested in buying an investment property so he'd take us seriously enough to show us around, but it became true as the morning went on. My book research took a tiny detour as we began thinking about actually buying one of these distressed houses and restoring it to its former glory. In the end, we couldn't bring ourselves to take the leap.
A few months later, however, an old friend — a landlord with several investment properties — bought the turreted home we'd adored. She invited us to become half-owners and partners for the renovation. We agreed. As I worked and worked on my novel, we oversaw the restoration of the house. The end result was a spectacular showpiece. When we posted pictures on Facebook, they were viewed millions of times.
Then we couldn't sell it. And our beautiful, saved home became — a rental. Which meant I was officially a landlord.
At this point, my book research became much too real — a kind of method acting. The landlords in my novel were meant to be the villains, with their neglect and disrespect for tenants, and now I was suddenly on their side. Within two months of finding our first tenant, we had to evict her for bounced checks. Most applicants lied relentlessly, even having friends pose as employers and former landlords so I'd get glowing recommendations. I'd won a new understanding of my novel's landlords — they weren't villains after all, at least not completely. They were protecting themselves. Their distrust of tenants was earned, reasonable, and wise.
I still am a landlord, and the house is a weight around my neck. Even when my tenants pay the rent, the anxiety is constant. Researching my novel this way — from looking at pictures to touring homes to actually owning and renting out a property — resulted in a path that paralleled the writing, revising, and publishing of the novel itself. I found myself almost living out my protagonist's journey, her trials and mine weirdly intertwined. I wouldn't wish landlording on anyone, but I also know my characters in a way I wouldn't have been able to if I hadn't gone down this road. I got a happy ending for my novel, but the house I tried to save faces just another chapter in its unfortunate life.
+++
Margo Orlando Littell
grew up in a coal-mining town in southwestern Pennsylvania. Her first novel,
Each Vagabond by Name
, won the University of New Orleans Publishing Lab Prize and an
IPPY
Awards Gold Medal for Mid-Atlantic Fiction. She lives in New Jersey with her family.